ORISE >
Distinguished Scientists Advisory Board

The ORISE Distinguished Scientists Advisory Board (DSAB) is an external panel of recognized experts in scientific and technical disciplines that validates the ORISE vision is maximizing DOE's strategic objectives. In addition to expanding ORISE thought leadership, the DSAB works closely with ORISE leadership, technical experts and liaisons to ensure that strategic milestones related to ORISE activities are met.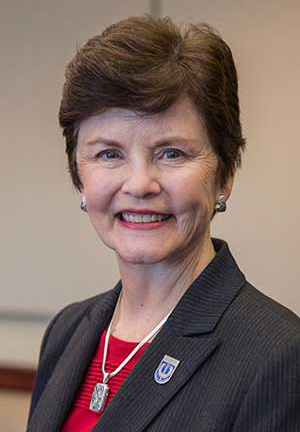 Shirley Raines, Chair
University of Memphis (retired)
Dr. Shirley Raines, the first woman president of the University of Memphis, served for 12 years at this institution with more than 22,000 students and 2,500 employees. She oversaw the acquisition of a private school and changed it into a public university branch, the University of Memphis, Lambuth campus. She added a School of Public Health to the academic division.
During her tenure, the university was named as one of the top-20 internship programs in the nation, the largest honors program in the state and began an exemplary program for faculty entrepreneurs. From those experiences, Raines was invited to speak at the White House Conference on University Entrepreneurship. Now as president emeritus, she is a speaker and consultant for nonprofits, corporations, foundations and associations.
Prior to her years as president, Raines served on the faculties of universities in six states and in administrative posts as department chair, dean and vice chancellor. She has written 17 books for educators and served on the selection committee for the National Teacher of the Year. Raines has received awards for her research and teaching and has been recognized by universities and professional associations for her leadership.
In addition to being the first woman president of the University of Memphis, Raines served as the "first woman" for a number of posts, including the first woman chair of Conference-USA and the first woman chair of Memphis Regional Chamber of Commerce. Raines was recognized for her work by the Tennessee Economic Council on Women, and she was inducted into the Tennessee Women's Hall of Fame.
For seven years, Raines was on the summer faculty of the Harvard Institute for New Presidents and Chancellors. Raines earned a bachelor of science degree from the University of Tennessee, Martin, and a master of science degree and doctorate degree from the University of Tennessee, Knoxville.
Denis Gray, Vice Chair
North Carolina State University
Denis O. Gray is Alumni Distinguished Graduate Professor, Psychology in the Public Interest Program, Department of Psychology, North Carolina State University.
Dr. Gray's research focuses on science and technology policy issues, particularly the outcomes and implications of cooperative research centers.  For the past 25 years, he has led a unique, multi-faceted 'improvement-focused' evaluation of the National Science Foundation's (NSF) longest-running cooperative research center program, the Industry-University Cooperative Research Centers (IUCRC). See project website ( www.ncsu.edu/iucrc). 
He has provided evaluation consultation for cooperative research projects in Mexico, Ireland, Australia, Thailand, Japan and Spain.  
Dr. Gray has published extensively on academic science and cooperative research. His books include:  Cooperative Research Centers and Technical Innovation: Government Policies, Industry Strategies and Organizational Dynamics. Springer Publishing (Business & Economics Group) (co-editor)(forthcoming);  Innovation U.: New university roles in a knowledge economy (co-author);  Managing the industry/university cooperative research center (Battelle Press) and  Technological innovation: Strategies for a new partnership (Elsevier) (senior editor). 
He has worked as an evaluation-based advisor to over twenty cooperative research centers. 
A native of New York City (and former taxi cab driver), Dr. Gray received his B.S. in Psychology from Manhattan College. He received his Ph.D. and M.S. degrees in Ecological/Community Psychology from Michigan State University.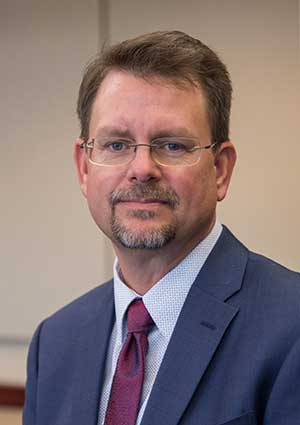 Brian Thrall, Secretary
Pacific Northwest National Laboratory
Dr. Brian D. Thrall is associate director of the Biological Sciences Division and chief scientist for health impacts and exposure sciences at Pacific Northwest National Laboratory (PNNL). He is director of PNNL's Center for Nanotoxicology. He has served in various management and research leadership roles, including sector lead for human health research. 
Thrall has been recognized as a leader in understanding fundamental interaction mechanisms between engineered nanomaterials and biological systems and their potential impacts on biological function and human health. 
He has more than 20 years of experience leading multidisciplinary research programs focused on understanding and prediction of human health impacts of environmental agents. His research has been supported by the National Institutes of Health (NIH), U.S. Department of Energy (DOE), U.S. Environmental Protection Agency (EPA) and the private sector. He has trained numerous postdoctoral fellows, post-masters and student interns. 
Thrall has served on numerous national advisory or review panels for NIH, EPA, DOE, the National Academy of Science, National Nanotechnology Initiative and as chair of the National Institute of Environmental Health Sciences (NIEHS) Nanotechnology Health Implications Research Consortium. 
His research has received professional honors, including the Society of Toxicology (SOT) Board of Publications Award, NIEHS Speaker Faculty for the first U.S.-China Joint Symposia on Nanobiology and a team award for Discovery Magazine Technology of the Year. He serves on the editorial boards for Toxicology Letters and Nanobiomedicine and as secretary/treasurer for the SOT Nanotoxicology specialty section. He is past president for the Pacific Northwest Association of Toxicologists. 
He received a doctorate degree in pharmacology and toxicology from Washington State University.
Camilla Benbow
Vanderbilt University
Dr. Camilla Persson Benbow is Patricia and Rodes Hart Dean of Education and Human Development at Vanderbilt University's Peabody College, a position she has held since 1998.
Dean Benbow's scholarly work focuses on gifted children and the development of mathematical talent. Benbow co-directs the Study of Mathematically Precocious Youth (SMPY), a longitudinal study examining the developmental trajectories of over 5,000 individuals throughout the life-span. She is particularly interested in identifying the educational experiences and interventions most conducive to developing intellectual talent and excellence in careers in science, technology, engineering, and mathematics. 
She has authored or co-authored more than 100 articles and 35 chapters. She is the editor, with David Lubinski, of Intellectual Talent: Psychometric and Social Issues (Johns Hopkins University Press, 1996), and with Julian Stanley, of Academic Precocity: Aspects of its Development (Johns Hopkins University Press, 1983). 
Benbow began her academic career at Johns Hopkins University in 1981 as an associate research scientist. In 1986, Iowa State University appointed her associate professor of psychology. She was promoted to full professor in 1990, became department chair in 1992, and in 1995, was named distinguished professor. She was appointed interim dean of education at Iowa State in 1996. While at Iowa State she also directed pre-collegiate programs for gifted and talented students. 
Benbow served on the National Science Board from 2006 to 2012. From 2006-2008, she served as vice-chair of the National Mathematics Advisory Panel and as a commissioner of the Science and Mathematics Teacher Imperative, an initiative of the National Association of State Universities and Land-Grant Colleges. Benbow also serves on the board of the American Psychological Foundation and was co-founder and former co-chair of the committee of AAU College of Education Deans. She recently co-chaired the Commission on Standards and Performance Reporting that developed new accreditation standards for the Council for the Accreditation of Educator Preparation. She also is a former member of the Fisk University Board of Trustees. 
A fellow of the American Psychological Association and the American Educational Research Association, Benbow has received the David Imig Award from the American Association of Colleges for Teacher Education (2010), the President's Award from the National Association for Gifted Children (2009), and the Distinguished Alumna Award from Johns Hopkins University (2008). In 2004, she received the Lifetime Achievement Award from the MENSA Education and Research Foundation. 
Benbow received her Ed.D., with distinction, from Johns Hopkins University (1981), from which she also received her B.A. (1977) and M.A. (1978) in psychology and her M.S. (1980) in education.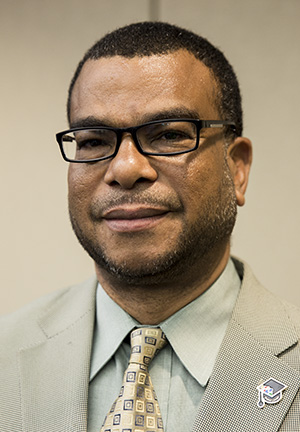 Noel Blackburn
Brookhaven National Laboratory
Noel Blackburn is the manager of University Relations and U.S. Department of Energy (DOE) Internship Programs in the Office of Educational Programs (OEP) at Brookhaven National Laboratory (BNL). OEP designs, develops and facilitates workforce development and education initiatives that support the scientific missions at BNL and DOE through multiple programs. BNL is a multidisciplinary national laboratory owned by DOE and managed by Brookhaven Science Associates. 
Blackburn is responsible for creating, implementing and managing workforce development research programs for undergraduates, graduates and faculty in programs like the Science Undergraduate Laboratory Internship, Community College Internship, the Office of Science Graduate Student Research Program and the Visiting Faculty Program.
Blackburn is dedicated to creating access to BNL's world-class user facilities for nontraditional users in the United States and developing partnerships with countries in Latin America and the Caribbean. Providing opportunities for underrepresented groups to access BNL and the DOE enterprise has been a major objective of his career at BNL. To help address this need, Blackburn developed the Interdisciplinary Consortium for Research and Educational Access in Science and Engineering (INCREASE). He was recently elected to BNL's National Synchrotron Light Source II Executive User Committee and is an executive member of the External Advisory Boards for the Louis Stokes Alliance for Minority Participation at Washington/Baltimore/Hampton Roads and the University of Puerto Rico System. 
Before his present position, Blackburn was a project engineer on remediation sites for the BNL Environmental Management Directorate. He also served in various engineering positions at Bechtel International, Inc., on the Atlantic Liquid Natural Gas Plant, a billion-dollar project in Trinidad and Tobago, West Indies. Prior to his work at Bechtel, Blackburn was a consultant managing numerous civil and environmental projects for the government of Trinidad and Tobago. His career started as a craft apprentice and he steadily developed through the ranks as a draftsman, construction technician and construction supervisor in the oil industry in Trinidad and Tobago, where he was born.
Blackburn has served as an adjunct lecturer at City College of New York and Medgar Evers College. He is a member of the Trinidad and Tobago Professional Engineers Association, the American Society of Civil Engineers and American Society for Engineering Education. 
He is also a recipient of the DOE Office of Science Outstanding Mentor Award, the BNL Brookhaven Award and the Minority Access, Inc. National Role Model Mentor Award.
Blackburn earned a master's degree in environmental engineering and a bachelor's degree in civil engineering from the City College of New York.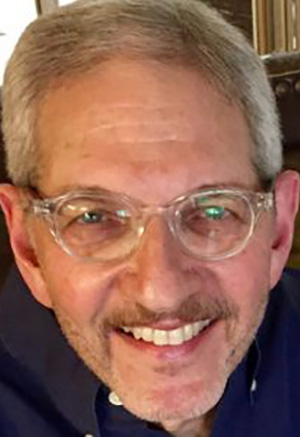 Daryl Chubin
Independent Consultant
Daryl E. Chubin is an independent consultant living in Savannah, Georgia. From 2004-2011, he was founding director of the Center for Advancing Science & Engineering Capacity at the American Association for the Advancement of Science in Washington, D.C. Prior to that, he was senior vice president at the National Action Council for Minorities in Engineering in New York City after nearly 15 years in federal service at the National Science Board, the National Science Foundation, and the White House Office of Science and Technology Policy. He began his federal career in 1986 at the congressional Office of Technology Assessment after serving on the faculty of four universities, achieving the rank of professor at the Georgia Institute of Technology, and as adjunct professor in Cornell University's Washington Program (1991-2010). Since 2011, he has published more than 100 columns on higher education, STEM diversity, science policy, and workforce issues.
Dr. Chubin is the author of eight books and numerous reports and articles on science and education policy and evaluation, career development, and structural changes in universities to improve access and success of underrepresented students and faculty. Titles (all co-authored) include Peerless Science: Peer Review and U.S. Science Policy (SUNY Press, 1990), Rethinking Science as a Career (Research Corp., 1995), Standing Our Ground: A Guidebook for STEM Educators in the Post-Michigan Era (AAAS, 2004), AAAS Review of the NSF Science and Technology Centers Integrative Partnerships (STC) Program, 2000-2009 (AAAS, 2010), Handbook on Diversity and the Law: Summary and Highlights (AAAS, 2011), and Better STEM Outcomes: Developing an Accountability System for Broadening Participation (U. of Pennsylvania, 2017).
Today he advises universities and nonprofits on strategies to implement legally-sustainable programs that prepare students for a range of careers in science-based professions. He also co-chairs the annual conference on Understanding Interventions That Broaden Participation in Science Careers.
Jose Cordero
University of Georgia
Dr. José F. Cordero is the Patel Distinguished Professor of Public Health and Chair of the Department of Epidemiology and Biostatistics in the College of Public Health at the University of Georgia (UGA). 
Previously, Cordero served for 27 years in the U.S. Public Health Service at the Centers for Disease Control and Prevention. He was assistant surgeon general and also held other positions focused on improving the health of mothers, children and adults. He retired from CDC as the director of the National Center on Birth Defects and Developmental Disabilities. 
Cordero served for eight years as dean of the School of Public Health at the University of Puerto Rico before joining UGA. Under his leadership two new doctoral programs were developed on analysis of health systems and social determinants of health. The School of Public Health received full accreditation during his tenure.
His research focuses on the health of mothers and children in specific risk factors for preterm births and preconception approaches to improve pregnancy outcomes. In the infectious disease area, he is an adviser of the Americas Dengue Prevention Board and a member of the International Data Monitoring Committee for the Sanofi Pasteur dengue vaccine. Cordero is an investigator in the Zika in Pregnancy Consortium Study in the Americas and the executive director of the Puerto Rico Brain Trust for Tropical Diseases Research and Prevention, a group that seeks to facilitate and speed up the development of rapid tests, vaccines and prevention strategies for tropical diseases like Zika, dengue and chikungunya. 
Cordero obtained his medical degree from the University of Puerto Rico. He completed his residency training in pediatrics at Boston City Hospital, followed by a fellowship in medical genetics at Massachusetts General Hospital. He received his master of Public Health from the Harvard School of Public Health.
Howard Hall
University of Tennessee/Oak Ridge National Laboratory
Dr. Howard Hall is the director of the Institute for Nuclear Security at the University of Tennessee (UT). He is appointed as the UT and Oak Ridge National Laboratory Governor's Chair in Nuclear Security, and he serves as professor in the Department of Nuclear Engineering and at the Bredesen Center for Interdisciplinary Research and Graduate Education.  
Hall is a Senior Fellow in Global Security Policy at the Howard H. Baker Jr. Center for Public Policy at UT Knoxville, where he also serves as director of the Baker Center's Global Security Programs. 
Professor Hall's research interests include nuclear forensics, particularly developing faster and more reliable radioanalytical processes, and developing a better understanding of the physical, chemical and nuclear processes underlying nuclear forensics for reducing uncertainty in the interpretation of forensic data. His research focuses on nuclear chemistry and radiochemistry, novel separation methods, the evolution of trace material signatures, isotope production and purification research and physical/ chemical properties of isotopes. Also, his research includes radiation detection and measurement as applied to security-relevant needs and nuclear security policy, including treaty verification and arms control, counterterrorism and nuclear nonproliferation.
Prior to joining UT, Hall spent more than 20 years at Lawrence Livermore National Laboratory where he led major scientific and operational missions in nuclear and homeland security. Hall led efforts supporting U.S. government programs in aviation safety and security, nuclear threat detection and nuclear emergency response. In 2005, Dr. Hall was part of the team awarded the U.S. Department of Homeland Security/Science and Technology Directorate Undersecretary's Award for Science.
Hall is a member of the American Nuclear Society, the American Physical Society, the American Chemical Society, the American Society for Engineering Education and the Institute of Nuclear Materials Management. He is a fellow in the American Institute of Chemists and the American Association for the Advancement of Science.
Hall earned his doctorate degree in nuclear and radiochemistry from the University of California, Berkeley, and a bachelor of science degree in chemistry from the College of Charleston.
Daniela Stricklin
Applied Research Associates, Inc.
Dr. Daniela Stricklin is a senior science advisor for Applied Research Associates, Inc., in Arlington, Va.
She started her career as a chemist after receiving a bachelor of science degree from the University of West Alabama. With a strong interest in environmental issues, Stricklin earned a doctorate degree in environmental health based on her doctoral research at Johns Hopkins School of Public Health.
Stricklin was selected for a U.S. Department of Energy postdoctoral fellowship in radiation health at the School of Public Health at the University of Pittsburgh. During her fellowship, she pursed a master of public health degree with research in the area of molecular epidemiology with special emphasis on radiation biomarkers. She completed a master's thesis on the correlation of different radiation biomarkers with exposure and dose on a Chernobyl worker cohort. As part of this program, she spent a year at the Swedish Defence Research Institute (FOI) as a guest researcher examining methods for evaluating radionuclides in the environment, such as the radioactive contamination in Swedish environment as a result of the Chernobyl accident.
After her postdoctoral fellowship, she spent a year with the U.S. Army Center for Health Promotion and Preventive Medicine working as a toxicology consultant, developing chemical exposure guidelines for long-term air, water and soil exposures during deployments and conducting health risk assessments. During this time, Stricklin was invited back to FOI in Sweden to establish a biodosimetry laboratory for radiation biomonitoring purposes. For seven years, she established the biodosimetry laboratory with standard and innovative assays, developed international networks, initiated a program for developing early diagnostics for radiation and chemical exposures, led a large project for health risk assessment in peacekeeping missions and developed an approach for assessing multiple chemical and physical exposures (stressors and risk; combined "exposures"). She also initiated a European Union (EU) project that coordinated chemical and biological emergency radiation preparedness and response protocols in EU countries.
After returning to the United States in 2008, Stricklin served as a program officer at the National Academy of Sciences (NAS) for the Nuclear and Radiation Studies Board and was the principal investigator for U.S. scientists at the Radiation Effects Research Foundation (RERF) in Hiroshima, Japan. RERF is a joint U.S./Japan epidemiological research institute studying the long-term health effects of radiation on the atomic bomb survivors. During her time at NAS, she coordinated a committee to evaluated radioactive waste forms and initiated a workshop on medical diagnostic radiation exposures.
In 2010, Stricklin joined Applied Research Associates (ARA) to lead an interdisciplinary team to tackle mathematical modeling of combined injury (radiation, burn and/or trauma). She investigated and employed cutting-edge techniques in modeling and simulation to understand very complex problems, such as combined exposures using multi-scale modeling approaches. Stricklin also coordinated the radiological/nuclear interagency Public Health and Medical Working Group for FEMA (2012‒2014) and served as a U.S. representative on a NATO Research Task Group on Radiation Bioeffects (2012‒ 2016).
She also served as an interdisciplinary scientist with the U.S. Food and Drug Administration's Center for Tobacco Products, where she utilized the knowledge gained from her extensive work experience to address public health issues and policy.