Radiation Exposure Monitoring System
Query Tool
The REMS Query Tool is intended to provide quick and easy access to summary information on radiation exposure at DOE facilities. A query tool such as this is often referred to as a "Data Mart". A simple 4-step process allows the user to view and extract the most commonly requested information on occupational exposure from 1986 to the present.
Select the data items of interest
Select the data filters, such as a range of years, a specific site, or a reporting organization
Group the data to sum it in the order of your preference
View the results in a table format, or download as an Excel file
The REMS Query Tool is updated each year as annual data is collected from the sites or when the sites submit updated records. It is therefore the best place to access the most up-to-date occupational exposure data.
During 2019
Increases in the dose and number of individuals with measurable dose were the result of increased activities involving radioactive materials, particularly at the DOE sites that comprise the majority of DOE collective dose.
DOE facilities continued to comply with DOE dose limits and ACL and worked to minimize exposure to individuals.
The number of individuals with measurable dose increased by 4 percent.
The collective TED decreased at DOE by less than 1 percent from 753.3 person‑rem (7,533 person‑mSv) in CY 2018 to 752.2 person‑rem (7,522 person‑mSv) in CY 2019.
The collective CED (internal exposure to U-234) decreased by 15 percent from 55.2 person-rem (552 person-mSv) in CY 2018 to 50.5 person-rem (505 person-mSv) in CY 2019.
Over the past 5 years
In CY 2015, there were increased cleanup activities at several sites across the DOE complex, SPRU in particular. This resulted in a 20 percent increase in collective TED from CY 2014 to CY 2015.  The collective TED decreased 5 percent from 746 person-rem (7,460 person-mSv) in CY 2015 to 709 person-rem (7,090 person-mSv) in CY 2016, mainly due to decreased activities at Hanford and Idaho.  In CY 2017, programmatic work at LANL and WIPP resumed after a work pause. In CY 2018, collective TED continued to increase at LANL as more programmatic work resumed from the work pause.
For 4 of the past 5 years, the collective dose was above the 5-year average of 744.30 rem.
For CY 2019, 58% of the DOE workforce was monitored for radiation dose, and 18% of monitored individuals received a measurable dose.
The number of individuals with measurable dose increased 15 percent (increased by 1,837 individuals) over the past 5 years.
The collective TED increased by 6 percent (increased by 43 person-rem) from CY 2015 to CY 2019.
Collective internal CED decreased by 1 percent (decreased by 0.6 person-rem) over the past 5 years.
Historical perspective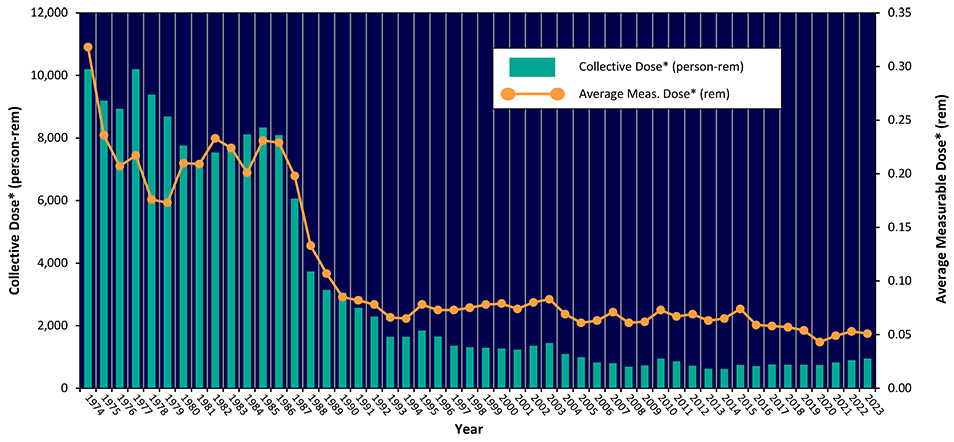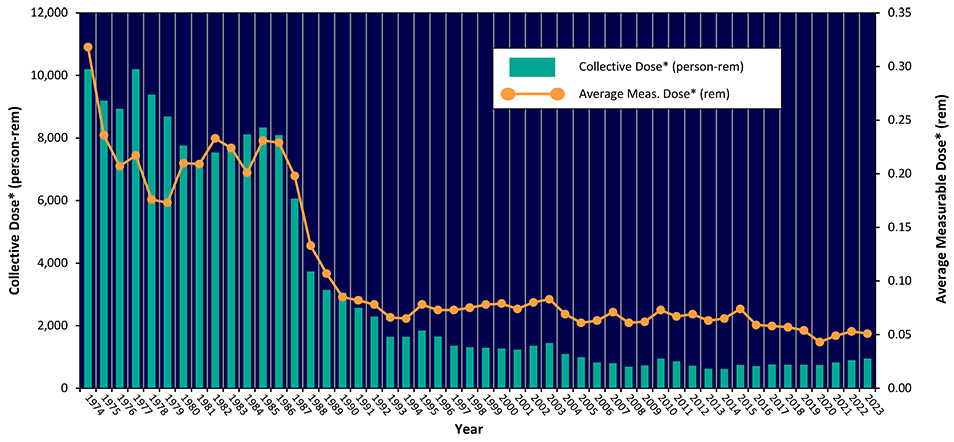 The average and collective dose at DOE facilities has experienced a dramatic (91 percent) decrease coinciding with the end of the Cold War era, due to:
The DOE mission shift from weapons production to stabilization, waste management, and environmental remediation activities;
Consolidation and remediation of facilities across the complex to meet the new mission; and
Improved regulations with an increased focus on ALARA practices and risk reduction.
Note: click on graph for detailed information