Adam Richard
Forensic Finding
Adam Richard came to the Federal Bureau of Investigation (FBI) Visiting Scientist Program to be involved in solving missing person and unidentified remains cases. His research has helped to improve identification efforts when trained forensic artists are not available. He also performed research to improve the transparency of anthropological contributions in the forensic sciences and to explain the mechanism behind postmortem hair banding.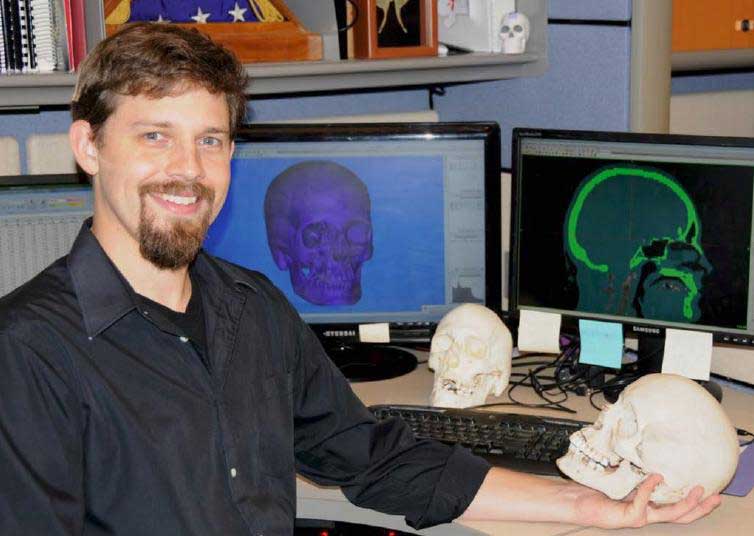 Richard's interest in missing person cases dates back to an incident in the summer after his freshman year of high school. Richard related the case of a news anchor named Jodi Huisentruit of Mason City, Iowa. She failed to show up for the local morning news program. Despite investigative efforts that reached a national level, she remains a missing person.
"It has been 22 years since she disappeared. It bothers me a great deal, so I continue to do what I can to support advancements in this area of law enforcement," said Richard. As a forensic anthropologist with the FBI, he has conducted research in support of identification efforts to help solve these sorts of disappearances.
The Visiting Scientist Program brings in recent graduates to conduct research in support of the FBI Laboratory's mission to provide technical leadership and advancement of forensic sciences for the FBI, as well as federal, state, local and international agencies.
Richard, who has a master's degree in anthropology from Texas State University, heard about the program at the Counterterrorism and Forensic Science Research Unit (CFSRU) through a previous participant who was a friend from graduate school.
As a member of Dr. Keith Monson's lab, Richard's research initially involved evaluating the effectiveness and accuracy of ReFace, a software program developed by the FBI which creates automated facial approximations of unidentified remains. He later split time between research, collecting field samples, processing and analyzing research specimens, and performing data analysis on a few hundred hardcopy case file records.
"The ability to collaborate across disciplines was easily the greatest part of this whole experience for me," said Richard. "It's often difficult to effectively foster interdisciplinary collaboration, but there is so much to be gained from having a team with diverse skill sets available to tackle a problem. The fact that the FBI Laboratory has a single unit dedicated to supporting research in all fields of forensics shows that they understand the benefits of this type of collaboration."
Richard enjoyed the program, and believes that the Visiting Scientist Program has contributed positively to his scientific and professional development.
"I received so much support and encouragement from so many different people that I can safely say I wouldn't be nearly the scientist I am today if I had not applied to this program. I can't even begin to count the number of interesting, and sometimes downright amazing, things I was exposed to during my time as a Visiting Scientist. Not only was the research enjoyable, but I was able to build relationships with many members of the case-working units," Richard said.
As a result of his participation in the program, Richard is listed as a primary or contributing author in several published articles, with three more to be published.
"If you have a passion for forensics and are looking to flex your intellectual curiosity, I can think of no better place to do it. Plus, the bonds you develop with your fellow Visiting Scientists will last a lifetime. I now have friends in every forensic discipline that I can call on for input," he said.
Richard is currently in training to become a forensic examiner in hair and fiber analysis with the FBI's Terrorist Explosive Device Analytical Center (TEDAC). He also teaches college courses in anthropology and forensics. In the future, he sees himself continuing to apply his anthropology background in criminal justice and national security issues for the FBI, while continuing to teach.
The Oak Ridge Institute for Science and Education (ORISE) is a U.S. Department of Energy (DOE) asset that is dedicated to enabling critical scientific, research, and health initiatives of the department and its laboratory system by providing world class expertise in STEM workforce development, scientific and technical reviews, and the evaluation of radiation exposure and environmental contamination.