About the U.S. Department of Energy
The mission of the Energy Department is to ensure America's security and prosperity by addressing its energy, environmental and nuclear challenges through transformative science and technology solutions. Learn more at www.energy.gov/mission
About the Office of Fossil Energy
and Carbon Management
The mission of the Office of Fossil Energy and Carbon Management is to minimize the environmental impacts of fossil fuels while working towards net-zero emissions. The Office's programs use research, development, demonstration, and deployment approaches to advance technologies to reduce carbon emissions and other environmental impacts of fossil fuel production and use, particularly the hardest-to-decarbonize applications in the electricity and industrial sectors. Priority areas of technology work include point-source carbon capture, hydrogen with carbon management, methane emissions reduction, critical mineral production, and carbon dioxide removal to address the accumulated CO₂ emissions in the atmosphere. The Office recognizes that global decarbonization is essential to meeting climate goals and works to engage with international colleagues to leverage expertise in these areas. The Office is also committed to improving the conditions of communities impacted by the legacy of fossil fuel use and to supporting a healthy economic transition that accelerates the growth of good-paying jobs. Learn more at www.energy.gov/fecm/office-fossil-energy-and-carbon-management
About the Mickey Leland Energy Fellowship Program
The mission of the Mickey Leland Energy Fellowship (MLEF) program is to strengthen and increase a diverse pipeline of future science, engineering, technology and mathematics (STEM) professionals. The program started in 1995 by the Office of Fossil Energy and Carbon Management (FECM) with the goal of increasing opportunities for geology students at Historically Black Colleges and Universities (HBCU). In 1999, FECM combined this program with its Hispanic Internship Program and Tribal Colleges and Universities Internship Program to form the Minority Education Initiative (MEI). The following year, Secretary of Energy Bill Richardson renamed MEI in honor of the late George Thomas 'Mickey' Leland. The Secretary stated that the fellowship program would honor his memory by "remembering a great American who dedicated his life to expanding human potential." Since 1995, FECM has hosted over 1,000 summer participants under the MLEF Program.
Who was George Thomas "Mickey" Leland?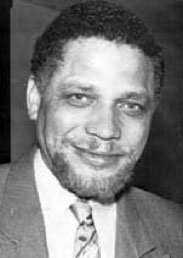 George Thomas "Mickey" Leland was America's most effective spokesman for hungry people in the United States and throughout the world. During six terms in the Congress, six years as a Texas state legislator and, Democratic National Committee official, he focused much needed attention on issues of health and hunger and rallied support that resulted in both public and private action. Leland combined the skills of the charismatic leader with the power of a sophisticated behind-the-scenes congressman. He matured during his years in Congress into a brilliantly effective and influential advocate for food security and health care rights for every human being. When Mickey Leland died in 1989, he was Chairman of the House Select Committee on Hunger. His committee studied the problems associated with domestic and international hunger and then delivered the practical solution of food. Read more about Mickey Leland at http://www.uh.edu/class/hcpp/interns/leland-fellows/bio-mickey-leland.php
Follow us on social media!