Meet a Participant: Chyanne Nader
Student researcher contributes to heat exchanger technology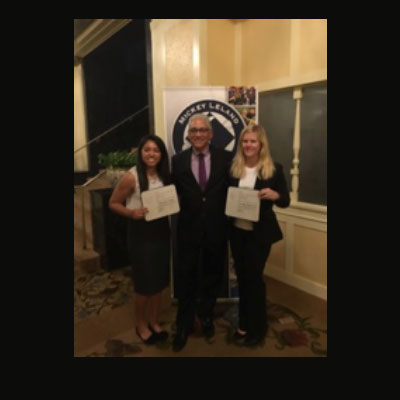 Mindful of humans' impact on the earth, Chyanne Nader chose to focus her university studies on civil engineering and sustainability to combine her interest in science with her passion for helping people and the environment.
Nader applied for the Mickey Leland Energy Fellowship (MLEF) Program and spent her summer researching at the U.S. Department of Energy (DOE) headquarters in Germantown, Maryland. Under the guidance of her mentor, Regis Conrad, Nader was tasked with improving the efficiency of heat exchangers, the technology that allows heat to transfer between solids and fluids or multiple fluids.
Using Pro-II, a process simulation tool, Nader performed data analysis and modeling of the indirect closed recompressed Brayton Cycle with supercritical carbon dioxide, a fluid state of carbon dioxide, as the working fluid to make the energy conversion process more efficient. The Brayton Cycle involves the transfer of heat into and out of the system and eventually returns the system to its original state. Additionally, she analyzed existing heat exchanger technology to determine what aspects operate effectively.
"Supercritical carbon dioxide cycles allow for a greater efficiency while reducing greenhouse gas emissions, plant size and water consumption," Nader explained." More efficient energy systems could result in lower energy prices and have environmental benefits."
In collaboration with fellows at various DOE facilities, Nader contributed to the revisions of a supercritical carbon dioxide spreadsheet that models different cycles in an effort to find which ones are practical for commercialization.
Participating in the program allowed Nader to research alongside professionals in the energy sector and students from a variety of academic backgrounds. As a result, Nader learned new approaches to research every day, a practice she hopes to maintain throughout her education.
"In the program, I was put out of my comfort zone. It made me work hard and learn about perspectives that I would not have been exposed to before," Nader said. "My experience at DOE has sparked my interest in the energy sector because there is a great diversity of research and development taking place."
After completing her bachelor's degree in civil engineering at the University of Maryland, Nader plans to obtain a career within the government that allows her to contribute to the community. Eventually, she would like to pursue a master's or doctoral degree in sustainability or environmental engineering, a desire that was solidified during her program participation.
"I am interested in research that involves making energy more efficient, reliable and environmentally friendly," Nader said. "The MLEF Program was a great opportunity to explore these interests with others who have similar goals and diverse thought processes."
The MLEF Program is administered by the Oak Ridge Institute for Science and Education (ORISE) for the U.S. Department of Energy.