Meet a Participant: Caroline Quanbeck
Geology student narrows DOE's search for rare earth elements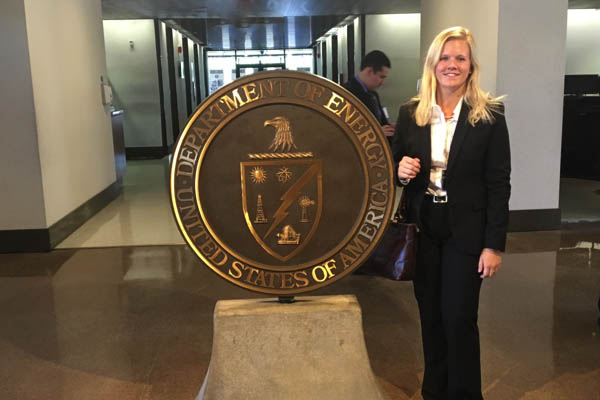 Every day the average American uses products—such as smartphones, laptops, colored televisions and hybrid vehicles—that contain rare earth elements (REEs). However, a domestic supply of 17 critical chemical elements is not readily available to manufacturers in the United States.
As a part of the U.S. Department of Energy's (DOE) initiative to secure a domestic source for REEs, Mickey Leland Energy Fellowship (MLEF) Program participant and geology student Caroline Quanbeck analyzed data to narrow the search for these elements. The data came from holes drilled deep in the ground.
Alongside her mentor, Regis Conrad, at the DOE headquarters in Germantown, Maryland, Quanbeck examined information collected from different rock layers buried deep underground. A device recorded the properties of the rock at various depths in wells. After analyzing data from more than 250 wells, Quanbeck recommended about 25 wells for further investigations and sampling. Her research allowed DOE to narrow its sampling locations and significantly increased the efficiency of the process.
"The goal of my project was to help find layers of clay that may be enriched in REEs and located near minable coal seams. Finding high concentrations of REEs near coal seams provides the opportunity to open a mine that coproduces REEs and coal," Quanbeck explained.
With an interest in policy, Quanbeck applied to the program to research at a government agency and gain a better understanding of how scientific research influences the policy and decision-making process.
When asked about her favorite part of the MLEF program, she said, "This program gave me the opportunity to network with professionals in the energy industry, and I learned a lot about the potential career paths available. The MLEF Program also gave me experience in a fascinating subfield of geology, which I never would have been exposed to in great detail in an undergraduate degree program."
After her participation in the MLEF Program, Quanbeck returned to the University of Miami to complete her bachelor's degrees in geological sciences and ecosystem science and policy. Eventually, she hopes to obtain a doctoral degree and pursue a career in research, specifically related to climate change and its impact on the coastal communities she has encountered in Florida. Overall, she considers her experience in the MLEF Program a step toward that goal.
"I gained confidence in my ability to solve problems and think independently," Quanbeck said. "I feel more prepared for graduate school and professional life as a result of the MLEF Program."
The MLEF Program is administered by the Oak Ridge Institute for Science and Education (ORISE) for the U.S. Department of Energy.