Meet a Participant: Adrian Salguero
Computer science student improves method of creating simulation data for foamed cement research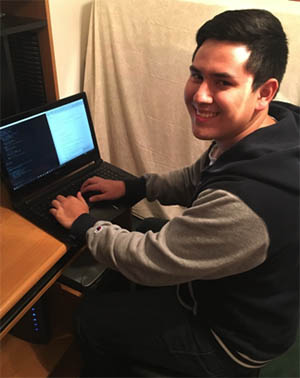 After being introduced to computer coding in high school, Adrian Salguero dedicated his higher education experience to learning new programming languages and computer science concepts. As a participant in the U.S. Department of Energy (DOE) Mickey Leland Energy Fellowship (MLEF) Program, he put his classroom knowledge to practical use at the National Energy Technology Laboratory (NETL) facility in Pittsburgh, Pennsylvania.
During the program, Salguero, alongside his mentor, Eilis Rosenbaum, created a computer program that can quickly and efficiently develop simulated data to study foamed cement. Foamed cement, a less dense version of traditional cement, poses numerous benefits including lower cost, higher ductility and reduced environmental impact.
"Because foamed cement is created using a cement slurry and gas, commonly nitrogen, the product will contain some distribution of bubbles. The amount and size of these bubbles are critical in the foamed cement's performance and durability once placed," Salguero explained. "Having too many neighboring large bubbles could cause the cement to fracture and break."
NETL collaborated with several industry partners to collect foamed cement samples using the same equipment used in well cementing operations. Salguero's computer program uses the critical bubble size properties from these valuable samples to create representative simulation data to study the effects of such properties as the volume fraction. At different depths in the well, the bubbles will be influenced by pressure changes which will change the volume fraction of the bubbles.
Other properties of the cement, such as the viscosity and the potential for bubble clustering, are a function of the volume fraction. During the yard tests, a few volume fractions were produced and collected. To be able to simulate additional volume fractions, the sets of data can be generated using the program. Simulations using this data as input can then be used to identify the properties that dictate performance in the well.
"This research will lead to a safer and more effective method of creating foamed cement for well cementing applications," Salguero said. "Ideally, this will allow for safer welling operations in oil and natural gas wells, which are key resources for our country."
Throughout the program, Salguero was exposed to new programming languages and software, a challenge he found both technical and creative. On a regular basis, he had the opportunity to interact with other students and researchers who offered differing perspectives.
"This program was beneficial as it gave me the opportunity to gain real-world experience in a research facility," Salguero said. "Being a part of a larger project allowed me to apply what I learned in school to something that will hopefully benefit the oil and natural gas industry."
After completing his bachelor's degree in computer science from the University of California, Santa Cruz, Salguero plans to pursue a master's degree and possibly a doctoral degree. Ultimately, he hopes to remain in the field of research and academia while continuing to evolve with the ever-changing technology landscape.
"Overall I really enjoyed the program and truly believe it helped me improve my work habits and gave me an opportunity to apply the material I learn in lectures to real scenarios," Salguero said. "I would highly recommend this program to others, especially if they are eager to gain real-world experience."
The MLEF Program is administered by the Oak Ridge Institute for Science and Education (ORISE) for the U.S. Department of Energy.