Meet a Participant: Wyatt Adams
Between a rock and a hot place: Student researcher develops diagnostic to help characterize coal combustion kinetics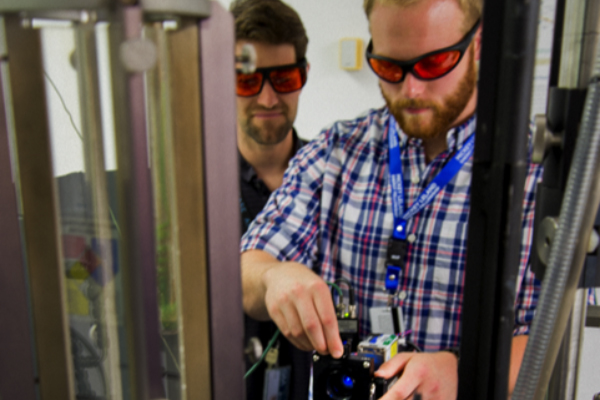 There are many reasons why coal combustion remains a vital player in the future of U.S. energy production. Roughly 40 percent of the United States' electrical energy is generated by burning coal, many states have relatively ample reserves, and coal has remained one of the cheapest sources of fuel throughout America's history. Unfortunately, coal-based energy production is also one of the most prolific sources of atmospheric carbon dioxide (CO2). This byproduct contributes to global climate change. Climate scientists warn that the current state of energy production will cause irrevocable environmental damages that will affect the planet's aesthetic, ecological and economic value.
As a participant in the Mickey Leland Energy Fellowship (MLEF), Wyatt Adams researched a method of burning coal known as oxy-combustion, a version of coal-based energy production that allows the United States to utilize its natural abundance of coal while mitigating negative environmental impacts.  MLEF, a 10-week summer internship program, is administered by ORAU through its contract with the U.S. Department of Energy (DOE) to manage the Oak Ridge Institute for Science and Education.
Adams investigated oxy-combustion alongside his mentor, Ethan Hecht, at Sandia National Laboratories in Livermore, CA. He states that this burning process is useful because it enables carbon capture and sequestration (CCS), a method of capturing CO2, which can be a useful product (e.g. for enhanced oil recovery), or stored below ground, preventing CO2 from entering the atmosphere. Traditional coal combustion results in gases too diluted by nitrogen (from the air) to efficiently implement CCS, but with oxy-combustion, water vapor and CO2 are highly concentrated. This optimizes the separation and capture of the CO2.
"Oxy-combustion refers to the process of burning coal in the presence of high concentrations of oxygen, which is more efficient than combustion in air since there is no significant portion of nitrogen to be wastefully heated, and the resulting gas has a high enough CO2 concentration to be suitable for CCS," Adams explained.
During his time at Sandia, Adams contributed to an ongoing experiment tasked with calculating the kinetics of oxy-combustion reactions. Specifically, Adams attempted to alleviate some of the unique challenges encountered when gathering data in a high temperature environment. Thermocouples have typically been used to obtain measurements of the high-temperature gaseous environments in which pulverized coal particles react. However, in the presence of extremely high temperature CO2, the thermocouple was rapidly consumed.
"In order to obtain the required temperature measurements, we began to develop a non-invasive optical temperature diagnostic. This tool employs a laser, some optical components, light detectors, data analysis algorithms, and a physical phenomenon called Rayleigh scattering to determine the temperature inside a combustion reactor," said Adams. "Using this system, the problems associated with taking thermocouple measurements are avoided, and we can continue to characterize the oxy-combustion of coal."
By using this diagnostic that uses light to measure temperature and countering the challenge associated with gathering oxy-combustion data, Adams believes clean coal based energy is much more attainable. This will support the high standard of living with low costs of energy that Americans have become accustomed to.
"That way, people can continue to use modern-day technologies without harming the environment, while society transitions to more renewable energy sources in the future," said Adams.
The Mickey Leland Energy Fellowship program is administered through the U.S. Department of Energy's Oak Ridge Institute for Science and Education (ORISE), which is managed for DOE by ORAU.