Meet a Participant: Andrew Bean
A place for everything and everything in its place: student researcher indexes government geological samples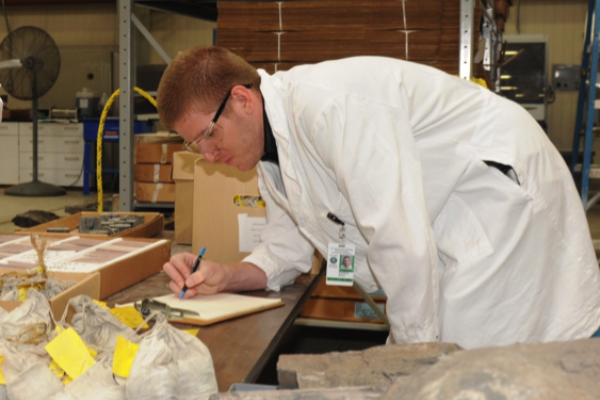 When the general population considers the scientific process, organized storage is rarely an obvious component. However, maintaining scientific equipment and samples is imperative for researchers to produce usable data. Unfortunately, the sheer scale of samples many governmental laboratories use every day can be daunting.
Realizing the importance of organization, the Department of Energy's National Energy Technology Laboratory (NETL) brought on Andrew Bean as a Mickey Leland Energy Fellow (MLEF) to characterize the laboratory's extensive collection and combat potential disarray. Bean was tasked with cataloging and creating an inventory of the literal thousands of geological samples as well as the data gathered from the analyses of these samples.
Bean stressed the importance of organizing and storing the geological samples properly.
"These tens of thousands of samples are currently being stored in the labs (and even in researchers' offices). Some of these samples require certain storage environments, (such as refrigeration, frozen, temperature-control, humidity-control, etc.). Otherwise, the chemistry, matrix and texture of the sample will alter after exposure to the atmosphere," Bean said.
To accomplish this organization project, Bean and another Mickey Leland Energy Fellowship participant, Dan Peluso, collaborated and researched existing geological catalogs in an attempt to apply their organizational structure to NETL's library of samples. The two traveled to three NETL facilities, and interviewed geological and environmental scientists to evaluate the way NETL geological samples would require storage and maintenance. In addition, Bean met with organizations outside of the National Energy Technology Labs. By researching some of the nation's top geological collections, such as the Marine Geology Repository at Oregon State University, Bean and Peluso were able to see how other experts in the field deal with their plethora of samples.
"We made contact with Albert Kollar, invertebrate paleontologist at the Carnegie Museum of Natural History in Pittsburgh, to note how a museum organized, indexed, catalogued, tagged and preserved their specimens. Dan and I also met with Maziet Cheseby, curator at the Oregon State University's Marine Geology Repository, to tour their collection, some of which is located in refrigerated and frozen environmental chambers," Bean explained.
Bean's geology background paired well with Peluso's skillset. While Bean detailed most of the physical characteristics of a geological repository, Peluso researched the needs of the digital components. Together, they determined that not only is an organization of geological samples dependent on physical traits important, a digital database used to catalogue and track the samples is also imperative.
"Implementing a geo-sample repository would noticeably reduce project delays, allow discoverability if a scientist requires a sample related to his research, provide security and accountability for samples, provide tracking of who checked out what sample and where it is located and provide a universal method of tagging, packaging, shipping, handling and storing. Implementation of a geological repository would increase efficiency around the labs," Bean said.
Bean hopes that his contribution will further the goals of NETL. By creating this catalogue of the geological samples, Bean has helped expedite projects that provide groundbreaking technological advances that can benefit the average citizen.
After his fellowship ended, Bean accepted an offer to continue researching as an Oak Ridge Institute for Science and Education (ORISE) student while finishing his Bachelor of Science in geology as well as his Bachelor of Arts in environmental geoscience.  He considers the MLEF program an important opportunity for students in energy and science fields to get hands-on experience in a governmental research environment and describes his experience as positive.
When looking to the future, Bean hopes that his efforts during his time as an undergraduate will further his education into graduate school and eventually result in a rewarding career in geosciences.
The Mickey Leland Energy Fellowship program is administered through the U.S. Department of Energy's Oak Ridge Institute for Science and Education (ORISE), which is managed for DOE by ORAU.