Meet a Participant: Brenna Doherty
Tracking change: student researcher helps bring the fossil fuel industry into the future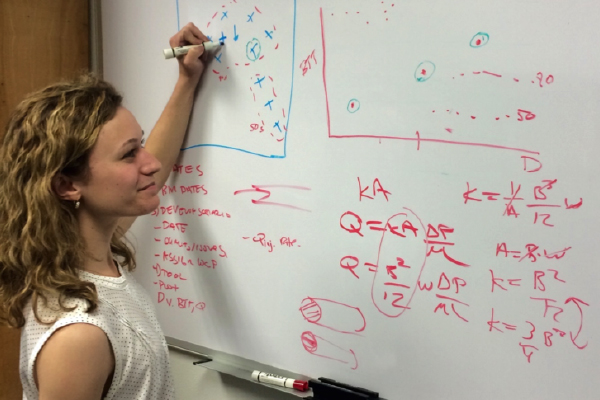 Global climate change is among the most pressing issues facing modern society. While the extent to which climate change is caused by anthropogenic activity is debated, elevated levels of carbon dioxide released by human activity are projected to exacerbate the already warming climate. To prevent this excess atmospheric carbon dioxide, many government and corporate entities are considering the use of carbon capture and sequestration. This sequestration involves capturing CO2 and storing it in secure locations before it can negatively affect the environment. By researching means to mitigate its CO2 contribution, the fossil fuel industry can remain viable as a provider for the United States' energy needs in an environmentally conscious market.
Among those researching carbon sequestration is Brenna Doherty, a petroleum engineering student at the University of Wyoming. Doherty spent her summer at the National Energy Technology Laboratory in Albany, Oregon, as a fellow of the Mickey Leland Energy Fellowship (MLEF). Here, she helped validate the National Risk Assessment Partnership's (NRAP) Well Leakage Analysis Tool, a computer modeling program that can be used to estimate the transport of CO2 and brine along potentially leaky wells. To test the Well Leakage Analysis Tool, Doherty created a case study using existing wells in Wyoming and measured their leakage of CO2 and brine into a nearby aquifer. This tool is useful because one potential mode of carbon sequestration involves injecting CO2 into underground, depleted oil or natural gas wells filled with briny water.
"I had three major study goals: measure CO2 breakthrough times into the Mesaverde Aquifer, determine the impact of the Wall Creek Thief Zone on CO2 leakage, and measure long-term brine leakage in self-sealing wells," Doherty said.
Normally, these measurements would be difficult to ascertain. However, Doherty used the Well Leakage Analysis Tool to create computer simulations that more accurately predict the movement of CO2 through various underground geological formations. Through this process, Doherty was also able to identify problems in the software that should be fixed, making the Well Leakage Analysis Tool more robust for future users.
"I spent a vast majority of my time running simulation after simulation in order to find bugs in the tool, along with collecting data in order to answer my study questions," Doherty continued.  
Because of Doherty's research, the Well Leakage Analysis Tool has more validity as a prediction tool for CO2 leakage. Using this software, fossil fuel industry leaders can eliminate unnecessary disruptions in the lives of average citizens who would be affected by these potential leaks, and latent environmental disasters can be adverted.
Doherty has since returned to school to continue her studies, but she believes her MLEF experience will be invaluable in pursuing her career choices, including her next internship which she hopes to obtain at a large-scale petroleum company. She attributes many of the skills and knowledge she has gained to the MLEF program and believes the experience allowed her to pursue many previously unconsidered opportunities.
When considering her entire experience, Doherty said, "Overall, I entered my fellowship as just another student studying petroleum engineering, but after being in a true work environment for two months, I left feeling like I am able to conquer the world."
The Mickey Leland Energy Fellowship program is administered through the U.S. Department of Energy's Oak Ridge Institute for Science and Education (ORISE), which is managed for DOE by ORAU.