Meet a Participant: Jessica Farrell
Securing the future of coal: Coal-fired power plants produce cleaner air and waste using Carbon Capture technology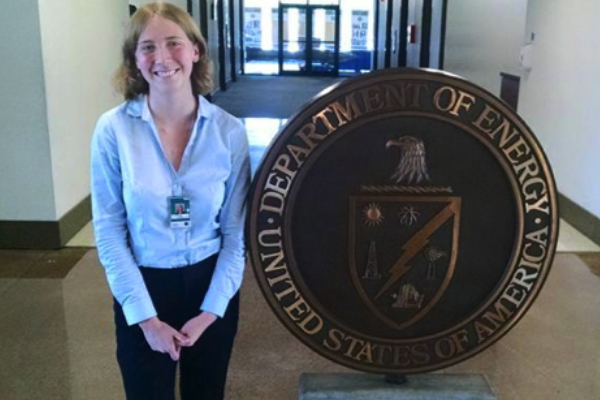 Coal combustion is responsible for both a majority of the United States' electrical energy and a large percent of total U.S. greenhouse gas emission. Coal-fired power plants are important to the daily life of Americans, but contribute to global warming. Carbon Capture and Storage (CCS) technology addresses this dilemma by decreasing coal-fired power plant emissions, while maintaining the plant's productivity. As a participant of the Mickey Leland Energy Fellowship (MLEF) program, Jessica Farrell developed a method to evaluate the potential for CCS.
While completing her research at the Division of Government Affairs and Analysis in the Office of Clean Coal, Farrell analyzed which power plants in the U.S. would most benefit from a Carbon Capture and Storage retrofit. CCS technology captures carbon before it enters the atmosphere, which allows the plants to continue operating while reducing emissions. It was from her research that Farrell designed an outreach strategy for the Department of Energy (DOE) to target a select group of states in which to implement CCS technology.
"The purpose of my research was to provide a quantitative method to determine which states should be targeted for CCS outreach for their power plants in order to still maintain economic sense and to help protect the environment," said Farrell.
Farrell designed the outreach strategy by researching multiple large data sets and gathering information on the power plants in each state.  She used this information to evaluate and rank each state based on a five-point scale, which she also developed. The end result, a ranked list of states, was delivered to the DOE.
"Carbon Capture technology is essential to ensure the future of coal in the United States' energy profile and to provide a more stable and secure energy system. This technology will help power plants provide cleaner air and waste while also maintaining low energy prices and providing reliable power," explains Farrell.
Though almost every American relies on energy from coal, Farrell is more aware of coal's economic role as she grew up and studied in the Appalachian region.
"The social and political attitudes towards coal in my region are especially interesting, and this research allowed me to feel a deep connection to my work and what I attempted to create. I believe being a student from a rural, coal-centric area allowed me a unique opportunity to possibly make a noticeable difference in my region," said Farrell.
While Farrell is a math and physics major, she is also minoring in international studies at Morehead State University. This intersection between STEM and social sciences was part of the reason she applied for the fellowship.
Recently, the American Physical Society awarded Farrell a $900 grant to start the Women in Physics club at her university, through which she plans to host science outreach activities with local middle- and high-school students and Girl Scout troops. After finishing her undergraduate degree, Farrell will either apply for a one to two year science and technology policy fellowship program or attend graduate school for science policy. Ultimately, she wants a position where she can advocate the need for science education to the general public.
The Mickey Leland Energy Fellowship program is administered through the U.S. Department of Energy's Oak Ridge Institute for Science and Education (ORISE), which is managed for DOE by ORAU.