Meet a Fellow: Chietha Moore
Fellow Chietha Moore synthesized and characterized customized ionic liquids for post-combustion carbon capture at the National Energy Technology Laboratory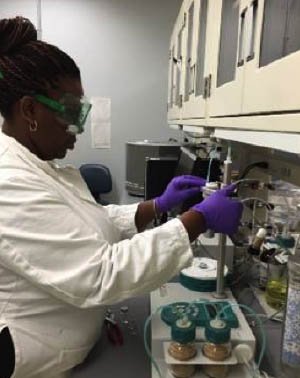 Although coal combustion at power plants generates a substantial amount of electrical energy, it also contributes to greenhouse gas emissions. In an effort to reduce the negative impacts of coal-fired power plants while providing similar energy outputs, researchers are investigating methods to prevent the release of carbon dioxide into the atmosphere. As a participant in the Mickey Leland Energy Fellowship (MLEF) Program, chemistry student Chietha Moore joined these researchers.  
With guidance from her mentor, Megan Macala, in the Carbon Capture Group at the National Energy Technology Laboratory (NETL) in Pittsburgh, Pennsylvania, Moore conducted research to synthesize and characterize customized ionic liquids for post-combustion carbon capture. This process refers to the separation of carbon dioxide from exhaust gases released during combustion.
Her research focused on ionic liquids because they have desirable properties for the carbon capture application including high carbon dioxide solubility, high carbon dioxide selectivity over gases such as nitrogen and methane, low volatility, tunable properties and chemical and thermal stability. Moore synthesized the liquids using a two-step procedure and characterized the liquids using analytical techniques such as nuclear magnetic resonance, mass spectrometry, ion chromatography, Karl Fischer and thermal gravimetric analysis. This allowed Moore to confirm the chemical structure, purity, water content and thermal stability of the ionic liquids.
"This research could help provide a greener way to reduce the amount of carbon dioxide emitted from coal-fired power plants. The ionic liquids I synthesized for my research are carbon dioxide selective, and they absorb carbon dioxide from flue gas at coal-fired power plants," Moore explained.
Moore enjoyed the opportunity to interact with other interns and staff scientists while learning about various projects and types of research being conducted around the country.
"Being a part of the MLEF Program exposed me to analytical techniques I had never used before, such as the Karl Fischer coulometer which measures the amount of water in aqueous solutions," Moore said. "The skills I learned in the 10-week program will stay with me for the rest of my career as a chemist.  
After her internship, Moore returned to Chicago State University to complete her bachelor's degree in chemistry. Her ultimate goal is to attend pharmacy school in the hopes of becoming a research pharmacist and focusing on diseases and medications in African-American communities.
"Through the MLEF Program, I developed various relationships with people. The relationships will be beneficial to my future in many ways," Moore said. "The MLEF Program provided a stepping stone for networking with people in various places, and it allowed me to experience research at the federal level." 
The MLEF Program is administered by the Oak Ridge Institute for Science and Education (ORISE) for the U.S. Department of Energy.