Meet Jennifer Bauer
POSTGRADUATE'S RESEARCH HELPS DETERMINE PROS AND CONS OF ENERGY EXTRACTION AROUND THE U.S.
As long as energy independence remains a prime concern to American citizens and policymakers, scientists and engineers will continue to search for safe, effective and efficient means to supply the burgeoning demand. A key challenge is providing evidence to environmental groups and others that the methods used to extract, store and produce energy produces minimal damages with maximum results.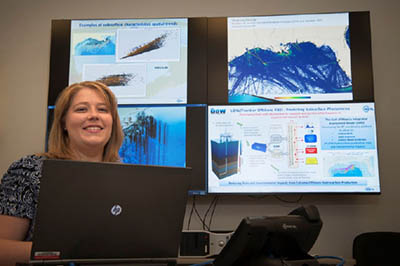 Jennifer Bauer, a recent M.S. graduate in geography from Oregon State University, knows that concept well. Before she came to NETL as a postgraduate researcher, she focused on the conservation of marine ecosystems, including reducing the associated impacts of energy production and development. Now in the NETL Postgraduate Research Program administered by ORAU through the Oak Ridge Institute for Science and Education, she finds the sentiment not wholly different.
"Research here isn't designed to favor a particular outcome, but instead focuses on identifying optimal solutions that reduce potential risks and impacts associated with different forms of energy production while still meeting the energy needs of the nation. As a result, my environmental background assessing risks complements my work with ORISE and NETL nicely," she said.
At the lab, she gathers data that describes subsurface geological characteristics and potential migration pathways of the natural gas. She also studies potential receptors, or items that could be affected by energy extraction including water sources, the atmosphere, infrastructure and residential areas. Her goal is to help industry leaders and policymakers make informed decisions about energy extraction.
"I focus on assessing risks and potential impacts associated with deep and ultra-deep water drilling activities in the Gulf of Mexico, assessing potential risks and impacts associated with unconventional resources in the Appalachian Basin, and estimating carbon dioxide storage potential in the Oriskany rock formation in the Appalachian Basin."
She uses GIS software to visualize, analyze and interpret any trends in the data or across multiple data sets. Overall, the task can be daunting given the quality of data needed to perform analyses.
"Most people expect, especially given the wide accessibility of information via the internet, that collecting spatial datasets would be easy. However, this isn't the case, as spatial datasets often fail to include critical information about their collection methodologies, associated uncertainty, or use abbreviations but fail to explain said abbreviations" she said. "As a result, only about 10-35 percent of the spatial datasets collected can be used in the final analyses for a project."
Often, Bauer speaks with geologists and GIS programmers one-to-one. This gives her a first-hand look at the magnitude of data both available and needed to make informed decisions about best natural gas and oil drill spots.
Bauer has been in the program since 2012 and will remain until August 2014.
"This has been a great experience that continues to provide me with numerous opportunities, while also allowing the flexibility to follow tasks or projects to learn new things, perform research alongside new people, and grow in areas of scientific need," she said. "This program develops skills that can't be acquired in a classroom in a nurturing environment with encouragement, support and guidance from a mentor and other colleagues."
After the program, Bauer is considering pursuing her doctorate degree. Eventually, she hopes to obtain a federal research position.
"I want to conduct research to better inform management and policy as well as continue working on developing new methods to more effectively communicate science to managers and policymakers."