Meet Lawrence Sim
GRADUATE DEVELOPS MODEL TO ASSESS OIL-DRILLING IN GULF OF MEXICO
Lawrence Sim grew up on the California coastline, along miles and miles of sand and surf that inspired his scientific interest in coastal area preservation and protection.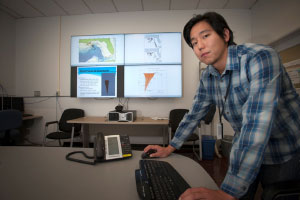 He earned his bachelor's degree in geography from the University of California Santa Barbara and now splits his time between graduate school at Oregon State University and the National Energy Technology Laboratory (NETL) Professional Internship Program administered by ORAU through the Oak Ridge Institute of Science and Education.
Sim's days mainly consist of computer modeling, using inputs like underwater temperature and pressure to help illustrate the reaction points and behavior of deep ocean oil.
"I am developing a spatially-explicit model that can simulate all the complexities of a blowout event, like Deepwater Horizon," said Sim, noting that complexities in the deep ocean include high-pressure, non-surfacing oil; mixed gases' jet/plume behavior' and the possible formation of lathrate hydrates (icy gas bubbles that prevent the piped removal of oil).
As part of the program, Sim collaborates with numerous NETL and other researchers, attends conferences, and makes presentations to top scientists in the field.
"Such experiences definitely imbue a sense of significance and pride in what I'm doing," he said.
"The purpose of my research is to provide a valuable tool in risk-assessment for new deepwater and ultra-deepwater oil prospects, in addition to a solely response-focused tool," said Sim, noting the Gulf's more than 150 active ultra-deepwater fields, or fields deeper than 5,000 feet. "I hope it will be used to evaluate the feasibility on offshore drilling proposals as well as guide contingency planning in the event of a deep ocean blowout."
The program Sim participates in is designed to introduce undergraduate and graduate students to the challenges of conducting energy research. A main emphasis of the program is on transitioning classroom theory into a professional, hands-on learning experience. Because of Sim's frequent communication about his project, he has developed communication skills he may never have received as an undergraduate.
"It's always beneficial to have an ability to explain your work to the public, bureaucrats or even other researchers who just aren't as experienced in your particular field," he said. "Each presentation I do makes the next one easier, and such skills have crossed over into my academic life and boosted my overall confidence."
Sim began his internship in fall 2011 and plans to transition into the NETL Postgraduate Research Program after defending his thesis in fall 2013.
"I will continue to conduct research on the project in a post-graduate position until I feel the model is developed enough to stand on its own and be passed on to another team if necessary," he said. "I believe the model stands on its own well enough for that, but it still has a lot of room for improvement and added functionality."
Sim eventually hopes to obtain a job in the field of spatial sciences at an organization like the National Oceanic and Atmospheric Administration or United States Geological Survey.