Derek Hagemeyer promoted to director of ORISE Independent Environmental Assessment and Verification program New director brings 30-plus years of occupational exposure expertise
Sept. 26, 2019
OAK RIDGE, Tenn.—Derek Hagemeyer has been named director of the Oak Ridge Institute for Science and Education's Independent Environmental Assessment and Verification (IEAV) program located in Oak Ridge, Tenn.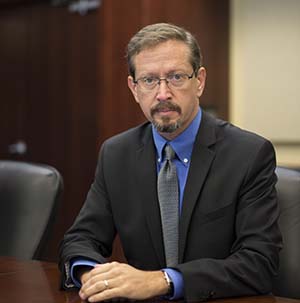 In this position, Hagemeyer is responsible for the program that provides independent verification for the U.S. Department of Energy (DOE), Nuclear Regulatory Commission (NRC), and other federal agencies. When DOE or NRC facilities undergo decontamination and decommissioning, the IEAV program serves as the independent group that verifies and informs these agencies about whether the remediated site meets the release criteria to ensure the safety of people and the environment. Part of that verification process involves collecting soil, water, concrete, waste, and other types of materials. Once the samples for ORISE projects are collected, they are analyzed at the ORISE IEAV Radiological and Environmental Analytical Laboratory to accurately determine the presence and amount of radiological contaminants.
With more than 30 years of experience, Hagemeyer also currently serves as the principal investigator for the DOE Radiation Exposure Monitoring System and the NRC Radiation Exposure Information and Reporting System projects. In addition, he is also the project manager for the NRC's effluent project, which requires commercial nuclear power plants to report releases of radioactive gases and liquids from plant operations.
"We are excited to welcome Derek's wealth of expertise and intimate knowledge of the ORISE contract," said ORISE Director Jim Vosburg. "His three decades of experience in occupational exposure is invaluable to maintaining the IEAV program's high level of accuracy and independence when verifying that sites are ready for release."
As part of his new role, Hagemeyer will continue to oversee ORAU's Professional Training Programs, which has provided training in the radiological sciences since 1948. He is currently serving as vice chairman of the international Information System on Occupational Exposure Working Group on Data Analysis to provide support in the collection and analysis of ISOE's international database of radiation exposure information. ISOE is jointly sponsored by the Organization for Economic Co-operation and Development and the International Atomic Energy Agency.
Hagemeyer received a bachelor of science in nuclear engineering from the University of Virginia and is a member of the Leadership of Oak Ridge class of 2016.
Media Contacts
The Oak Ridge Institute for Science and Education (ORISE) is a U.S. Department of Energy (DOE) asset that is dedicated to enabling critical scientific, research, and health initiatives of the department and its laboratory system by providing world class expertise in STEM workforce development, scientific and technical reviews, and the evaluation of radiation exposure and environmental contamination.
ORISE is managed by ORAU, a 501(c)(3) nonprofit corporation and federal contractor, for DOE's Office of Science. The single largest supporter of basic research in the physical sciences in the United States, the Office of Science is working to address some of the most pressing challenges of our time. For more information, please visit science.osti.gov.