Planting the seeds: Manon Fleming is passionate about helping kids learn, grow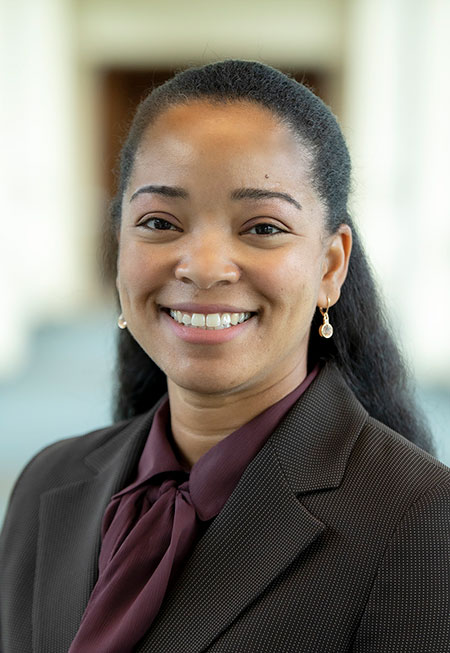 May 27, 2022
Whether she's planting seeds in the minds of the children she works with, or the children she's raising at home, Manon Fleming is always keeping busy.
Between four children and a husband, her position as a project manager for ORISE, and her determination to give her best, Manon accomplishes an impressive balancing act.
Manon has had a serendipitous career. She graduated with an engineering degree from the University of Tennessee, later earning an MBA. She then worked for Y-12 National Security Complex for 10 years, eventually becoming a program manager. Manon's career pivoted after she left her job to spend time with her family, and she found herself becoming more and more involved with her children's schools through volunteering. Manon eventually started substitute teaching, which then turned into teaching math full-time. Manon finally found a position in the K-12 group for ORISE, where she has perfectly married all of her past experiences.
"Someone said 'you'd be perfect for this,'" Manon recalled about her current position. "Reading the criteria and the scope of what this position entailed, I was like 'this is a perfect blend of both of my backgrounds,' so I was immediately drawn to it and applied."
Her job involves project managing several of the key student and teacher programs and events in the ORISE K-12 Group. Manon especially enjoyed working on the Tennessee Science Bowl because of all the connections she made with students and teachers, and she is just as excited to get started on the Joint Science Technology Institute (JSTI) this summer.
"It's a program that will include students and teachers from across the United States," said Manon. "Knowing the opportunities that they're going to receive—working together, working with scientists and researchers, with the mentors—it's a great program, and I'm excited to be part of that."
While Manon is devoted to her work, she also makes sure to take time for her children: volunteering on field trips, helping them train for track meets, and letting them know that she'll be present for them no matter what.
"A lot of my time is spent supporting each of them, because they are now beginning to have their own lanes of their self," Manon said. "I do try to find space for me and have my time, in the small groups in church, but then I'm at the basketball courts, I'm at the baseball fields, I'm at the track meets or I'm at the park."
Manon also finds time to volunteer at her church, where she teaches worship dance, and she was an athletic coach when she was a teacher. Even as she devotes time to work and to her own children, Manon explained that she finds it important to make her skills and passion available to others.
"You could say 'I'll let somebody else do it," Manon explained. "Well, they might get someone by default that might not have the same passion or the same knowledge or the same ability. So there is a balance in continually saying 'Yes, yes, I'll do it.' I think with wisdom, saying yes and using your gifts and your strengths is the best."
Throughout the different threads of Manon's life—home, work and volunteering—a prevailing theme is her work with children. Manon explained that her relationships with the children in all facets of her life are rewarding.
"In the classroom, at church, with my own kids—all of that kind of blends together and creates even a greater passion and compassion for every student and every child," Manon said. "It's neat when I get to interact with the youth in different capacities. But it's going to all help me with my job interacting with the students at the camps and at the different programs. You're just planting seeds that you know are going to germinate one day. It kind of fills you back up, so as much as you're giving out, I don't find myself super exhausted. It's more satisfied."
Manon calls herself a "student for life," and will always be looking for opportunities to learn.
"I believe that there is more that I can do, more that I can learn," she said. "Some of that is learning about yourself—what more do you have to offer? So I embrace that."
Media Contacts
The Oak Ridge Institute for Science and Education (ORISE) is a U.S. Department of Energy (DOE) asset that is dedicated to enabling critical scientific, research, and health initiatives of the department and its laboratory system by providing world class expertise in STEM workforce development, scientific and technical reviews, and the evaluation of radiation exposure and environmental contamination.
ORISE is managed by ORAU, a 501(c)(3) nonprofit corporation and federal contractor, for DOE's Office of Science. The single largest supporter of basic research in the physical sciences in the United States, the Office of Science is working to address some of the most pressing challenges of our time. For more information, please visit science.osti.gov.