Bringing imagination to life: CIA Mission Possible: Makerspace Nation contest awards three schools with $30,000 each
June 5, 2023

For children, the only limits should be their imagination, and that's especially true when it comes to education. As technology becomes more advanced, so do teaching methods to make sure that students are empowered to learn more about the world around them and the technology they use every day. Thanks to the CIA Mission Possible: Makerspace Nation contest, three classrooms in Illinois, Nebraska and Missouri now have $30,000 each to create Makerspace labs which will engage students with science, technology, engineering, art and math (STEAM). The four teachers who won this contest submitted short videos creatively illustrating the need for and potential uses of Makerspace labs in their classroom.
Chicago teachers Elizabeth Eaken and Amy Wagner, who teach together at Northside College Preparatory High School, are excited to turn their students' designs from 2D to 3D.
"One of the things Amy and I are so passionate about is making sure our kids get to be 'do-ers' in STEAM and computer science," said Eaken. "So having access to these funds to be able to develop such an enormous makerspace is such an enormous jump ahead for us. At this moment, when we talk about design, our kids can only design on paper. But now they can take those designs and turn them into reality."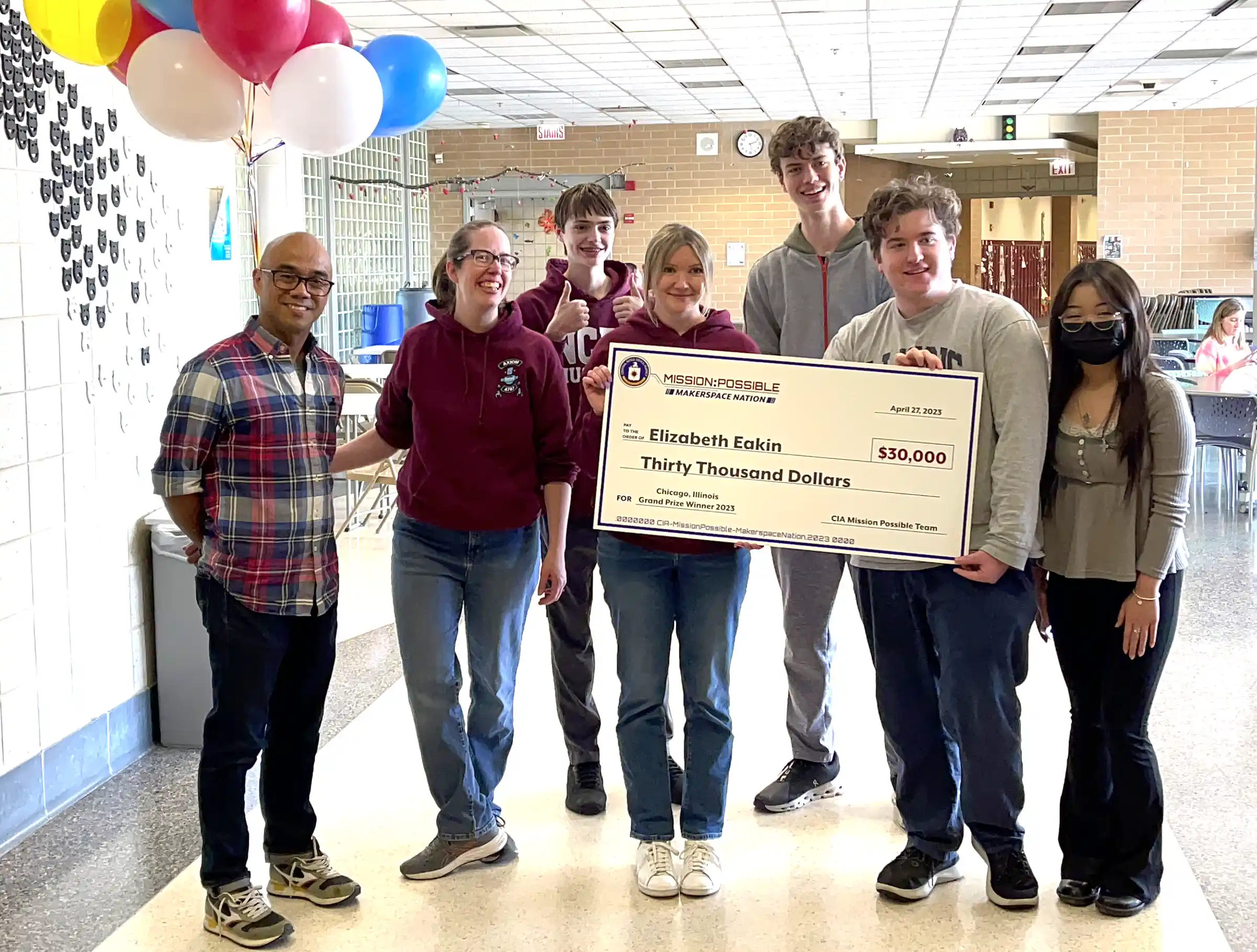 Pinewood Elementary School teacher Susan Young, who teaches in Omaha, Nebraska, celebrated her surprise $30,000 check with a group hug from her students.
"I think it's going to give them tons more opportunities to have their hands on the equipment and use things," Young said. "I love discovery learning. I love it when they can learn for themselves from playing with it and learning from play, because they remember it better."
Wesley Bryant, who teaches at KIPP KC Legacy High School, represented Kansas City, Missouri, with his win. Bryant said he was overwhelmed with joy at the opportunity to provide his students with the space and materials to bring their ideas to life. Bryant shares a teaching space, which makes the storage limited for his students.
"My cheeks are hurting because I just can't stop smiling," Bryant said. "My students have so many wonderful ideas, and they also have the skills to make them come true. However, we have sometimes lacked the materials that we needed. I just don't want to feel like I'm cheating my students out of opportunities to make an impact."
Mission Possible: Makerspace Nation is sponsored by the CIA with the goal of helping to improve STEAM education in schools.
"It's vital to give students access to STEAM education," said ORISE Associate Manager Jennifer Tyrell. "We want to prepare students for future careers in STEAM that will encourage problem-solving and perseverance. If we make the technology and supplies for Makerspace classrooms available, students can take their imaginations from 2D to 3D, and gain skills that will help them throughout their lives."
You can learn more about Mission Possible: Makerspace Nation here: https://orise.orau.gov/cia-mission-possible/
Media Contacts
The Oak Ridge Institute for Science and Education (ORISE) is a U.S. Department of Energy (DOE) asset that is dedicated to enabling critical scientific, research, and health initiatives of the department and its laboratory system by providing world class expertise in STEM workforce development, scientific and technical reviews, and the evaluation of radiation exposure and environmental contamination.
ORISE is managed by ORAU, a 501(c)(3) nonprofit corporation and federal contractor, for DOE's Office of Science. The single largest supporter of basic research in the physical sciences in the United States, the Office of Science is working to address some of the most pressing challenges of our time. For more information, please visit science.osti.gov.