ORISE offers free professional development courses for educators throughout June
May 18, 2023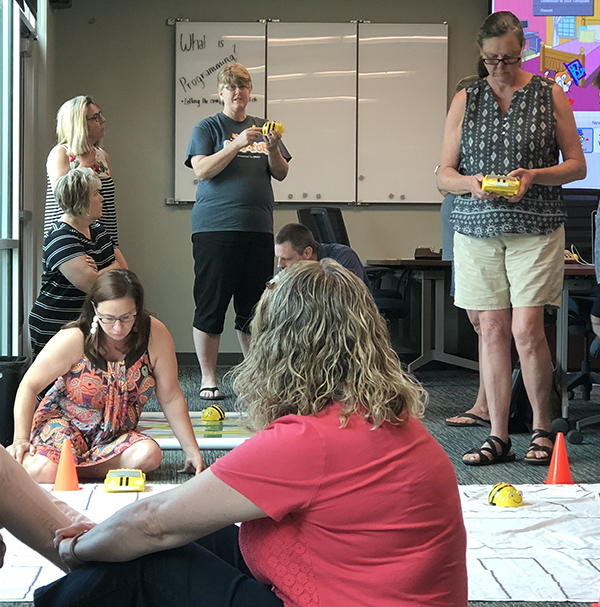 The Oak Ridge Institute for Science and Education will offer a variety of professional development courses throughout the month of June to equip STEM (science, technology, engineering and mathematics) educators with valuable new skills and experiences. 
All professional development courses are free but registration is required. All times listed are Eastern Standard Time. To register for any of the sessions listed below, please visit the ORISE Teacher Professional Development page.  
Give Artificial Intelligence a Try. Wednesday, June 14, 1 p.m. to 3 p.m. This is a virtual session designed for fourth through twelfth-grade teachers and will explore fun, interactive ways to introduce and define AI technology with students. By discussing these issues with students, educators will be able to improve their digital literacy and develop the critical thinking skills necessary for navigating through the wealth of information available to them online.
Scratch Coding and Civil Air Patrol STEM Kits. Wednesday, June 21, 9:00 a.m. to noon. Designed for kindergarten through twelfth-grade teachers, this session will offer free resources for teaching students to code. Online resources from Scratch Programming, Khan Academy and others will be explored. This is an in-person session.
Hands-On Math with Desmos. Friday, June 23, 1 p.m. to 3 p.m. This is a virtual session designed for kindergarten through twelfth-grade teachers and explores the Desmos activity builder, an online tool for teachers to create formative assessments and exploratory activities. This workshop will equip teachers with the knowledge of how to access and edit existing activities as well as how to build new ones from scratch.
3D Design in Everyday Classrooms. Monday, June 26, 9 a.m. to 4 p.m. This in-person session will focus on turning ordinary classroom leaning into extraordinary learning experiences through design thinking and 3D modeling. The goal of the training is to provide teachers with extended learning and assessment opportunities they may add to existing lesson plans.
Media Contacts
The Oak Ridge Institute for Science and Education (ORISE) is a U.S. Department of Energy (DOE) asset that is dedicated to enabling critical scientific, research, and health initiatives of the department and its laboratory system by providing world class expertise in STEM workforce development, scientific and technical reviews, and the evaluation of radiation exposure and environmental contamination.
ORISE is managed by ORAU, a 501(c)(3) nonprofit corporation and federal contractor, for DOE's Office of Science. The single largest supporter of basic research in the physical sciences in the United States, the Office of Science is working to address some of the most pressing challenges of our time. For more information, please visit science.osti.gov.