CDC-NSMBB fellow research seeks to expand newborn screening and its database of diseases Meet Alora Colvin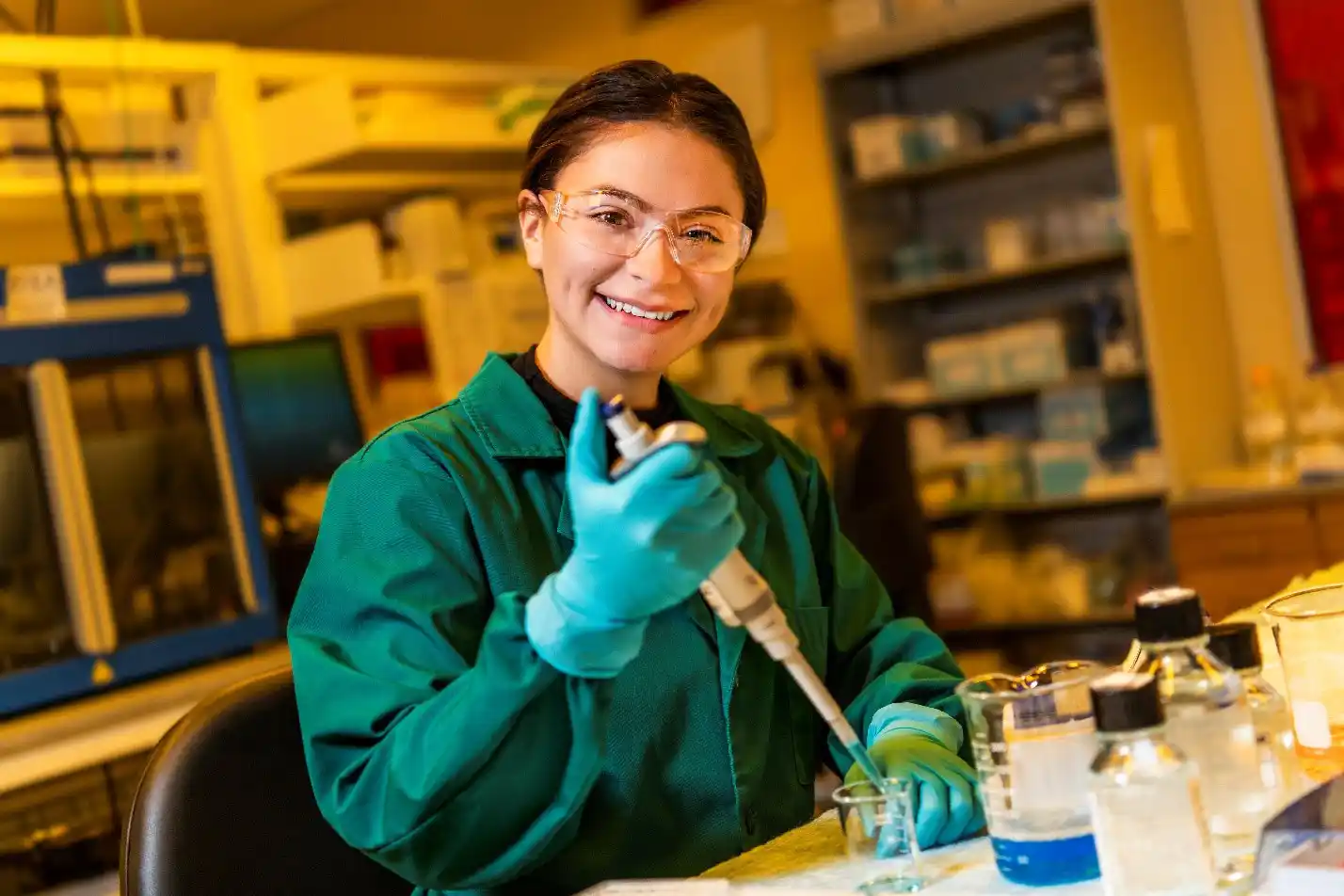 A close friend of Alora Colvin's was diagnosed with cystic fibrosis at 11 years old, the same year the disease was added to the recommended universal screening panel for newborns. Today, Colvin's friend would likely receive treatment earlier as health care providers now screen for this disease within the first few days of birth so treatment can begin as early as possible to help the child live a healthier life.
Colvin, now a researcher with the Centers for Disease Control and Prevention (CDC) Newborn Screening and Molecular Biology Branch (NSMBB) Research Participation Program, has seen first-hand how early diagnosis and treatment of many diseases, including cystic fibrosis, is critical to living a healthy life.
A graduate from the University of Georgia with a bachelor's degree in microbiology, Colvin was excited to explore the field of research and gain more professional hands-on lab experience through this program. She was impressed by the program's mission, which she describes as rewarding for both public health and research developments.
The CDC Research Participation Programs are educational and training programs designed to provide students, recent graduates, and university faculty opportunities to participate in project-specific CDC research, current public health research and developmental activities. Colvin's fellowship is focused within the molecular quality improvement lab for NSMBB. This branch of the CDC supports 660 newborn screening labs of which 94 are domestic labs. Colvin's role includes providing technical assistance to the labs whenever questions and problems arise. This entails supplying proficiency and quality control testing materials for the labs' assays, ensuring that every test run on newborn samples is precise and accurate to eliminate false positive or false negative results.
She delivers this quality assurance in the form of lab-created dried blood spot cards that mimic the actual dried blood spot cards received from newborns at the time of birth. Quality improvements are also made to these assays whether in the form of sample preparation, or the assay itself like multiplexing or finding more efficient routes to process the sample and then validating the assays.
"I am fortunate to be able to take the time and really learn the ins and outs of these NBS diseases, as well as learning tasking assays like next-generation sequencing or stepping into the world of bioinformatics," said Colvin.
Because NSMBB focuses heavily on quality metrics, the eye for detail when considering several outcomes for any given project or variable has helped fine tune Colvin's skills as a researcher. This appointment has exposed her to several molecular assays from real-time assay to sequencing protocols. "The technical resources that CDC provides have also helped further develop my professional skills and allowed me to learn more efficient ways of project management," she said.
The experience Colvin is gaining through the lab has exponentially grown her knowledge of human genetics. Furthermore, she feels this experience has equipped her to one day dive into research for cystic fibrosis and translate the research to many other rare diseases.
Coming from being an undergraduate whose primary and only interest lied in microbiology and academia, NBS has opened Colvin's eyes to many more opportunities that can satisfy her curiosity for discovery. She believes NBS is an exemplary model for anyone wanting to begin an interest or even establish a career in public health.
After the conclusion of her fellowship, Colvin intends to continue her education and pursue a doctorate degree in molecular and microbial sciences. Researching with NBS has ignited her interest in human genetics and studying pathogenic variants. "I have always known that I want to be the person who answers the unknown. I want to do the research and maybe even pioneer studies that will help shed light on the world as we know it," said Colvin.
The program is managed by the Oak Ridge Institute for Science and Education (ORISE) under an agreement between the Centers for Disease Control and Prevention (CDC) and the U.S. Department of Energy (DOE). ORISE focuses on scientific initiatives including educating the next generation of scientists and is managed for DOE by ORAU.