MLEF intern researching thermal energy storage system for integration into coal-fired power plants Meet Pamela Miceus
As Pamela Miceus studied throughout her undergraduate and master's degrees, she became motivated to strive for a deeper understanding of the world around her.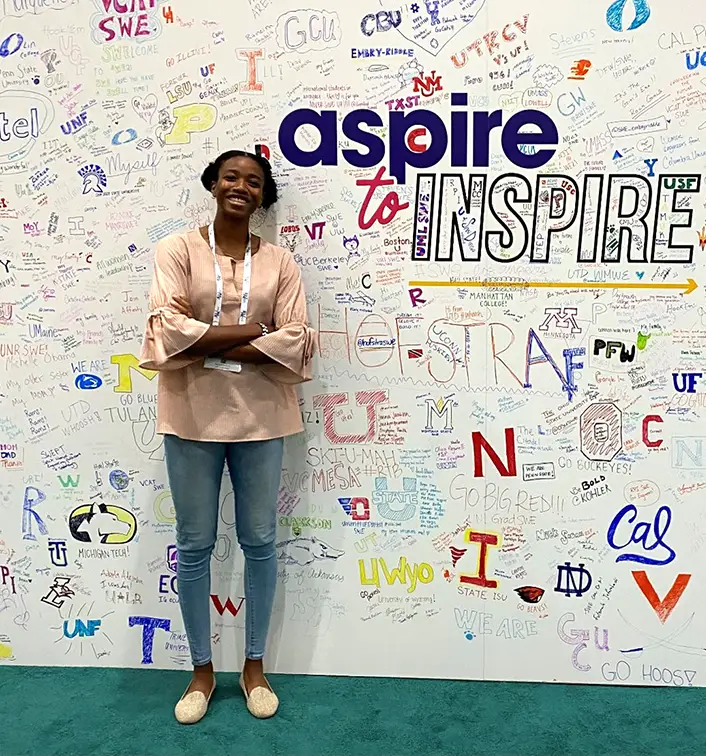 While pursuing her undergraduate degree at Manhattan College, Miceus chose to major in mechanical engineering. "I chose mechanical engineering strictly because of how unspecific the field is; to me it appeared to be a field of endless possibilities," she said. Miceus knew she was on the right path when she realized that the theories she was learning were similar to those on shows such as "How It's Made" and "MythBusters," which she loved to watch as a child.
After completing two semesters in undergraduate research, Miceus began to shift her focus to research opportunities in a professional setting.
Miceus was a participant in the Mickey Leland Energy Fellowship (MLEF) Program at the National Energy Technology Laboratory (NETL). The MLEF Program offers students the opportunity to participate in energy-related research projects. NETL's mission is to strengthen our nation's security, to improve our nation's environment, and to advance energy options that fuel our nation's economy.
The specific title of Miceus' research is "Conceptual Design Study of a Thermal Energy Storage System for Integration into Coal-Fired Power Plants." Under the guidance of her mentors Benjamin Chorpening and David Huckaby, Miceus has explored this conceptual design through mathematical models and simulations. As part of this research, a coal-fired power plant with a thermal energy storage system was modeled using heat transfer concepts and thermodynamic properties.
The conceptual design of the thermal energy storage system was also included in the project. For its design, Miceus and her mentors wanted to explore sensible heat storage by granular solids, in contrast to other thermal storage technologies such as molten salt systems which have had some problems in commercial use. A material selection process for the granular solids was performed, as well as a study regarding silo structures and granular mass flow to ensure the size of physical components of the storage system would be feasible. With material properties selected and the storage system model developed, a simulation was programmed to evaluate methods to utilize the system with control on an hourly basis, subject to power demand using data from a real power plant. Ultimately, the goal of the project was to develop a method to size the storage system and explore operating strategies to best combine the energy storage system with the coal-fired power plant.
"As climate change continues to be a major problem, innovative solutions are key to a healthy planet" Miceus shared. Though this research is conceptual, it is an opportunity to look deeply into the state of energy storage technologies, the associated benefits and drawbacks of various applications, and explore the possibilities that lie in future technologies.
Through her extensive research, Miceus gained a new perspective of the energy sector. "I now understand that the energy process, from source to customer, is far more complicated than what meets the eye, and the impact the consumer has, regarding energy consumption/conservation, is massive." Shared Miceus. Miceus noted that we are lucky every day that the lights turn on with the flick of a switch, and that the grid operators involved in keeping things that way should be highlighted more often. Miceus indicated that a dynamic effort leaning on creativity and innovation will be necessary to meet the goals we have for the future.
Throughout her appointment, Miceus has appreciated the opportunity to be challenged in a range of ways. She was given problems with an infinite number of first steps, and she has learned to take each consideration one at a time. Eventually she was able to see the connections made and evaluate progress. Specifically, Miceus has learned to use Python, a high-level programming language. Miceus is appreciative of her mentors for all they have taught her throughout her appointment and for pushing her to think critically and independently.
Miceus' career goal after completing her internship is to be involved with impactful projects. During the presentation portion of her appointment, she got a glimpse at the various work of her peers and came to the realization that there is plenty work and progress in technology to be made in the future. Her goal is to be a part of that work and progress and be a contributing factor in the advancement of technology.
The Mickey Leland Energy Fellowship Program is managed by the U.S. Department of Energy's (DOE) Office of Fossil Energy and Carbon Management and is administered by the Oak Ridge Institute for Science and Education (ORISE). ORISE is managed for DOE by Oak Ridge Associated Universities (ORAU).