Doctoral student's survey methodology research could lead to better quality data collection on human behavior Meet Rachel Stenger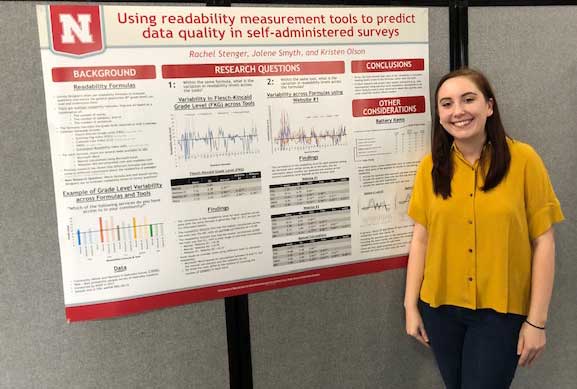 Have you ever completed an online survey or had a marketing survey offered to you when checking out at your favorite business? The marketing specialists who put those surveys together had to learn about survey methodology in order to structure that survey and know how to ask the right questions. To aid future researchers in collecting better quality data to create surveys, Rachel Stenger, doctoral student in sociology, helped to develop a questionnaire design checklist meant to be used by web survey contractors. She also assisted in creating a new science, technology, engineering and mathematics (STEM) demographics survey aimed at better understanding the STEM student pipeline as a participant within the National Science Foundation's (NSF) National Center for Science and Engineering Statistics (NCSES) Research Ambassadors Program.
Stenger had always been interested in human behavior. While earning her undergraduate degree in psychology at Ball State University, her love for research methods and statistics grew, and she decided to double major in quantitative psychology and sociology. This led to her entering a doctoral program in sociology at the University of Nebraska-Lincoln.
During her doctoral program at UNL, Stenger spent 10 weeks collaborating with the Statistics and Methods Program (SMP) group at NCSES on projects dedicated to furthering advances in survey methodology in order to collect better quality data for future researchers to utilize.
NCSES is the nation's leading provider of statistical data on the U.S. science and engineering enterprise. The NSF NCSES Research Ambassadors Program provides research opportunities for participants to be involved in the collection of statistical data regarding: research and development, the science and engineering workforce, U.S. competitiveness in science, engineering, technology, and R&D and the condition and progress of STEM education in the United States.
Under the mentorship of Jennifer Beck, Ph.D., survey statistician within the SMP group at NCSES, Stenger participated in two major projects meant to enhance the SMP group's survey methodology research.
"First, I researched and developed a questionnaire design checklist for NCSES to use when working with contractors," she said. "NCSES is moving toward using web surveys more often and when they do so, they work closely with contractors to program these web surveys, which can be difficult."
Stenger's activities for this project involved analyzing survey methodology literature for basic questionnaire design checklist items, while simultaneously searching for specific recommendations for web surveys.
"By the end of the summer, I had begun to develop a checklist from the survey methodology literature for best practices when designing these web surveys," she said. "This checklist was intended to be used as a starting point for NCSES to use when communicating with contractors and web programmers."
For her second project, Stenger contributed to the development of a new survey that the SMP group was beginning to undertake.
"The survey population included teenagers and young adults aged fourteen to twenty-two years old and the intention of the survey was to better understand the pipeline into STEM careers," she explained. "The survey contained three main sections: first, interests and intentions, second, exposure and attitudes and third, demographics."
In the first section, the survey asked participants about their interests in school and their future academic or career goals. The second section of the survey asked participants about how much exposure they have had to STEM-related activities, both within and outside of school. Finally, the third section regarding demographics required additional research and thought about the design and wording of these questions for a younger age group.
"Traditional socioeconomic demographic questions, like income, had to be adapted to the younger age group," Stenger said. "In addition, special attention was paid to the sexual orientation and gender identity questions in the survey. This is a growing area of research in survey methodology, and we carefully considered how these questions might be appropriately asked of a younger age group."
Stenger's survey methodology research contributed to the SMP team's abilities to collect better quality data at NCSES.
"When higher quality data is collected, then researchers have a better understanding of human behavior," she said. "In addition, survey data often impacts policy decisions. Therefore, when survey data is collected in a precise manner and surveys are designed in a scientifically-backed way, then we can be both more confident in the validity of the data and in policy decisions."
Having advanced her skills collaborating with an interdisciplinary team along with her knowledge of what day-to-day data collection looks like in a government statistical agency, Stenger had a glowing recommendation for others interested in the NSF NCSES Research Ambassadors Program.
"I would definitely recommend the NCSES program to others," she said. "Everyone at NCSES was nice and welcoming, and the SMP group was accommodating to my experience as a student while recognizing my learning process throughout the summer."
Stenger is currently a Survey Methods Specialist at RTI International, a position she started in May 2021. In her current role, she uses the skills she learned in her graduate studies at UNL as well as the skills she learned through her internship at NCSES.
View the Current Research Opportunities page to apply today!
The NCSES Research Ambassadors Program is funded by NSF and administered through the U.S. Department of Energy's (DOE) Oak Ridge Institute for Science and Education (ORISE). ORISE is managed for DOE by ORAU.