Meet a Participant:

Mariana Sorroza Aguilar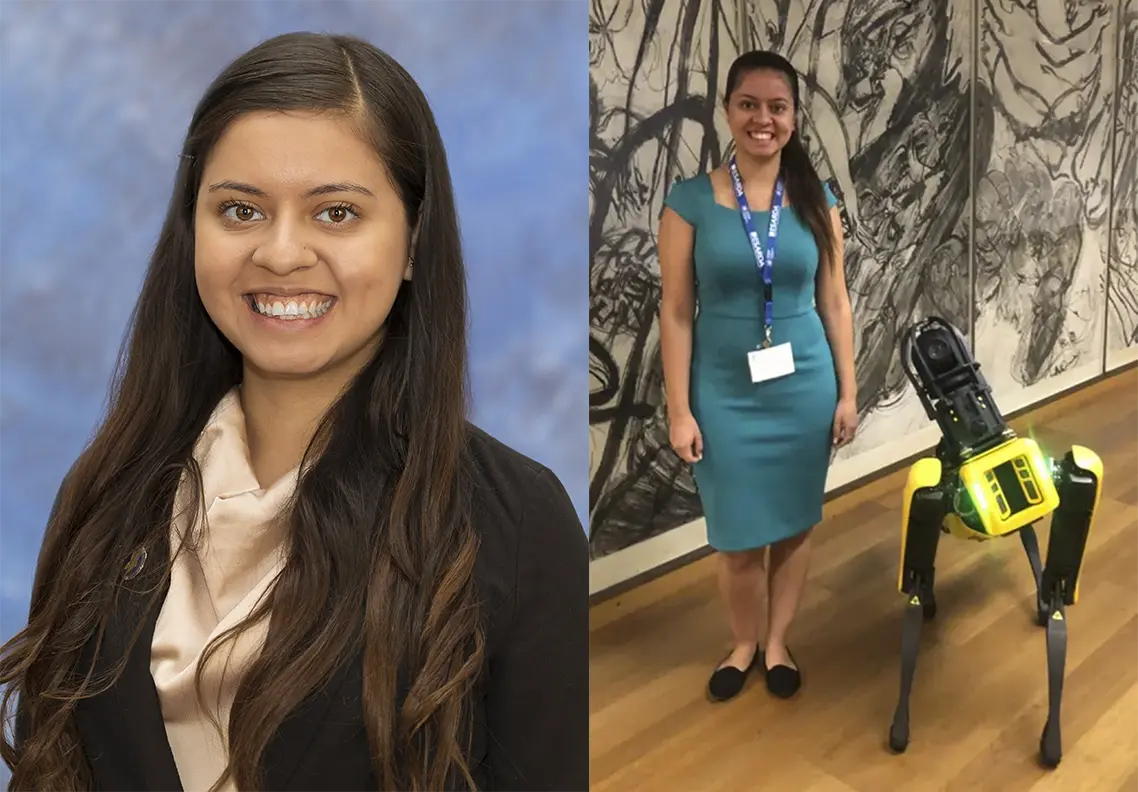 It was easy for Mariana Sorroza Aguilar to find her passion for engineering because her father is an industrial engineer. When she was a child, he took her whole family to work and showed them the intricate processes of his job. His responsibilities included improving microchip manufacturing development, so Sorroza Aguilar received a firsthand glimpse into robotics and engineering. She was awestruck and inspired to follow in her father's footsteps from that time forward.
During high school, she studied machining technologies where she learned to read and design blueprints, use 3D printers and operate manual and computerized numerical control (CNC) milling and lathe machines. Now, Sorroza Aguilar is an undergraduate student at the University of Central Florida earning her double major in mechanical engineering and international and global studies with a minor in leadership studies.
When she heard about an internship opportunity that matched her exact interests in engineering and international studies, Sorroza Aguilar was delighted. She applied and became a part of the National Nuclear Security Administration's (NNSA) Minority Serving Institutions Internship Program (MSIIP) under the mentorship of federal country manager, Kevin Roshdieh; science and engineering team lead, Michael Demboski; and foreign affairs specialists, Shea Cotton and Emily Adams.
"I believe in the NNSA-MSIIP mission and wanted to contribute my skills while learning more and meeting great people," Sorroza Aguilar said.
The NNSA-MSIIP provides paid opportunities for undergraduate and graduate students at Minority Serving Institutions pursuing degrees in critical science, engineering, technology, mathematics and other disciplines that complement current and future missions of the NNSA.
As an intern, Sorroza Aguilar joined NNSA's Office of Nuclear Smuggling Detection and Deterrence (NSDD) team and later transitioned to the Office of Radiological Security (ORS) team. While a part of NSDD, she primarily supported the science and engineering team by designing 3D prototypes for training devices and for protecting equipment. She also sorted data and worked on data visualization on Power BI (a Microsoft intelligence tool) and conducted quality assurance on an app that a lab was developing for NSDD.
As an ORS intern, she is collaborating with government entities, businesses and national laboratories supporting the safe removal and transportation of high-activity radioactive materials. She also contributes to supply chain analysis reports.
Beyond her duties as an intern, Sorroza Aguilar's research project is focused on soft skills in STEM. She is exploring how STEM students and industry professionals rate themselves on their soft skills such as communication, conflict resolution and time management. The project provides suggestions on how respondents can improve their soft skills across education, work and in their personal lives. The goal is to take the collected data and use it to create improved diversity workshops, tolerance courses and collaboration trainings between STEM and non-STEM disciplines.
"As a student completing my honors undergraduate thesis, my mentors and the management at NSDD were so kind to assist me in my research to learn how people in STEM disciplines rate themselves in their soft skills and how we can work to improve those skills," Sorroza Aguilar said.
Aguilar published her undergraduate thesis "Soft Skills in STEM" through the University of Central Florida. She will also present at the University of Central Florida in the fall.
Sorroza Aguilar says one of the most unique experiences her internship has offered her is the opportunity to collect live data from NNSA headquarters and national laboratories. She is also grateful she got to visit Vienna, Austria, for a week to learn about nuclear and radiological security at the 2023 Institute of Nuclear Materials Management and European Safeguards Research & Development Association joint annual meeting. Sorroza Aguilar believes the skills gained through this experience has shaped her future career trajectory.
"I would recommend the NNSA-MSIIP to others because the NNSA is an agency that welcomes people from diverse fields of study and paths of life; my internship experience has truly been a blessing," Sorroza Aguilar said. "What's most rewarding is having support from the people I've met as they've helped me both in my career and in my studies. I learned so much at NSDD and am excited to continue learning at ORS! The intersectionality of STEM and policy for security makes me passionate in the mission."
After her internship ends, Sorroza Aguilar hopes to continue with the NNSA and eventually aim for a project manager position. Additionally, she plans to earn both her master's and doctoral degrees to continue combining her two passions for engineering and international studies in a way that supports nuclear and radiological security domestically and around the globe.
The NNSA-MSIIP Program is funded by NNSA and administered through the U.S. Department of Energy's (DOE) Oak Ridge Institute for Science and Education (ORISE). ORISE is managed for DOE by ORAU.