Kyleen Elwick
Forensics researcher says one of her favorite 'tools' is her experience in the FBI's Visiting Scientist Program
After spending four years in the FBI Visiting Scientist Program, Kyleen Elwick, Ph. D., is confident her experience in that program has given her more techniques in her toolkit to enable innovative forensics research.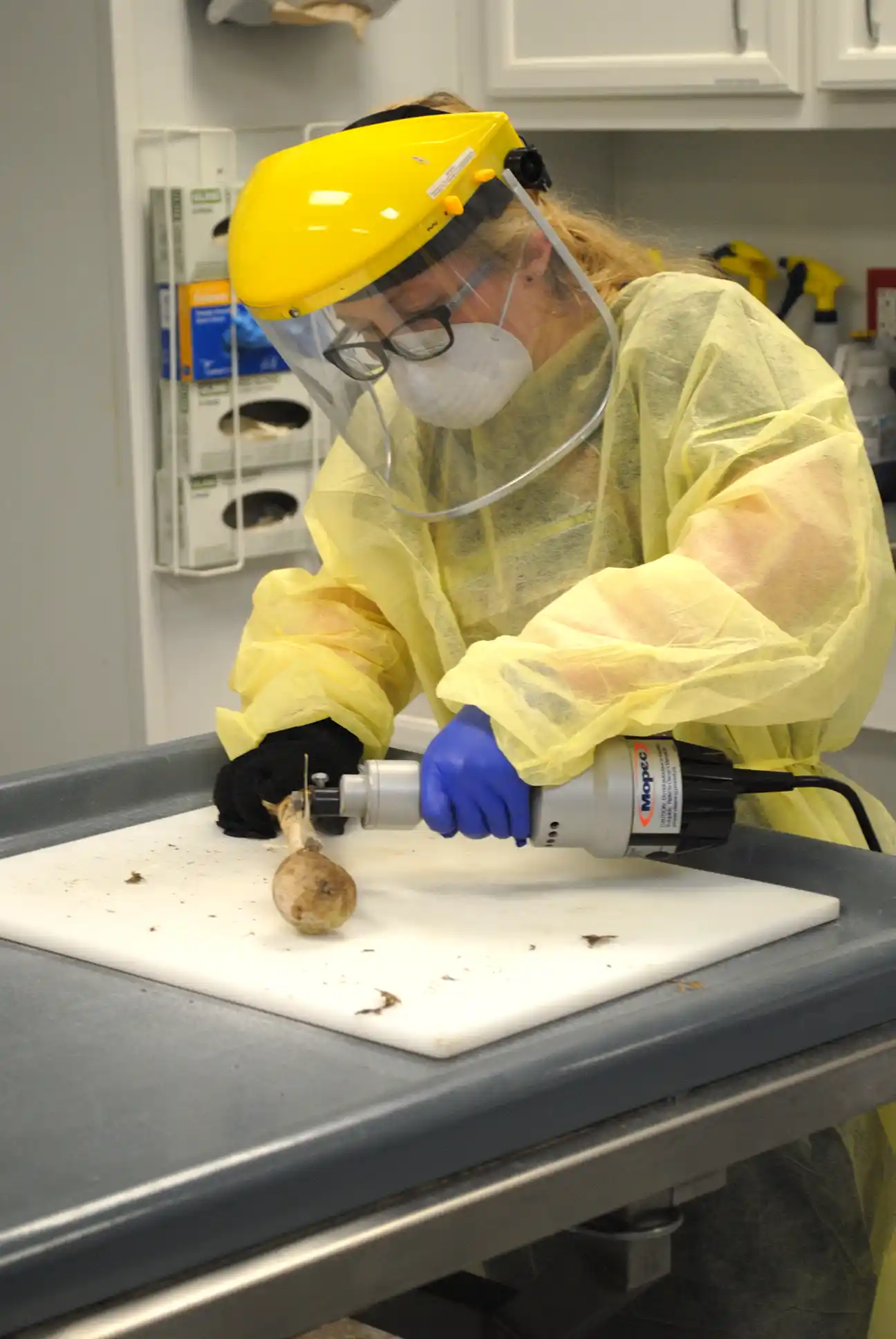 Dr. Elwick focused her undergraduate studies on biology and narrowed her specialty to forensic science as she earned her Ph.D. Particularly interested in massively parallel sequencing (that is, high-throughput approaches to DNA sequencing) and human identification (biometric technologies), Elwick made a mental note about the possibility of using these interests to work with the federal government when she met an FBI Research Biologist at a conference. She tucked that information away and became intrigued even more after meeting a researcher in the same program about a year before graduating with her Ph.D. in forensic science. This researcher encouraged Dr. Elwick to apply for the Visiting Scientist Program within the FBI's Research Participation Program, and Elwick did because she genuinely enjoys research and wanted to experience a government forensics lab.
Upon being accepted into the four-year program, Dr. Elwick moved to Quantico, Virginia, where she conducted research under the very FBI Research Biologist she met at a conference several years before. For 40 years, the FBI Laboratory's Research Unit has welcomed college students, postgraduates and faculty and given participants valuable research and training experiences that help further the participant's education, interests and career goals. Participants gain access to state-of-the-art facilities and equipment and are able to perform research in areas of interest unique to law enforcement and national security under the guidance and mentorship of leading forensic scientists.
There are multiple groups in this program including Biology/DNA, Trace Evidence, Chemistry, Firearms and many others. The researchers propose projects to the different case-working units at the FBI with the intent of helping them implement new techniques that could make their casework easier and provide better results than current techniques.
While in the FBI's Research Unit, Elwick was assigned to many different projects including optimization of library preparation for massively parallel sequencing, recovering touch DNA from cartridge cases, Raman spectroscopy (a technique used in chemistry to provide a structural fingerprint for molecules) of fibers and evaluating a mixture system for the deconvolution of DNA mixtures.
Dr. Elwick hoped to evaluate techniques and find the most successful options for current technology. "If what I was researching was better than a technique being used in casework, there was potential for validation and implementation of the method I was researching," Elwick explained. "It was my job to inform others of the findings of my research and show them how my proposed technique was better or worse than what they were already using for casework."
A typical day at the FBI Laboratory consisted of preparing experiments and documents for her ongoing projects, performing lab work, analyzing data and planning the projects' next steps. Dr. Elwick says she loves what she does because there's a discovery around every corner and even in the smallest of samples. "You can get a DNA profile from a single cell!" Elwick said.
From creating project designs to presenting briefs and from writing reports and manuscripts to mentoring early-career researchers, Elwick feels like the experience she gained through the FBI Visiting Scientist Program has accelerated her marketability.
"This was the greatest experience I could have imagined coming out of my Ph.D. I gained so much knowledge and valuable work experience. This program really prepared me for my career and provided me with unmatched opportunities," Elwick said.
Dr. Elwick now works as an Associate Principal Investigator of Genomics for Battelle National Biodefense Institute at the National Biodefense Analysis and Countermeasures Center in Fort Detrick, Maryland. She says she will always be grateful for her time in Quantico with the FBI because that experience is a tool she uses everyday.
"I would tell someone who is interested in the program that you really get out of it what you put into it," she said. "If you are interested in the mission and have a passion for research and solving problems, then your time in the program will be great!"
The FBI Visiting Scientist Program, managed by the Oak Ridge Institute for Science Education, is an educational and training program designed to connect participants with unique resources at the Federal Bureau of Investigation (FBI) Laboratory. The FBI Laboratory is one of the largest and most comprehensive crime labs in the world.