STEM Activities and Games
Educational video games can be useful classroom supplements that aid teachers in meeting core curriculum standards while maintaining student engagement. ORISE is offering free online games for teachers to use in their classrooms to boost students' interest and content-knowledge in STEM. Expect to see future web-based games covering a variety of STEM content areas aligned to state and national math and science standards.
Tremont Experience Virtual Reality Tour
The Tremont Experience is a virtual reality tour of the Great Smoky Mountains Institute at Tremont. This tour was designed to give students and teachers the opportunity to explore the Tremont campus without leaving the classroom. The tour can be conducted on a computer or iPad or can be fully-immersive using Oculus Go headsets or Google Cardboard using a mobile phone. The experience can be accessed in the Google Play or Oculus Stores.
This VR experience will allow your students to encounter the beauty of the Great Smoky Mountains National Park by seeing forests, fields, a stream, and a breathtaking overlook. The self-guided adventure includes narration describing the places visited and the ability to choose which direction to head from each location.
Access Tremont Experience VR Tour
Supported Browsers: Firefox, Chrome, Safari, and Microsoft Edge
Also view the Exploring Tremont with Geometric Shapes (.PDF, 639 KB) lesson plan for 9th-12th grade Geometry.
---
Orbie's Space Walk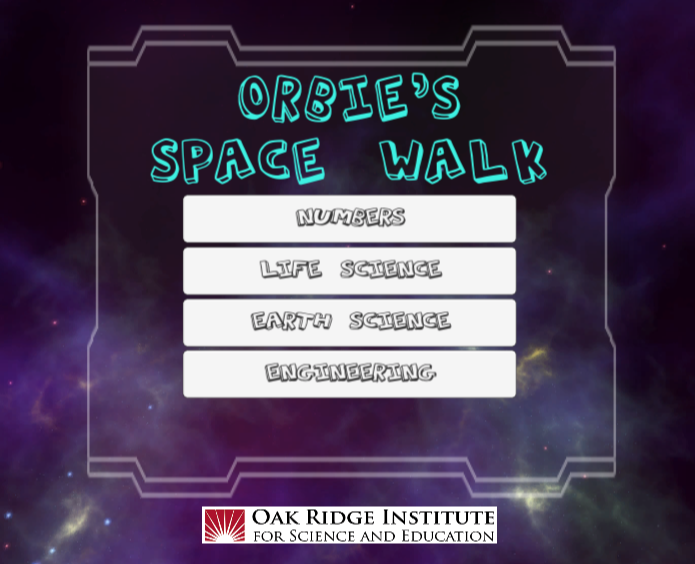 Orbie's Space Walk is an interactive programming game designed for kindergarten through second grade students. The purpose is not only to introduce young students to computer programming, but also to promote standards-based learning! Students program "Orbie" to walk in space picking up spheres along the way. In order to pick up the sphere, students must first answer a content-specific question correctly.
The critical thinking and problem solving skills that students must use to "program" Orbie to walk the course set the foundation for them to tackle more advanced coding and programming languages as they get older.
The game's categories include numbers, life science, earth science, computer science, and engineering. Each category consists of standards-based questions written by elementary school teachers. The questions are of varying difficulty levels. On the first level, students are asked low difficulty questions. As students pass each level, the questions become more challenging. If students answer a question incorrectly, a hint pops up, and Orbie returns to the start of the level. Once a category is complete, students will be directed to a certificate page.
Supported Browsers: Firefox, Chrome, Safari, and Microsoft Edge
Standards Information for Teachers (.PDF, 624 KB)