HerStory ORISE mentors and past participants share their passion for STEM and how it's advanced their careers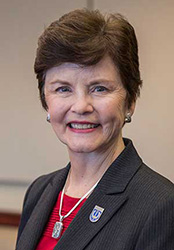 Through HerStory, ORISE is celebrating ORISE researchers who are making history in STEM. We're spotlighting some of the ORISE mentors and past participants whose STEM expertise is supporting our nation's science and technology missions. These women will tell the stories of discovering their passion for STEM, and share the stories of friends, family and other women who guided them towards a STEM career along the way.
The series is hosted by Dr. Shirley Raines, the first woman president of the University of Memphis, serving for 12 years at this institution with more than 22,000 students and 2,500 employees.
Prior to her years as president, Raines served on the faculties of universities in six states and in administrative posts as department chair, dean and vice chancellor. She has written 17 books for educators and served on the selection committee for the National Teacher of the Year. Raines has received awards for her research and teaching and has been recognized by universities and professional associations for her leadership.
Have you been mentored during your career?
Why is it important to mentor young people?
What words of advice do you have for women pursuing careers in STEM?
What is your favorite part of your job?
What are you most proud of in your career?
How have internships impacted your career?
Who or what has inspired you in your STEM Career?
Researcher Spotlight - Julie Ezold
Researcher Spotlight - Amy Elliott