Elizabeth Armstrong-Mensah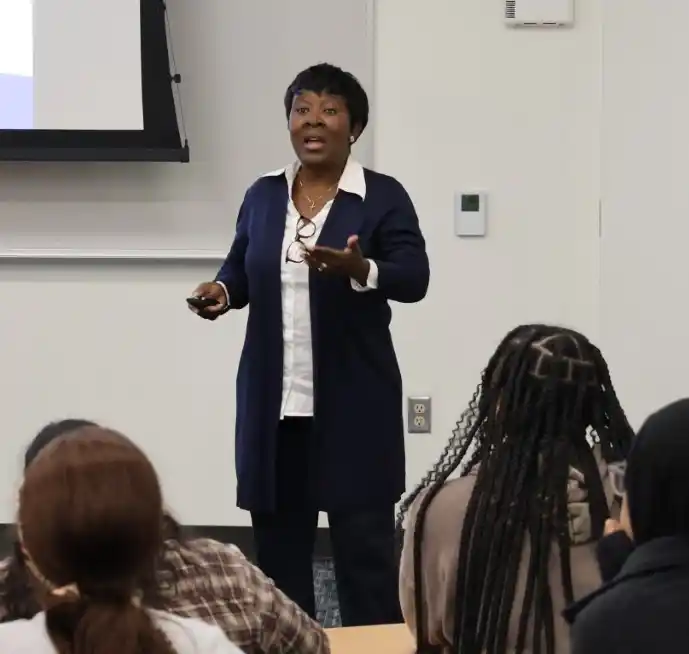 Combining her passions for global health and academia, Centers for Disease Control and Prevention (CDC) alumna Elizabeth Afibah Armstrong-Mensah is a recognized leader and educator. From health equity to maternal and child health, and from disease prevention to program evaluation and strategic planning, Armstrong-Mensah's interests are interwoven.
She began at the University of Ghana with a bachelor's degree in sociology because she was intrigued by human interactions and how they influence society. From there, she pursued a master's degree in international affairs so she could learn about political systems and governing policies around the world. In obtaining a postgraduate degree, Armstrong-Mensah's desire was to understand how policy affected human rights, global poverty and ethics. She now holds a doctoral degree in international affairs and development from the Clark Atlanta University.
Armstrong-Mensah carried her knowledge and passion with her throughout her 2012-2015 fellowship with the CDC's Division of Emergency and Environmental Health Services (NCEH/EEHS) Evaluation Program, where she completed numerous evaluation activities.
The CDC Research Participation Programs are educational and training programs designed to provide students, recent graduates and university faculty with opportunities to participate in project-specific CDC research, current public health research and developmental activities.
As an evaluations fellow, Armstrong-Mensah specifically focused on program evaluation associated with the NCEH Water and Food Safety Program (FSP) providing evaluation services and technical assistance to the CDC in the U.S. and in Pretoria, South Africa. Many of her projects involved creating logic models, which are evaluation tools for mapping relationships between resources, activities, outputs and other items which may affect a program.
Some projects Armstrong-Mensah completed include conducting an outcome evaluation of the first CDC Center for Global Health Laboratory Forum, which included conducting key informant interviews, collecting data, setting up a statistical package for the social sciences data base and conducting qualitative and quantitative analysis. She also wrote and submitted a proposal to the Office of Management and Budget and obtained clearance to conduct a FSP survey of state and local health departments in the United States.
"The purpose of the Food Safety Program study was to assess the effectiveness of such programs in the United States," Armstrong-Mensah explained. "I thought it was important then and feel the same today."
Additionally, Armstrong-Mensah provided evaluation advice and technical assistance on logic model and evaluation plan development to the Environmental Health Specialists Network water project grantees in 11 states. Additionally, she assisted with advice for the development of an NCEH Protocol for the Evaluation of NovaSilTM Clay in Kenya, as well as for the NCEH Integrated Pest Management training evaluation instruments.
Then, as a strategic planner, Armstrong-Mensah helped with the development of a water logic model draft for the NCEH and a logic model and monitoring and evaluation plan for the Government of South Africa's HIV prevention program. The model and plan were presented to the South African congress.
Armstrong-Mensah did not only commit to evaluation activities and preparing strategic guides. She also conducted data analysis, mined large data sets and developed country-specific Epi Profiles of select developing countries.
After her fellowship ended, Armstrong-Mensah was hired by the CDC's Center for Global Health, where she worked for a year on the Global Health Security Agenda (GHSA) associated with the Ebola outbreak in the three West African countries. In that capacity, she spearheaded the development of 11 GHSA logic models to be used at the country level by Ministries of Health in global health security countries, among other accomplishments.
She offered advice to potential ORISE internship and fellowship applicants.
"I am grateful for the Oak Ridge Institute for Science and Education (ORISE) Evaluation Fellowship opportunity. It was a great experience and I got to meet and learn from very talented evaluators at CDC," said Armstrong-Mensah. "ORISE gives students, recent graduates and postdocs the opportunity to be paired with staff or scientists who will provide hands-on research experience. The fellowship also provides the opportunity to test drive one's career interest."
Today, Armstrong-Mensah has turned her attention to educating and preparing the next generation for the public health workforce and higher education. As a clinical associate professor at Georgia State University School of Public Health, Armstrong-Mensah designed and taught "Introduction to Program Implementation and Evaluation" to more than 300 students, bringing them the rich experience and knowledge she developed during her academic career, fellowship and time working for the CDC.
Additionally, Armstrong-Mensah has been an instructor at Emory University and the head of training for human resources at the Training Research and Networking for Development Group, among several other titles. She published a textbook on global health titled "Lecture Notes: Global Health Issues, Challenges, and Global Action," which won the British Medical Association's Highly Recommended Global Health Textbook award. She has more than 45 peer reviewed journal publications.
For her outstanding efforts as an academic and educator, Armstrong-Mensah received the 2023 Association of Schools of Programs and Public Health's Early Career Teaching Excellence award.
From early passions for global health and program evaluation, being an accomplished CDC fellow, educator and academic, Armstrong-Mensah well earned her Early Career Teaching Excellence award and will continue teaching the next generation of scientists and evaluators.
The program is managed by the Oak Ridge Institute for Science and Education (ORISE) under an agreement between the Centers for Disease Control and Prevention (CDC) and the U.S. Department of Energy (DOE). ORISE focuses on scientific initiatives including educating the next generation of scientists and is managed for DOE by ORAU.