Katherine "Katie" Wozniak
Katherine "Katie" Wozniak grew up hearing that her mother was the only woman in her software engineering college courses and place of work. Seeing her determination and analytical mind inspired Wozniak to follow in her footsteps, gleaning a love for science, technology, engineering and math (STEM).
"She instilled in me that I could do whatever I set my heart on, regardless of my gender," said Wozniak. "In undergrad, I selected biochemistry as my major so that I could learn the best parts of biology and chemistry. Like many young scientists, I thought I wanted to be a medical doctor."
Three experiences in her undergraduate education changed that trajectory.
Studying abroad in a Tanzanian maternity ward helped Wozniak discover a great sense of empathy; however, she quickly realized that her skills were better fit for the laboratory rather than patient care. The next experience had her interning at the Carnegie Science Center as an interactive program presenter where she received her first experience teaching others. She described loving when the lightbulb went off in her audiences' heads. Lastly, Wozniak applied for and became an Oak Ridge Institute for Science and Education (ORISE) fellow with the Centers for Disease Control and Prevention (CDC) where she had her first taste of conducting novel research.
The CDC Research Participation Programs are educational and training programs designed to provide students, recent graduates and university faculty opportunities to participate in project-specific CDC research, current public health research and developmental activities.
Wozniak's research was to learn how to program new state-of-the- art robots to extract second-hand smoke metabolites from samples of urine at the CDC's Division of Laboratory Sciences National Center for Environmental Health. Specifically, she and her mentors, Ernest McGahee and Tonya Guillot, were looking for carcinogenic compounds. In the past, routine sample analysis had been done by hand. However, the CDC's new robots could now process more samples than a human could and in less time.
The group's results were published in the Population Assessment of Tobacco and Health (PATH) Study.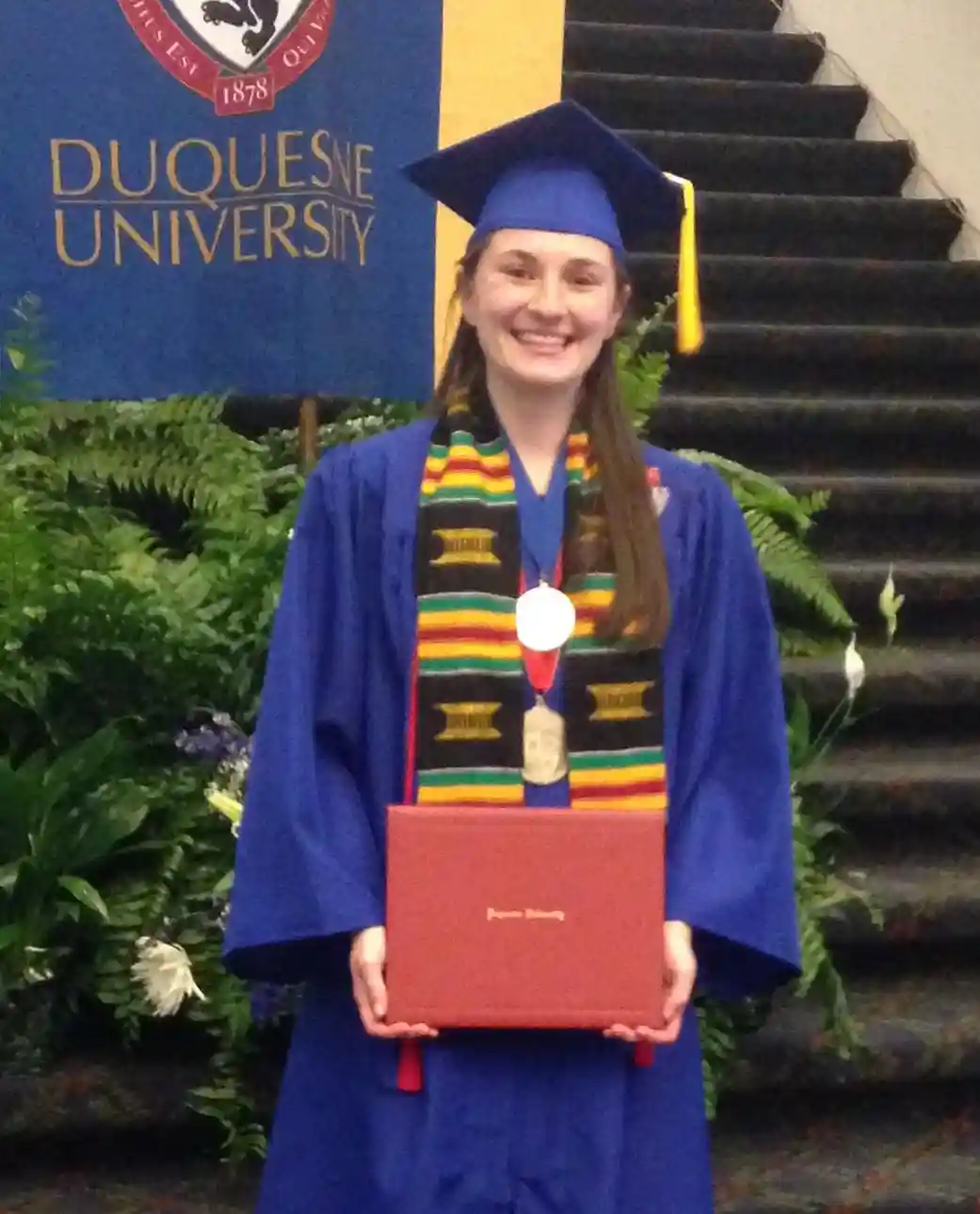 "I had no coding or programming background and minimal understanding of analytical chemistry," Wozniak said. "However, we took the project one step at a time, and I was always encouraged to ask questions. By the end of my first summer, I was helping other groups code programs for their robots."
Wozniak was asked to return to the CDC for a second summer internship, where she gladly shared what she had learned previously. She created a calibration method as quality control for robots across the campus. This helped the machines perform more accurately. While there, she learned from her mentors and other scientists that, as a researcher, she should not be afraid to branch away from her original field of study.
"No matter what sector you work in, funding cycles ebb and flow," she said. "You will never have a project that is 100% in your wheelhouse; and if you do, I'd argue that you are not pushing the envelope enough."
She graduated from Duquesne University with her bachelor's degree in biochemistry and minors in mathematics and African studies. Her time as an ORISE intern influenced her academic path, and she  earned her doctoral degree from the University of Pittsburgh in molecular, cellular and developmental biology with a minor in teaching.
Since her CDC internships ended, Wozniak has taken a position at the Los Alamos National Laboratory (LANL) as a postdoctoral research associate. She has published six first-author manuscripts, received the Stanford Crawford Teaching Excellence Award and was also rewarded two Spot Awards at LANL for going above and beyond.
Wozniak credits the ORISE internships at CDC as the reason she realized being a scientific researcher was a viable career path for her. Previously, she had only ever seen "stressed out teaching assistants and professors." However, being in the laboratory surrounded by passionate scientists from the CDC taught her that she had options outside of academia.
"I would absolutely recommend a STEM-focused internship at a large federal research facility," said Wozniak. "As I experienced, government research facilities tend to have state-of-the-art equipment, and their research programs often ask questions related to national interests and security"
As a child, Wozniak was inspired by her mother's STEM career. Now, after two ORISE internships, earning her doctorate, teaching biology and bringing her skills to LANL, Wozniak has built her career into something that can be just as inspiring to other fledgling scientists.
---
From the ORISE Featurecast: The joy of leveraging government-run laboratory resources, a conversation with Katie Wozniak, Ph.D.
Katherine Wozniak, Ph.D., a postdoctoral researcher at Los Alamos National Laboratory, writes about research being conducted at Los Alamos to ensure her audience, especially policymakers, understands research that includes biotechnological advances in the agricultural sector, and so much more. Wozniak also spent two summers 10 years ago as an ORISE research program participant doing analytical chemistry at the Tobacco and Volatiles Branch of the Division of Laboratory Sciences at the Centers for Disease Control and Prevention. In this conversation with host Michael Holtz, Wozniak talks about how her background has set the foundation for her current role and how scientists leverage the resources in the national laboratory system.
Check out the videocast of Katherine's episode
---
The program is managed by the Oak Ridge Institute for Science and Education (ORISE) under an agreement between the Centers for Disease Control and Prevention (CDC) and the U.S. Department of Energy (DOE). ORISE focuses on scientific initiatives including educating the next generation of scientists and is managed for DOE by ORAU.