Meet Ross Houston
Ross Houston is intimately familiar with the importance of sustainable environmental practices.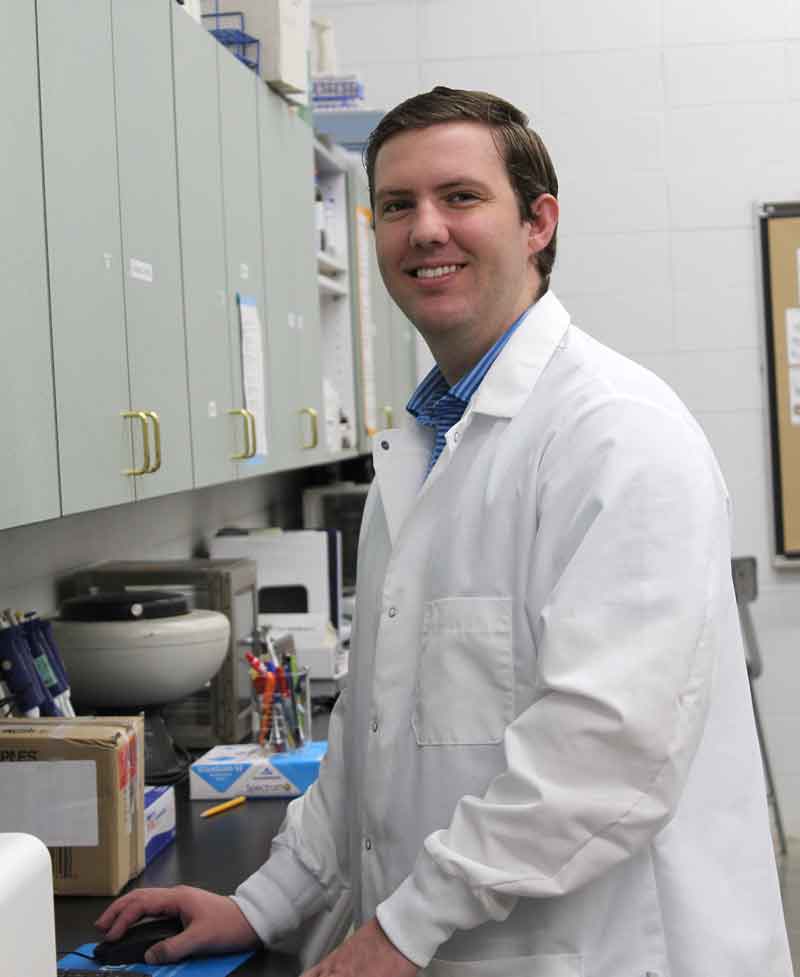 Ross Houston conducted research evaluating computational modeling efforts in BETO projects as part of the U.S. Department of Energy's DOE Scholars Program. Photo Credit: Rebecca Webster, University of Tennessee
Having grown up in an agricultural environment, with many family members working in the agricultural sector, Houston developed an appreciation for sustainability at a young age. He experienced first-hand how sustainable practices can be used to improve industries such as food production, and as he grew older, he realized that sustainability could be vital to many industries as the world's population increases and the overall demand for goods and services continues to grow.
"I believe sustainable practices are a necessity for all industries, not just agriculture," said Houston.
"My belief in this reality motivated my desire to combine my agricultural background and chemical engineering experiences, leading me to pursue a graduate degree in biosystems engineering with an emphasis on biomass renewable and sustainable energy production."
Recently, Houston was able to apply his passion for advancing sustainable practices and gain experience in the energy field as part of the U.S. Department of Energy's (DOE) DOE Scholars Program.
The DOE Scholars Program is designed to provide opportunities and attract talented undergraduate and graduate students, as well as recent graduates to appointments that are carefully designed to help
prepare participants towards the full range of entry and mid-level research, technical and professional positions within DOE and organizations that support the DOE mission.
For his appointment, Houston was placed with the Conversion Technologies team within the DOE Bioenergy Technologies Office (BETO). Under the guidance of his mentor, Kevin Craig, Houston conducted research evaluating computational modeling efforts in BETO projects.
Computational modeling involves the use of computers to simulate complex systems using mathematics, physics and computer science. When effectively utilized, computational modeling tools enable scientists and researchers to collect accurate experimental data in a more efficient and cost-effective manner.
"The purpose of assessing the modeling efforts of BETO was to identify areas in ongoing and future projects that could benefit from the use of computational modeling," explained Houston. "The increase in the efficiency and availability of computational resources has made modeling a viable pathway for gaining insight into a process while simultaneously reducing experimental cost."
Other initiatives Houston contributed to include compiling a survey of the current state of biomass gasification projects in industry, which required identifying and contacting industrial entities to collect data. Gasification is a mature technology with promise for rapid deployment in the bioenergy sector, and Houston's survey has the potential to be used as an important tool for identifying future industrial partners for BETO projects.
Houston describes his experience as valuable to his future in renewable and sustainable energy research, and looks forward to applying his new experience and skills in his future career.
"My time as a DOE Scholar provided an opportunity to experience the project management side of research projects that are not typically seen in an academic research environment," said Houston. "I would certainly recommend this program to other students interested in gaining experience with DOE."
Currently, Houston is serving as a graduate research assistant at the University of Tennessee, Knoxville while pursuing his doctorate in biosystems engineering. After graduating in 2022, he hopes to pursue career opportunities within DOE and BETO. The DOE Scholars Program is funded by DOE and administered through the Oak Ridge Institute for Science and Education (ORISE). ORISE is managed for DOE by ORAU.