Meet Jose Santiago Roque
Throughout his years of experience in both the military and as a civilian, Jose Santiago Roque noticed that safety components within environmental health and engineering practices can often be overlooked or underestimated if they are not well designed, properly practiced and meticulously monitored.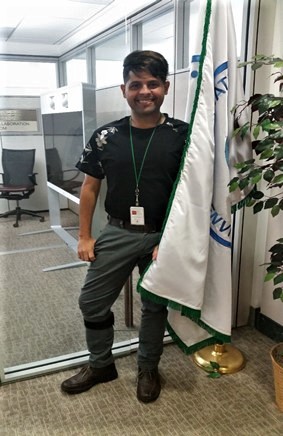 Jose Santiago Roque at Environmental Protection Agency (EPA) headquarters in 2017. Photo Credit: Jose Santiago Roque.
This observation, as well as his passion for the environment and air quality as research topics, led him to seek a career as a consultant for risk evaluation, planning and assessment. Santiago Roque was particularly intrigued by the underlying economical and contextual issues that influence environmental and energy decision-making. He set a long-term goal of understanding the impact of energy-related emissions on public health and safety.
In 2017, Santiago Roque was able to put his passion into practice during a 10-week appointment with the U.S. Department of Energy (DOE) Scholars Program. Open to undergraduate and graduate students as well as recent graduates, the DOE Scholars Program is designed to help prepare participants for a full range of entry and mid-level research, technical and professional positions within DOE and organizations that support the DOE mission. Santiago Roque's appointment was offered in conjunction with the Federal Energy Management Program (FEMP), which works with stakeholders to enable federal agencies to meet energy-related goals, identify affordable solutions, facilitate public-private partnerships and provide energy leadership to the country by identifying and leveraging government best practices.
Santiago Roque joined the DOE Scholars Program having received his bachelor's degree in civil engineering from the University of Puerto Rico, Mayagüez in 2009, followed by a second bachelor's degree in environmental engineering from Texas A&M University, Kingsville in 2015. He served his appointment with the Environmental Protection Agency (EPA) in Washington, D.C. as part of the EPA Facilities Group and the Office of the Senior Energy Advisor.
Under the guidance of his mentors Dan Amon, EPA, and Terry Reid, DOE, Santiago Roque helped develop metrics and benchmarks for EPA laboratory fume hoods, an essential piece of equipment that keeps researchers safe when working with potentially harmful materials in the laboratory. Santiago Roque's efforts included helping with QA/QC process development for current and future data calls, as well as assisting EPA Safety & Sustainability staff modify existing fume hoods processes to bring them in line with new priorities.
"Fume hoods hold the potential for preventing negative health and safety impacts," explained Santiago Roque. "Ventilation and expulsion of hazardous materials must be optimal in order to minimize carcinogenic and respiratory risks to workers as well as indirect implications to the environment as a whole by leakage of greenhouse gases."
During his appointment, Santiago Roque also collaborated with numerous divisions within the Office of Administration and Resources Management to update and upgrade several laboratory requirements documents still in use today. Throughout his literature review, he glimpsed the breadth and complexity of safety and sustainability topics and noted how often these two issues intersected.
"I was surprised at the layers of energy consumption, safety and public health concerns surrounding a commonplace laboratory feature," said Santiago Roque. "Before this project, I had barely taken note of them in the laboratory."
Santiago Roque describes his experience as both challenging and rewarding. His determination, problem-solving abilities and creativity were important skills he relied on to be a successful researcher. In 2017, he received the FEMP Veteran Scholar Award for "Star Intern". Santiago Roque, an Air Force Veteran, was also the motivational speech invitee for the 2018 DOE/FEMP Veteran Scholars Program. Ultimately, the recommendations he made during his internship were officially implemented and the U.S. EPA Performance Requirements for Laboratory Fume Hoods Manual was published in May 2018.
Following the conclusion of his appointment, Santiago Roque obtained his master's degree in public health from the University of Massachusetts, Amherst in 2018. In 2019, Roque joined EPA's Region 1 as an environmental engineer assigned to the Air Compliance Section in the Enforcement and Compliance Assurance Division. In January 2021, he will join the Office of Water in the Industrial Branch at EPA's headquarters in Washington, D.C.
"I am no longer oblivious of the perils and successes that public servants could encounter over their careers," Santiago Roque said. "Being a part of something larger than oneself with a clear objective to improve society is my mindset while serving in any capacity."
When asked what advice he would give current STEM students, Santiago Roque encouraged them to pursue their goals, no matter how unachievable they may seem.
"Education, self-determination and perseverance are keys to a successful take-off in life," Santiago Roque said. "Keep your future aspirations alive, and as you push toward them help pave the way for those who had never even heard there was a way to succeed in life."
The DOE Scholars Program is administered by Oak Ridge Associated Universities (ORAU) through the Oak Ridge Institute for Science and Education (ORISE) under an agreement with the U.S. Department of Energy (DOE).