Meet a Fellow: Maya Hunter
Making a Project of Project Management
From the time she was a young child, Maya Hunter has been steered towards science, technology, engineering, and mathematics (STEM). Her mother enrolled her in summer STEM programs as well as afterschool STEM activities. Upon entering college, Hunter drew inspiration from her uncle, a mechanical engineer, and chose to pursue an engineering degree.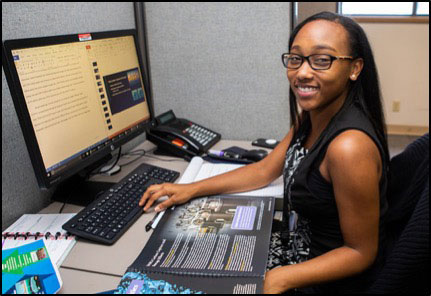 Hunter, who is currently an undergraduate senior at Prairie View A&M University in Texas, is majoring in Chemical Engineering, with a minor in Business Administration.
With a desire to research with industry professionals and gain experience in project management, Hunter decided to apply for and was later accepted to the Mickey Leland Energy Fellowship Program (MLEF). The MLEF program provides students with fellowship opportunities to gain hands-on research experience with the Department of Energy (DOE) Office of Fossil Energy. The program's mission is to strengthen and increase the pipeline of diverse future science, engineering, technology, and mathematics (STEM) professionals.
Hunter's internship was located in Morgantown, West Virginia at the National Energy Technology Laboratory (NETL). Her mentor, Jerry Carr PhD, took a slightly different approach to the internship project. Rather than doing research, Hunter was able to focus on her passion for project management. She gained experience on understanding budgets, preparing technical summaries, conducting cost/benefit analysis and helping to determine which projects were worthy of funding.
Hunter says the experience she gained and the task she collaborated on can have a real effect on the average American. She explains that deeming which projects and expenditures are worthy of funding not only has the potential to save taxpayer dollars, but also to boost the credibility and trustworthiness of the powers in charge of spending that money.
When asked how the internship has affected her, Hunter says the program helped her develop professionally by providing her with numerous networking opportunities, as well as allowing for more insight into graduate school openings. Particularly interesting to Hunter was the opportunity to travel during her internship.
"My favorite part of the program was being able to participate with the Department of State Foreign Service Institute via the Department of Energy" comments Hunter. "I was able to travel to Washington D.C. with my mentor for an orientation at the State Department. We then traveled to different energy plants between Washington D.C. and Pittsburgh, Pennsylvania"
On the topic of suggesting the program to fellow students, Hunter says "I would definitely recommend this program to others, especially with my school being a Historically Black College or University (HBCU). I learned that the Mickey Leland Energy Fellowship was originally geared towards HBCU's and minority students."
Looking forward to the future, Hunter has a desire to finish her bachelor's degree and then focus heavily on gaining more research and development experience. Her ultimate goal is to one day become a project manager overseeing research opportunities.
The MLEF Program is administered by the Oak Ridge Institute for Science and Education (ORISE) for the U.S. Department of Energy. ORISE is managed for DOE by ORAU.