Meet a Fellow: Francesca Moloney
Student researcher improves efficiency of hybrid energy systems
For 10 weeks over the summer, mechanical engineering student and Mickey Leland Energy Fellowship (MLEF) Program participant Francesca Moloney researched methods to improve systems that combine at least two energy systems, known as hybrid energy systems, to help reduce the nation's reliance on fossil fuels. Her research comes in response to the growing need to expand the use of renewable energy technologies as supplies of fossil fuels decrease.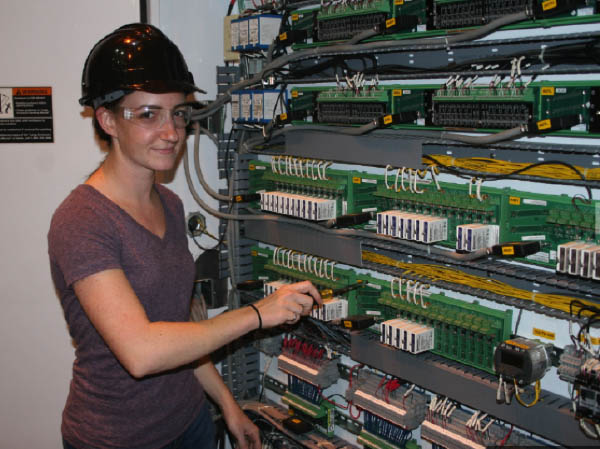 Alongside her mentor, David Tucker at the National Energy Technology Laboratory (NETL) in Morgantown, West, Virginia, Moloney contributed to the Hybrid Performance Project (HYPER). The project involves the coupling of a solid oxide fuel cell (SOFC) and a gas turbine.
"My objective was to see if the flexibility of the system could be improved to incorporate intermittent renewable energy sources by directly adding thermal energy storage to the fuel cell," Moloney said.
A SOFC produces electricity in a manner similar to batteries. As long as it has constant inputs of oxygen (air) and hydrogen (fuel), the fuel oxidizes in the cell, producing electricity and heat. The airflow acts as a coolant to the system, removing the generated heat. This waste heat can be redirected at a turbine to generate more electricity, reducing the losses of a typical stand-alone fuel cell.
A typical day for Moloney involved modeling, experimenting and meeting with her mentor. Each week, her group analyzed the expected results and then experimentally tested the system with their model input to the fuel cell. She contributed to a peer-reviewed conference paper that will be presented in June 2017 at the American Society of Mechanical Engineers Turbo Expo.
"Hybrid systems are the future to reduce our dependency on fossil fuels and increase the efficiency, or essentially the energy extraction, of the energy input," Moloney said.
Moloney applied to the program to experience research in a new setting. Already familiar with the operation of university research, she was specifically interested in witnessing how national research laboratories function.
Currently, Moloney serves as a research assistant at the University of South Florida, where she is pursuing a doctoral degree in mechanical engineering. Ultimately, she hopes to become a research scientist in the renewable energy sector, a field she encountered during her summer program.
"I really enjoyed this experience. The mentors are very good at making sure you get up to speed on the research projects, even if you are unfamiliar with that specific field," Moloney said.
The MLEF Program is administered by the Oak Ridge Institute for Science and Education (ORISE) for the U.S. Department of Energy.