Meet Dr. Alley Butler, Victor Carreon & Juan Elizondo
DHS student-faculty research team investigating the application of virtual reality in maritime security
While virtual reality brings to mind video games or science fiction movies, it is also employed in professional applications in business, medical and governmental sectors.
Recently, University of Texas-Rio Grande Valley faculty member Alley Butler, Ph.D., and his students, Victor Carreon and Juan Elizondo, experienced one of virtual reality's unique applications: underwater security monitoring of U.S. ports and maritime borders.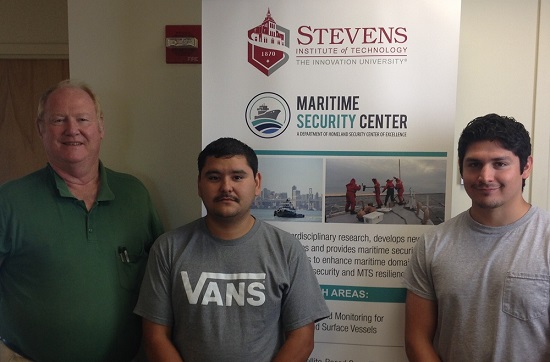 The team of engineers traveled to the Maritime Security Center at the Stevens Institute of Technology in Hoboken, New Jersey. There, the team joined a Summer Research Institute group investigating the application of virtual reality in maritime security.
The experience was made possible through the U.S. Department of Homeland Security (DHS) Summer  Research Team (SRT) Program for Minority Serving Institutions. The SRT Program is designed to increase scientific leadership at Minority Serving Institutions in DHS research areas by providing faculty and student research teams the opportunity to conduct research at university-based DHS Centers.
The overall goal of the research was to use virtual reality to improve underwater monitoring of ship hulls. Contraband and explosive devices can be attached to ship hulls and piers.
Efforts to make underwater monitoring more effective are critical to national security because much of the commerce that enters and exits the United States is waterborne. With enhanced detection methods, the opportunities to transport contraband and explosive devices across maritime borders will decrease.
Most underwater inspections routinely use remotely operated vehicles (ROVs) equipped with cameras and sonar systems. In cloudy water, the cameras are not effective, so ROV operators rely on sonar systems to locate objects that could be threats.
To improve overall detection, the virtual reality team used information from a ROV sonar system and converted it into a low-cost virtual reality environment. The virtual reality system has a head-mounted display that provides right and left eye views to the operator, simulating a three-dimensional (3-D) view. According to the premise, viewing objects in 3-D could improve the operator's ability to detect underwater threats.
The virtual reality team was split into three groups. Butler, Carreon and Elizondo primarily conducted an extensive literature review on the subject, while other research groups at the Stevens Institute  simulated the virtual reality environment and computationally transferred the sonar data into the virtual reality device. All the groups operated in the same lab, enabling real-time collaboration throughout the program.
"It was good working alongside my peers because I could see what they were doing and how our project differed from the articles I was reading," Carreon explained. "I am very pleased with this experience and I would definitely recommend it to others."
Butler appreciated the opportunity to expand his career network. "I would strongly recommend a summer research opportunity to any faculty member who is considering an application," he said.
The DHS SRT Program is funded by DHS and administered through the U.S. Department of Energy's (DOE) Oak Ridge Institute for Science and Education (ORISE). ORISE is managed for DOE by Oak Ridge Associated Universities.