Meet Dr. Camellia Okpodu & Raisa Barrera
Faculty-student team investigated investigated coastal resilience in response to sea level change
Camellia Moses Okpodu, Ph.D. is no stranger to science, technology, engineering and math (STEM) education and research. A plant biochemist with more than 20 years of experience in higher education, Okpodu and her student, Raisa Barrera, recently became part of the U.S. Department of Homeland  Security (DHS) Summer Research Team (SRT) Program for Minority Serving Institutions.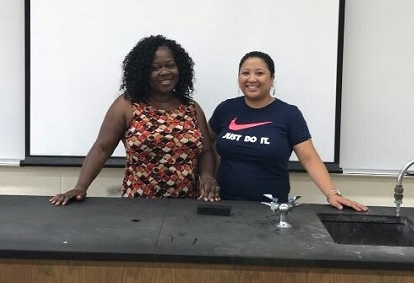 Okpodu and Barrera investigated coastal resilience in response to sea level change in coordination with Old Dominion University's Resilience Collaborative, part of the Coastal Resilience Center housed at the University of North Carolina at Chapel Hill.
The DHS SRT Program aims to increase and enhance the scientific leadership at Minority Serving  Institutions in research areas that support the DHS mission and goals. It provides faculty and student research teams the opportunity to conduct research at the university-based DHS Centers of Excellence  (DHS Centers). The SRT Program and DHS Centers are sponsored by the DHS Science and Technology Directorate Office of University Programs.
Okpodu is a professor of biology and the director of the Defense Intelligence Agency's designated Intelligence Community Center for Academic Excellence (DIA designated IC-CAE ) at Norfolk State University (NSU). DIA designated IC-CAEs target underrepresented groups such as women, and racial and ethnic minorities to provide resources and support in academics. NSU is classified as a historically black university and minority serving institution, a great match for the SRT Program. Okpodu applied to the SRT Program because she wanted to pursue her sea level research in a greater capacity, and she sought opportunities for her students.
For several years, Okpodu has been interested in how people and places respond to sea level changes. Okpodu and Barrera's research focused on identifying epigenetic markers in sea grasses that may change in response to soil salinity. The markers, which are gene expressions, can serve as early identifiers for plants that would be more adaptive to sea level change. Okpodu and Barrera extracted DNA from Virginia native coastal plants to assess their resilience.
Climate change has been declared a direct threat to national security, with sea-level rise among one of the priority issues. Multiple military bases are vulnerable sea-level rise, as well as countless U.S. cities located in coastal regions. Okpodu and Barrera's research sought to understand DNA responses of plants and other micro-organisms in these changing environments impacted by rising oceans. The team collaborated across disciplines with sociologists who examined human response to sea level change.
"As a pure and applied scientist, it has been very interesting to join efforts with researchers who are in the social and behavioral sciences," Okpodu said.
"I am proud to be a part of this research team," Barrera commented. Barrera, a NSU undergraduate with a major in biology, attributes her deep interest in environmental science and STEM to her early exposure to different natural landscapes while living in diverse places during childhood. She now lives in the Hampton Roads, Virginia, area.
"I look out to the ocean tide and wonder about the rise of sea level and the intensity of storms induced by climate change. Along the coastline near the trails I hike, I see the cordgrass and think about how the storms affect them and the survival of their species," she continued.
Through this research opportunity, Barrera developed new laboratory skills, engaged in valuable networking, and reaffirm her academic and career goals. Following the experience, Barrera plans to pursue a graduate degree in conservation biology and public policy. She hopes to gain experience teaching biology through a teaching assistant and research position at a university in Virginia.
Okpodu has been widely recognized for her achievements in research and for her efforts to support representation of minorities in science. Celebrated by countless awards and distinctions, Okpodu was featured on the Oprah Winfrey Show in 1999, and she was chosen as a Science History Maker, with her autobiography archived in the National Library of Congress in 2015. Today, she continues to promote her students, her science, and representation in areas that earnestly need diversity, a goal well matched with the SRT Program.
The DHS SRT Program is funded by
DHS

 
and administered through the U.S. Department of Energy's (DOE)
Oak Ridge Institute for Science and Education (ORISE)
. ORISE is managed for DOE by Oak Ridge Associated Universities.