Meet Dr. Eranna Guruvadoo, Gabrielle Watkins and Taylor Sherritt
Faculty-Student Team Sherritt developed high-resolution forecasting models to help protect the Alaskan coast from increasing storm surges.
As global warming agitates the earth's climate, residents of America's northernmost city of Utqiagvik, Alaska, watch their once-frozen coast slip into the sea. Storm surges intensified by the expanding Arctic Ocean are increasing, as are collaborative research efforts to improve wave modeling and coastal erosion forecasting.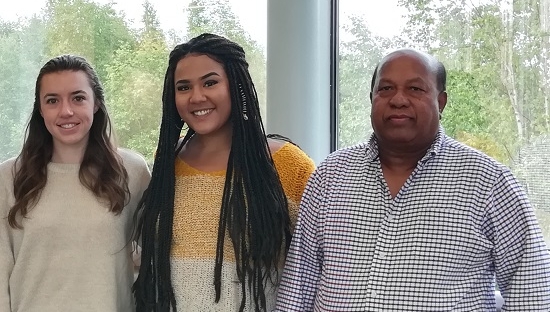 The Arctic Domain Awareness Center (ADAC) at the University of Alaska in Anchorage (UAA) recently hosted a research team led by Eranna Guruvadoo, Ph.D. His team joined the efforts to mitigate the coastal hazards exacerbated by Alaska's changing climate.
"Our goal was to develop forecasting tools for Alaska residents that increase awareness about coastal surge, flooding and coastal erosion with the ultimate goal of improving the capacity to mitigate and plan responses to these hazards," said Guruvadoo, associate professor of computer science at Bethune-Cookman University in Daytona Beach, Florida.
Team members Taylor Sherritt and Gabrielle Watkins, both computer science majors, participated alongside their professor in the U.S. Department of Homeland Security (DHS) Summer Research Team (SRT) Program for Minority Serving Institutions.
The SRT Program is designed to increase scientific leadership at Minority Serving Institutions in DHS research areas. The program provides faculty and student research teams the opportunity to conduct research at university-based DHS Centers of Excellence like the ADAC, whose mission is to improve situational awareness and crisis response capabilities in the Arctic environment.
Specifically, the research team was tasked with developing a high-resolution storm surge and wave forecasting model for Utqiagvik, located in Alaska's Barrow region. The model used a Delft3D simulation package, an open-source 3D modeling program used to investigate hydrodynamics.
"Using forecast data pulled from the National Weather Service, we were able to generate high-resolution, time-series storm surge simulations with tidal fluctuations at various observation points. This high-resolution output of 50 to 100 meters apart will be validated with future regional data," said Guruvadoo, who spent his days mentoring his students, reviewing literature, attending meetings and developing algorithms and code.
In time, the team's storm surge model will be integrated into a tool set used by the Risk Management Office of the North Slope Borough, the northernmost formal community in North America.
Watkins and Sherritt spent most of their time coding, analyzing results and tweaking the model's input parameters, such as boundary size and water depth. Both participants gained skills in the programming language Python™, as well as group research skills, like brainstorming and workload distribution.
"I spent my entire day alongside my research partner, and Dr. Guruvadoo came by our work space at least twice a day to check on us, answer any questions we had or give us further instructions," said Watkins. "The enjoyable part of researching as a team is having the extra help so that if there's a certain task or subject you're not quite understanding, you have a research peer to go to for help."
Sherritt also appreciated the collaborative nature of the program, which guided interaction not only with her direct team members, but also other computer science professors at UAA.
"Having other people's opinions and unique perspective helped the research move along much more quickly," she said. "I thoroughly enjoyed my time and would definitely recommend this program to other students."
The program provided Guruvadoo the opportunity to develop working relationships with many professors at UAA, including Thomas Ravens, Ph.D., associate dean of research in the civil engineering department, and Kenrick Mock, Ph.D., chair of the computer science and engineering department.
"The research opportunity required that I collaborate with researchers in other Arctic engineering domains than mine," said Guruvadoo. "Participating in group discussions with these researchers was one of my favorite parts of the program, as was getting my two students to develop their skill sets in a fairly short time period. We all learned a lot and, if given the opportunity, I plan to participate in this program again."
The DHS SRT MSI Program is funded by DHS and administered through the U.S. Department of Energy's (DOE) Oak Ridge Institute for Science and Education (ORISE). ORISE is managed for DOE by Oak Ridge Associated Universities.