Meet Dr. Vivek Tandon, Angel Rodarte and Jorge Navarrete
Faculty-Student Team helped stakeholders measure infrastructure resiliency in the wake of increasing hydrometeorological events
Every year, highway accidents affect the lives and commutes of millions of Americans. While driver negligence plays a concerning role in fender benders and fatal crashes, so too does ice, snow and heavy rains from an increasing frequency of hurricanes, blizzards and floods.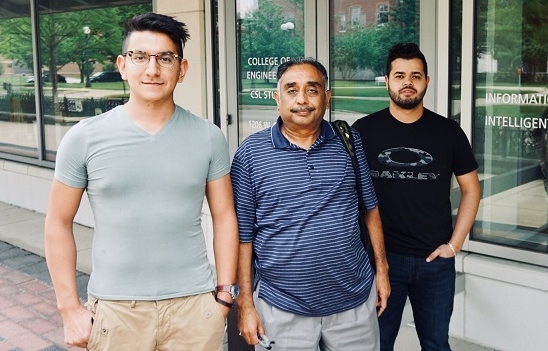 These hydrometeorlogical events not only impact visibility and traffic congestions, but over time they can weaken the integrity of the highway infrastructure, leading to premature failure.
Recently, a team of researchers at the University of Illinois at Urbana-Champaign (UIUC) explored ways to enhance resilience of critical transportation infrastructure to mitigate future hydrological threats and events.
Under the mentorship of their professor, Vivek Tandon, Ph.D., civil engineering undergraduate student Angel Rodarte and graduate student Jorge Navarrete from the University of Texas at El Paso (UTEP) participated in the U.S. Department of Homeland Security (DHS) Summer Research Team (SRT) Program for Minority Serving Institutions. This project was under the direction of Paolo Gardoni, Ph.D., and included the Tandon team as well as other interns participating in related research.
The SRT Program is designed to increase scientific leadership at Minority Serving Institutions in DHS research areas. The program provides faculty and student research teams the opportunity to conduct research at university-based DHS Centers of Excellence.
At UIUC's Critical Infrastructure Resilience Institute, Tandon, Navarrete, and Rodarte developed a conceptual framework to help a heterogeneous body of stakeholders identify and measure infrastructure resiliency.
"Since the development of new resiliency approaches will require economical and natural resources, it is of paramount importance that we develop a decision-making framework," explained Tandon.
As team leader, Tandon guided his students throughout the research process, a role that required daily meetings, literature reviews and ongoing discussion and analysis of resiliency assessment strategies.
Because transportation infrastructure encompasses millions of miles and thousands of bridges, the team proposed to identify only the most vulnerable or "critical" assets—those at the highest risk of damage from events like floods and hurricanes.
Once the team proposed an approach to identify these assets, they then characterized the resiliency of these assets based on "the four Rs": robustness, resourcefulness, redundancy and recovery.
Mathematical models were employed to quantitatively determine resilience based on the four dimensions, explained Navarrete.
"The framework is beneficial for stakeholders to promote community safety," he said.
These stakeholders comprise city planners, federal agencies, civil engineers and others who work together to develop new, sustainable infrastructure and to rehabilitate dilapidated infrastructure.
Because the resiliency discipline was new for all three team members, part of Tandon's challenge as the team leader was to assign tasks appropriately.
"The graduate and undergraduate students worked on different components of resilience, which made mentoring challenging," he said. "At the same time, the questions posed by the students helped us all develop a better understanding of the concept at hand."
The team's 10-week contributions laid the groundwork for additional research, which is needed before the framework can be fully implemented.
Navarrete and Rodarte enjoyed the program's collaborative component the most.
"You interact closely with your team members throughout the summer, and you enjoy getting to know them as individuals," said Rodarte. "You have to get used to each other's ways of doing things, which can be rewarding as you learn to adapt."
Navarrete agrees. His recent research experience has inspired him to pursue a doctoral degree in civil engineering at UTEP.
"Although it was quite challenging at times to understand my other team members' points of view, we interacted as one and helped each other with questions we had," he said. "I highly recommend this program, specifically to other students willing to pursue graduate degrees."
The DHS SRT MSI Program is funded by 
DHS
 and administered through the U.S. Department of Energy's (DOE) 
Oak Ridge Institute for Science and Education (ORISE)
. ORISE is managed for DOE by Oak Ridge Associated Universities.