Meet Dr. Torina Lewis and Michael English
Faculty-Student Team used advanced analytical tools develop a prediction model that helps optimize passenger flow in crowded airports
A long, twisting line and a chorus of sighs and grumblings are an all too familiar experience for millions of traveling Americans each year. While the advent of more sophisticated screening devices has greatly improved security at the nation's airports, it has also led to bothersome congestion at Transportation Security Administration (TSA) checkpoints.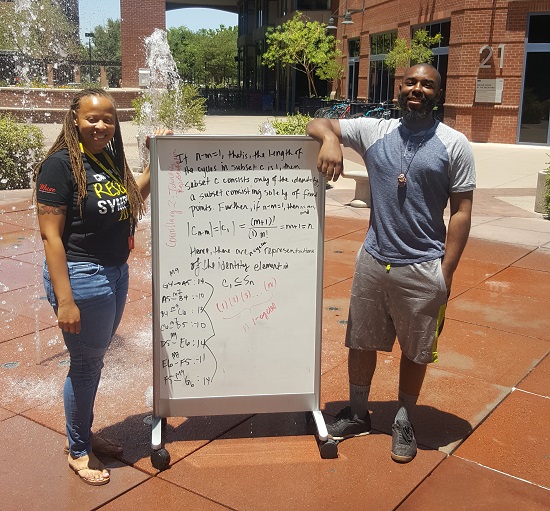 Torina Lewis, Ph.D., a mathematics professor at Clark Atlanta University, and her student, Michael English, spent this past summer at Arizona State University (ASU) developing models used to predict and optimize air passenger traffic.
 "Our goal was to improve the throughput rate of passengers during peak times through effective placement of security officers," said English, who participated in the U.S. Department of Homeland Security (DHS) Summer Research Team (SRT) Program for Minority Serving Institutions to gain hands-on experience in data analytics.
 The SRT Program is designed to increase scientific leadership at Minority Serving Institutions in DHS research areas. The program provides faculty and student teams the opportunity to conduct research at university-based DHS Centers of Excellence, like the Center for Accelerated Operational Efficiency (CAOE) at ASU.
 The CAOE uses advanced analytical tools to optimize efficiency in homeland security operations. Here, Lewis and English tapped into historical and current data to develop predictive timelines of utilization peaks and dips at the Phoenix Sky Harbor International Airport.
 Through data mining and analysis, the team successfully created a process to determine aircraft load capacity. This information feeds into the Passenger Arrival Estimator (PAE), which provides insight into the total number of passengers in the airport at any given time.
 "Estimates from the PAE integrate into a Dynamic Queue Analyzer (DQA), which optimizes the deployment of transportation security officers across operational lanes to increase throughput.
Together, the PAE and DQA serve as input data for the scheduling system for these officers," explained Lewis.
 The research provided English with invaluable skills in data mining and analysis that improved his critical thinking and science communication skills.
 "I am an avid tutor and believe knowledge should be readily available to those that seek it. I enjoyed the DHS SRT MSI program as it perpetually reminded me of the importance of critical thinking in the development and retention of knowledge in the youth of society," said English, a student of both mathematics and music whose ultimate career goal is to open a school that champions the fusion of arts and sciences.
 Lewis, too, shares a dream of expanding educational opportunities for youth, especially women and minorities. Inspired by their summer research, Lewis and English proposed an independent study program at their home university that introduces students to queuing theory, or the mathematical study of line formation.
 Both participants recommend the summer program to others, especially to students considering pursuing graduate research.
 "The experience was challenging but fun, and the atmosphere was tranquil," said Lewis. "I would definitely lead another team in the future."
 English agrees.
 "This program allows students hands-on experience in research that doesn't necessarily happen in a lab," he said. "Overall, I am very happy for the experience. My mantra in life is 'Infinite Existence', and I believe every endeavor can expand our horizons if pursued with passion. I would encourage others to do the same."
 The DHS SRT MSI Program is funded by DHS and administered through the U.S. Department of Energy's (DOE) Oak Ridge Institute for Science and Education (ORISE). ORISE is managed for DOE by ORAU.