Meet Dr. Sara Kien, Ashley Lee, and Tatyanna Begay
Faculty-Student Team Explore the Impacts of Cyber Communication on Public Perception and Reaction to Mass Shootings
As active shooter incidents infiltrate schools and public events across the nation and loved ones of those affected struggle with the reality of loss, cognitive psychologists like Sara Kien, Ph.D., are investigating the roles cyber communication have on public perception and reaction. Their hope is to discover the "red flags" that foreshadow additional violent events in the wake of a mass shooting and to understand the nature of sensationalism and what it means for American safety.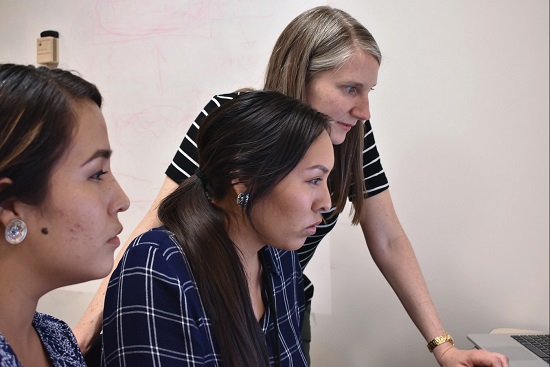 Kien, a psychology professor at Diné College in Tsaile, Arizona, recently participated in the U.S. Department of Homeland Security (DHS) Summer Research Team (SRT) Program for Minority Serving Institutions.
The SRT Program is designed to increase scientific leadership at Minority Serving Institutions in DHS research areas. The program provides faculty and student research teams the opportunity to conduct research at university-based DHS Centers of Excellence.
At the DHS Center of Excellence for Criminal Investigation and Network Analysis (CINA) at George Mason University in Fairfax, Virginia, Kien and two of her undergraduate psychology students, Ashley Lee and Tatyanna Begay, conducted research on the contagion effect that refers to an increase in incidents during a 13-day period following a shooting.
"While researchers have proposed that media exposure is the cause of the contagion effect, very little research has specifically investigated the role of media or other characteristics of cyber communication," said Kien. "Our research will advance our understanding of the factors that cause the spread of violent crime, which can lead to more effective strategies for keeping Americans safe."
Using the qualitative data analysis software NVivo, the team scrubbed more than 60,000 tweets following recent mass shooting events. The purpose was to identify and analyze trends such as sadness, fear and anger. They coded the tweets as ambiguous or causal, which referred to tweets that referenced certain causes like mental illness, access to guns and bullying.
"Although the frequencies of tweets varied and decreased overall throughout the time period following a shooting, we saw differences and fluctuations in the types of dialogue and conversation that Twitter users were having," said Lee.
The team found a distinct shift in Twitter users emphasizing details about the shooter to details about the victims in the days following a mass shooting. They discovered a statistically significant correlation between expressions of anger and mass shooting reporting.
The team conducted a study using volunteer participants that investigated how individuals react to aggressive stimuli following exposure to a fictional news story about a mass shooting. Results of the study showed that participants who read stories that emphasized shooter information were quicker to perceive certain images as aggressive.
In addition to learning qualitative data analysis software, Lee and Begay enjoyed delving into conversations—with each other and other researchers—that facilitated an exchange of ideas and perspectives.
"Critical thinking is important in the field of research, and it was difficult to break through the collective mind-set we experienced at times. Discussions helped, and in the end, I believe we overcame the challenge," said Begay. "The most rewarding part of the summer was finding that our results matched our theories. Overall, the whole experience was extremely positive and good guidance as to what to expect in a graduate program."
Lee agreed that the team succeeded despite challenges. "This research experience exceeded all my expectations, and it amazes me just how much my team and I were able to accomplish together. I would 100 percent, absolutely recommend this program and experience to others," she said.
As the team lead, Kien's favorite parts of the summer included watching her students progress both as individual researchers and team members.
"The most enjoyable parts of researching as a team include the creativity in research ideas and problem solving that emerge out of the diversity in expertise and skill sets," she said. "I was impressed by my two students' work ethics and their ability to persevere in spite of research and communication challenges."
Kien's appreciation for the program was further enhanced by a passion to increase educational opportunities for Native American students. Kien spearheaded the development of Diné College's undergraduate psychology program in 2014 and credits the DHS SRT MSI program for helping her connect talented students to real-world research opportunities.
"The program has created the foundation needed for developing research infrastructure within our department that helps to address problems of extreme violence," Kien said. "Overall, I found the experience to be highly valuable, and I am grateful for the opportunity to collaborate with DHS, CINA, and ORISE. I wouldn't trade the experience for anything."
The DHS SRT MSI Program is funded by DHS and administered through the U.S. Department of Energy's (DOE) Oak Ridge Institute for Science and Education (ORISE). ORISE is managed for DOE by Oak Ridge Associated Universities.