Meet Kulwinder Kaur-Walker, Ph.D., Jaida Ellis, Genesis McClain
Faculty-student team examines impact of hurricanes on mental health in coastal North Carolina
In the aftermath of hurricanes, recovery efforts primarily center on rebuilding the infrastructure of stricken communities. But often overlooked is how these natural disasters can impact the mental health of residents, particularly those who live in areas repeatedly hit by such weather events.
A faculty-student research team from North Carolina's Elizabeth City State University recently studied this topic as part of the U.S. Department of Homeland Security (DHS) Summer Research Team (SRT) Program for Minority Serving Institutions.
The SRT Program is designed to increase scientific leadership at Minority Serving Institutions in DHS research areas. The program provides faculty-student research teams the opportunity to conduct research at university-based DHS Centers of Excellence.
The SRT Program has provided me with an opportunity to conduct research with confidence and full support and has led me to explore an area in my primary field that is related to the DHS mission.

- Kulwinder Kaur-Walker
During a 10-week appointment, Elizabeth City State Professor of Psychology Kulwinder Kaur-Walker, Ph.D., and students Jaida Ellis and Genesis McClain collaborated with researchers at Old Dominion University, a university partner of the Coastal Resilience Center (CRC). The CRC, a DHS Center of Excellence led by the University of North Carolina, Chapel Hill, conducts research to enhance the resilience of the nation's people, infrastructure, economies and the natural environment to the impacts of coastal hazards, such as floods and hurricanes. Wie Yusuf, Ph.D., a professor of public service at Old Dominion, served as the team's mentor.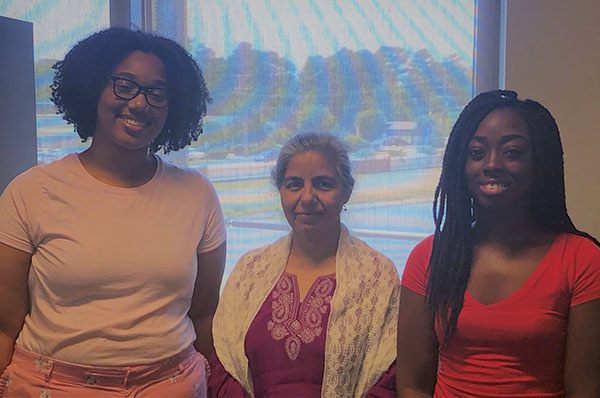 Kaur-Walker and her students focused their study on North Carolina's Bertie and Jones counties, both coastal areas often affected by hurricanes. Visiting county offices, events and churches, the team recruited 231 residents to participate in a survey that covered topics such as mental and physical health, traumatic events, and alcohol and substance abuse. The team also conducted individual interviews and held focus groups with civic leaders and mental health professionals to gather input on the availability of mental health services.
The team's survey results pointed to a prevalence of mental health issues among residents, including alcohol and substance abuse and symptoms of anxiety and depression. Residents also reported a variety of hurdles to access to mental health services, such as transportation, cost and a stigma around such care.
"There are resilient communities not leaving their place even when repeatedly affected by devastating hurricanes," Kaur-Walker said. "Emotionally, people are so attached to their origins that they are mentally prepared to deal with challenges or rebuilding their lives over and over. Of course, mental health issues cloud the progress of such a resilient community. Substance abuse issues, along with other mental health problems like anxiety, depression and post-traumatic stress disorder, are on the rise."
The team recommended offering training for stakeholders on mental health and substance abuse issues so that they can educate and assist residents on accessing the appropriate services.
At the conclusion of their appointment, Kaur-Walker's team presented their research findings at the annual COE Summit at George Mason University in Fairfax, Virginia. The event offered a chance to network with researchers from other DHS Centers of Excellence around the country.
For Ellis, the SRT Program proved to be a pivotal point in her education and solidified her desire to pursue a career in environmental psychology. Through the program, she learned more about research procedures and gained experience in data analysis software such as SPSS and Qualtrics.
"Before participating in the program, I honestly was not sure what area of psychology I wanted to specialize in," Ellis said, noting that the field's main sub-disciplines include clinical/counseling, cognitive and developmental. "All of these sub-disciplines are extremely important in terms of personal and group development, but they never spoke to me. By participating in this experience, I feel like it has helped me in continuing with my interest in environmental psychology."
Kaur-Walker was recently awarded funding to continue research on the mental health impacts of hurricanes on residents in coastal North Carolina, and she is planning a publication on her team's SRT Program project in coordination with researchers at Old Dominion.
She highly recommends the SRT Program to other faculty and students at Minority Serving Institutions.
"The SRT Program has provided me with an opportunity to conduct research with confidence and full support and has led me to explore an area in my primary field that is related to the DHS mission," she said.
The DHS SRT Program is funded by DHS and administered through the U.S. Department of Energy (DOE)'s Oak Ridge Institute for Science and Education (ORISE). ORISE is managed for DOE by Oak Ridge Associated Universities.