Capt. Kevin Hauns, Ph.D.
Mentor Leads Team to Advance Health Care Systems
Each year, about one million deaths occur worldwide from malaria. Today, U.S. military researchers are heavily involved in efforts to develop diagnostics, therapeutics and vaccines against malaria because service members operate in areas with a widespread presence of the disease.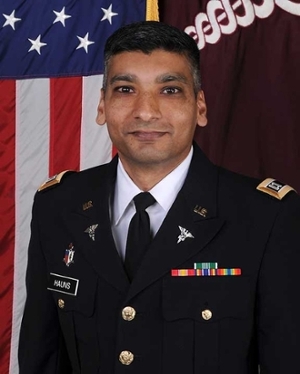 Capt. Kevin Hauns, Ph.D., is one of those military researchers, and he has been motivated to move forward a malaria vaccine.
"For as long as I can remember, I have had the expectation of being the person who helps the greatest number of people live a disease-free life," said Hauns, a member of the U.S. Army Medical Service Corps.
Hauns is a mentor in the Walter Reed Army Institute of Research (WRAIR) Research Participation Program in Silver Spring, Maryland. He credits his previous mentors, the late Dr. Alexander Rich and Dr. Bertram L. Jacobs, for his scientific success and his decision to become an Oak Ridge Institute for Science and Education (ORISE) mentor. "My mentors invested their time, energy and knowledge into me, and I realized it was my turn to invest in future scientists," said Hauns.
WRAIR conducts biomedical research to provide the best protection and support possible before, during and after deployment, particularly in the areas of infectious disease and brain health. By integrating basic research and advanced development to meet U.S. Army and Department of Defense (DOD) requirements, WRAIR strives to be the premier DOD biomedical research organization.
At WRAIR, Hauns and his mentees were part of the Malaria Vaccine Branch (MVB). This branch develops vaccine countermeasures to prevent malaria infections in service members. The malaria parasite exists in different stages in the human body. Introduced after a bite from an infected mosquito, the parasite enters the liver where it replicates, bursts outwards and infects red blood cells. If mosquitoes bite humans in this stage of the malaria infection, then those mosquitoes become infected and propagate the cycle. Though numerous malaria vaccine candidates exist at various stages of development, none are currently sufficient to meet U.S. Food and Drug Administration (FDA) requirements.
Seeing those challenges, Hauns and his research team focused on a new project. His line of effort, called the SWARM vaccine, combines recombinant viral vectors expressing malaria proteins from multiple stages of human malaria infection to improve protection and prevent the infection at every stage. The single administration vaccine was the first of its kind, and an international patent for this concept was filed in June 2018.
In addition to ORISE participants, Hauns mentored U.S. Army soldiers and student volunteers in his laboratory. "My favorite part of being a mentor was watching one of my fellows become a mentor. Witnessing the participants mature and become their own person, not just scientifically, but also as productive members of society that want to make this world a better place, was extremely gratifying," said Hauns.
Since becoming an ORISE mentor, all of Hauns' mentees have pursued advanced degrees or are employed by government agencies with the mission to improve health care.
Hauns received his doctoral degree in molecular and cellular biology from Arizona State University. "The pursuit of an advanced science education really hit close to home for me because I could implement what I learn to help my mom, who was diagnosed with breast cancer, and the vast human population be free of diseases," he said.
Hauns now serves as the director of bioinformatics services in the Multidrug-resistant Organism Repository and Surveillance Network (MRSN), part of the Bacterial Diseases Branch at WRAIR. The mission of the MRSN is to increase DOD readiness and protection through the surveillance of antibiotic-resistant bacteria across the U.S. military health care system.
The WRAIR Research Participation Program is managed by the ORISE under an interagency agreement with the U.S. Army Medical Research and Materiel Command and the U.S. Department of Energy (DOE).