Michelle Saillant
ORISE fellow supports USARIEM research efforts to improve health, performance of service members in environmental extremes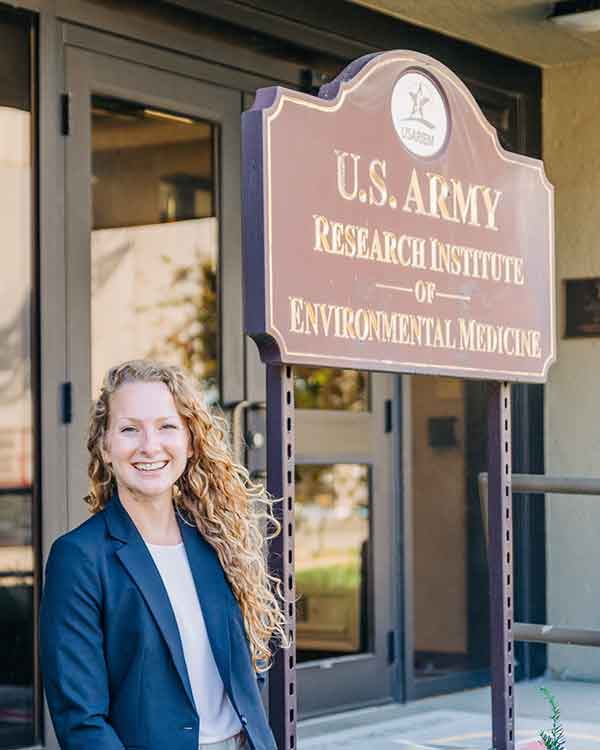 From a young age, Michelle Saillant gravitated toward medicine. Wanting to make a difference in people's lives, she set her sights on a career as a clinical physician.
As she grew older, she became intrigued by the impact that nutrition, exercise, and both environmental and physiological stressors have on human health. That interest led her to pursue a bachelor's degree in nutrition and health sciences at the University of Massachusetts, Amherst.
As an undergraduate, she learned of research opportunities offered through the Oak Ridge Institute for Science and Education (ORISE) at the U.S. Army Research Institute of Environmental Medicine (USARIEM). Based in Natick, Massachusetts, USARIEM is a Department of Defense (DoD) laboratory that focuses on the health and performance of military service members, conducting research in environmental medicine, physiology, physical and cognitive performance, and nutrition.
Saillant began her ORISE research experience at USARIEM in the summer of 2017 as an undergraduate intern in USARIEM's Military Nutrition Division (MND). After graduating with her bachelor's the following year, she transitioned to a full-time fellowship role in MND before joining the Thermal & Mountain Medicine Division (TMMD).
"Prior to beginning my journey toward medical school, I wanted to experience medicine through a different lens and learn about evidence-based practices through research involvement," she said. "I intended to take one or two gap years after graduating; however, I was quickly inspired by the unique learning and growth opportunities that this fellowship provided."
Under the guidance of her fellowship mentor, Nisha Charkoudian, Ph.D., deputy chief of the TMMD, Saillant has supported several research projects that aim to help improve service member health and performance in environmental extremes — heat, cold and high altitude.
In one such project, Saillant is contributing to a research effort that examines how women service members adapt to extreme heat.
"While much research has been done regarding the physiological processes of heat acclimatization, most of it has been done in men," she explained. "With women becoming more involved in the military over time, it is important to understand how women respond and adapt to heat acclimatization."
The researchers are conducting a controlled comparison between young men and women to evaluate whether physiological adaptations — such as increased plasma volume, decreased core temperature, and decreased heart rate at rest and during exercise — differ between men and women. They are also looking at whether reproductive hormones — estradiol and progesterone — alter the acclimation process.
Additionally, Saillant contributed to a recent study that focused on a procedure for cooling an individual with bed sheets soaked in ice water after that person has become overheated — typically during training in the summer months — and is at risk of heat exhaustion or heat stroke.
"In this study, we quantified the extra cooling that is possible with a standardized approach to iced sheet cooling after exercise in the heat," she said. "Data collection is complete for this study, and a manuscript has been submitted for publication."
Through her fellowship, Saillant has gained technical experience in venipuncture, subcutaneous injections, X-ray absorptiometry and lung function testing, among other areas. She also has honed her science communication skills through writing manuscripts and presenting professional posters at national conferences. All the while, she has furthered her understanding of human physiology from USARIEM's nationally recognized thermal and environmental physiologists.
"My research experience from this appointment, in addition to all the new skills and concepts I have been learning, will help me incorporate evidence-based approaches into my future medical practice, and generate individualized treatment plans based on the best available research," she said.
Once her fellowship concludes, Saillant plans to begin medical school, one step closer to fulfilling her dream of becoming a physician. She highly recommends the ORISE program to other students and recent graduates looking to jumpstart their careers in science.
"The ORISE program has allowed me an opportunity to experience different facets of research, grow both personally and professionally, and learn new skills that I otherwise would not have learned had I not had this fellowship," she said. "It was the ideal stepping stone between my undergraduate studies and, in my case, medical school, and I am so grateful to have been able to participate in this one-of-a-kind opportunity."
The research participation program at USARIEM is administered by the Oak Ridge Institute for Science and Education (ORISE) under an agreement between the U.S. Department of Defense (DoD) and the U.S. Department of Energy (DOE). ORISE is managed for DOE by ORAU.