Kristin Johnson
Undergraduate intern contributes to qualitative research on physical monitoring system
Undergraduate Kristin Johnson traces her interest in human performance, in large part, to her experience in sports.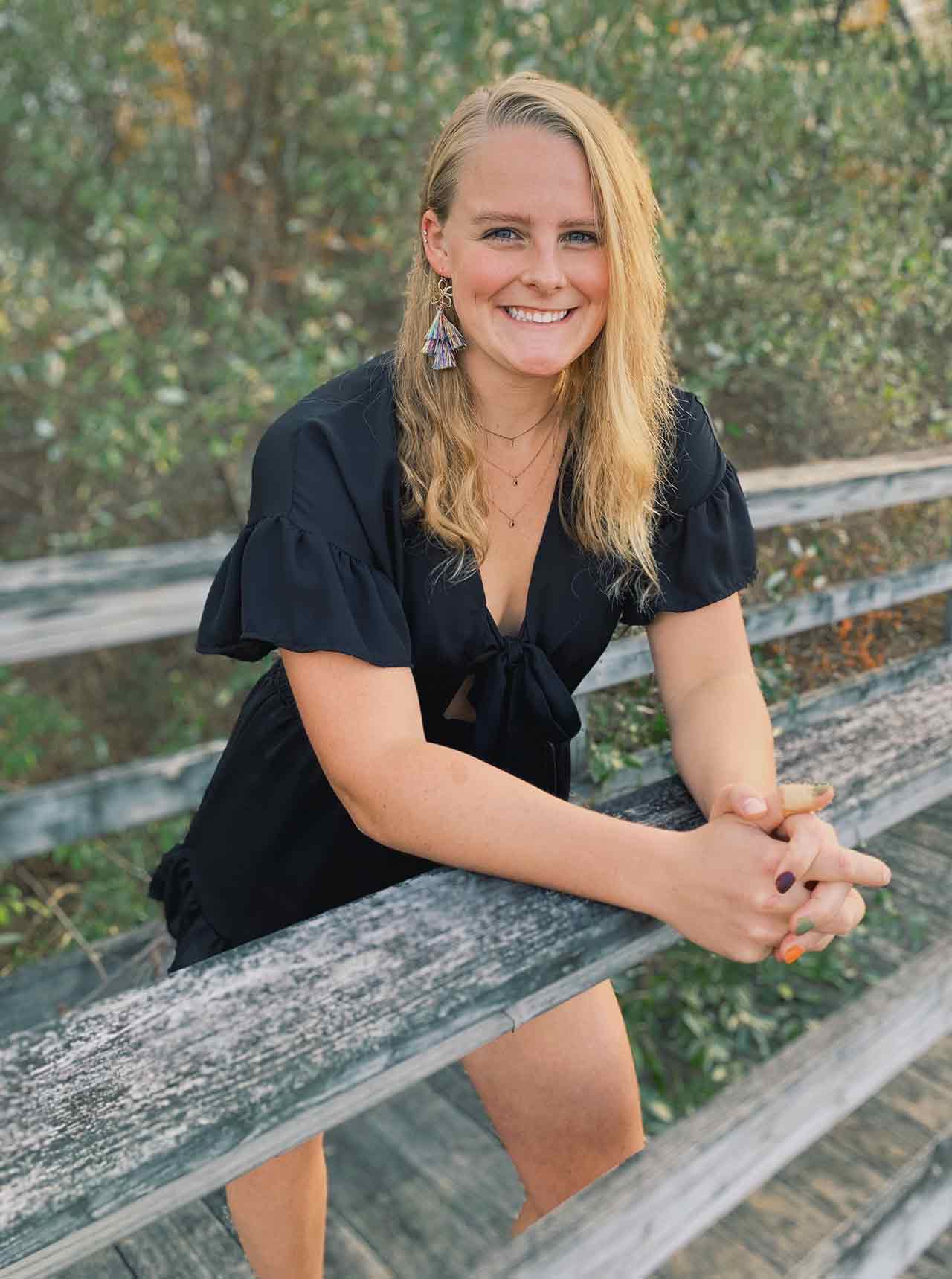 A competitive swimmer since her youth, Johnson initially wanted to better understand the science behind injury rehabilitation. But she soon found herself pondering the physiological factors involved in athletic success: How and why do some individuals excel more than others?
"Of course elite athletes train very hard and have access to great facilities, equipment and coaching, but I started to wonder if there was something more to it besides genetics," she said. "I thought it would be interesting to see if there are physiological changes underneath the surface associated with certain conditions — altitude or atmospheric pressure, for example — that lead to greater success within sports. And this concept could be generalized to anything competitive or even jobs such as firefighting where human performance factors are extremely important."
Through a family friend, Johnson learned about the Oak Ridge Institute for Science and Education (ORISE) research participation program at the U.S. Army Research Institute of Environmental Medicine (USARIEM). The ORISE program connects college students and recent graduates with internship and fellowship opportunities at USARIEM, a Department of Defense laboratory that focuses on the health and performance of military service members, conducting research in environmental medicine, physiology, physical and cognitive performance, and nutrition.
Intrigued by the prospect of gaining real-world experience in human performance research, Johnson applied and was accepted for a summer internship in USARIEM's Biophysics and Biomedical Modeling Division.
Under the mentorship of USARIEM Research Psychologist William Tharion, Johnson contributed to survey research for a physiological monitoring system for service members in the Weapons of Mass Destruction-Civil Support Team Program. USARIEM conducted focus groups to determine the need for the monitoring system and what changes were needed in order to implement the system for emergency first responders.
"One of the worries with soldiers, especially young soldiers eager to prove themselves, is that they will over-exert themselves and become a casualty during a mission or even a training session," Johnson explained. "If a soldier goes down, that makes the mission even more difficult to complete. With a physical monitoring system, leaders can look at data transmitted from the system to determine if soldiers need to be removed from a mission. This would allow missions and training sessions to have an added layer of safety not only for removing a potential casualty, but also for having medical (personnel) ready to respond faster with data that has been transmitted before a soldier returns for treatment."
As part of this project, Johnson helped moderate one of the focus groups and transcribed videos from previous sessions. From those transcriptions, she pulled out qualitative data and entered that information into statistical software to find trends in the data. With this and additional research, she put together an outline for the technical report on the project.
Through her internship, Johnson gained an appreciation for the focus group process — and the importance of qualitative research overall.
"The entire concept of research that required focus groups and qualitative data was new to me at the beginning of my appointment," she said. "In my undergraduate classes, our labs and research required quantitative data analysis to show correlations, but this research project showed me that qualitative data analysis is just as important, and this is a fact I plan to carry when I conduct my own research."
Following her internship, Johnson continued her studies at the University of Rhode Island, where she is majoring in kinesiology and biology. After graduating, her goal is to pursue a master's degree in exercise science or exercise physiology. From there, she hopes to return to the research setting with a focus on exercise and chronic disease.
"I am extremely grateful for the opportunity to contribute to the research at USARIEM," Johnson said. "Each of the individuals I met made me feel welcome, encouraged me to ask questions, and talked to me about their research or other ways to conduct research that I had not been exposed to before."
The research participation program at USARIEM is administered by the Oak Ridge Institute for Science and Education (ORISE) under an agreement between the U.S. Department of Defense (DoD) and the U.S. Department of Energy (DOE). ORISE is managed for DOE by ORAU.