Stefanie Pless-Mosley
Stefanie Pless-Mosley's passion for marketing and communications started when she was in high school. After earning her degree in media communications from Full Sail University, Pless-Mosley moved to Vicenza, Italy, to start her career. It was there she learned about an Oak Ridge Institute for Science and Education (ORISE) public affairs internship opportunity offered through the U.S. Army Garrison (USAG) Italy. She applied and was selected.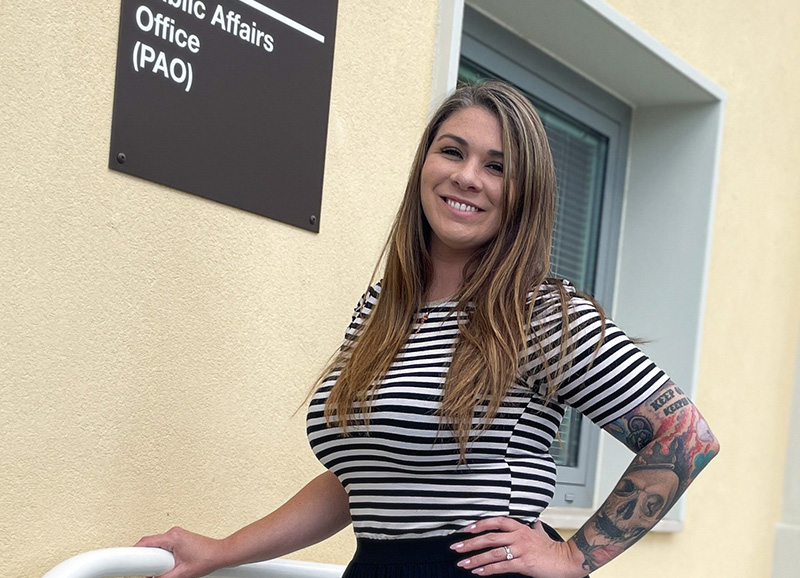 "I instantly accepted. I'm passionate about what I do and was excited to take part in an internship to gain more knowledge and experience," said Pless-Mosley.
The USAG Italy Public Affairs Office (PAO) is responsible for communication with a variety of audiences through command information (websites and social media), community relations, (outreach to off-post civic and political leadership) and media relations (civilian news and press agencies). The PAO conducts analytical evaluation of communication tools to increase effectiveness of command messaging.
She joined her mentor Rick Scavetta, the director of public affairs, and a team of seven experienced public affairs cohorts, focusing on analytics and social media.
"Understanding audience response and measuring both web and social media analytics is a specialized skill," explained Scavetta. "With emerging platforms, changing user preferences and competing information sources, the importance of gauging effectiveness of Army communication tools has become of great importance to military garrisons overseas. People rely on garrison public affairs for news and information that affect their daily lives."
Scavetta continued, "Creating multimedia content, then testing how that content performs within measurable information platforms, allows U.S. Army Garrison Italy to improve its online communication tools. Our internship is focused on finding empirical data to support or invalidate our theories on what resonates with our audience."
For Pless-Mosley, this means being a jack-of-all-trades. Throughout the day she may create and edit content such as photography, monitor detailed analytic data or even write stories and scripts. Other days she said she may be running from event to event.
Pless-Mosley notes that, when she first began her internship, their Instagram page had only 1,000 followers. That number has more than doubled over the first year of her internship thanks in part to strategic marketing and attention to detail. Additionally, one of Pless-Mosley's most exciting learning experiences was shooting footage and photographs for an event where the U.S. Army recreated and delivered a birthday cake  to a 90-year-old-woman whose cake was stolen during World War II on her 13th birthday.
"It was a very important event and one of the bigger events I helped cover. The content we created reached over 20 countries, was on television, social media and in the news," she explained. "The analytics was awesome. I don't think I'll ever get to be a part of something quite this cool but seeing the aftermath of it all was mind-blowing!"
She hopes that her contributions as an intern will continue to help and positively impact her team after her internship ends. Specifically, Pless-Mosely hopes that they will continue to try new things and continue moving away from their comfort zones.
Pless-Mosely says one of the biggest skills she's learned is effective communication within a team. She credits Scavetta and her command information chief for teaching her so much about public affairs.
She recommends the USAG program.
"The program allowed me to enter the public affairs field as someone who brought different types of knowledge to my team. It allowed me to learn and grow from seven talented and experienced experts without having to feel pressured to be an expert in a position I may have not been ready for."
After her internship ends, Pless-Mosley plans to continue with public affairs as a contractor or in the general schedule system for the Army.
The U.S. Army Garrison Italy, Public Affairs Office program, administered by Oak Ridge Associated Universities (ORAU) through its contract with the U.S. Department of Energy (DOE) to manage the Oak Ridge Institute for Science and Education (ORISE), was established through an interagency agreement between DOE and DoD.