Erin Burr brings her own postdoctoral experience to ORISE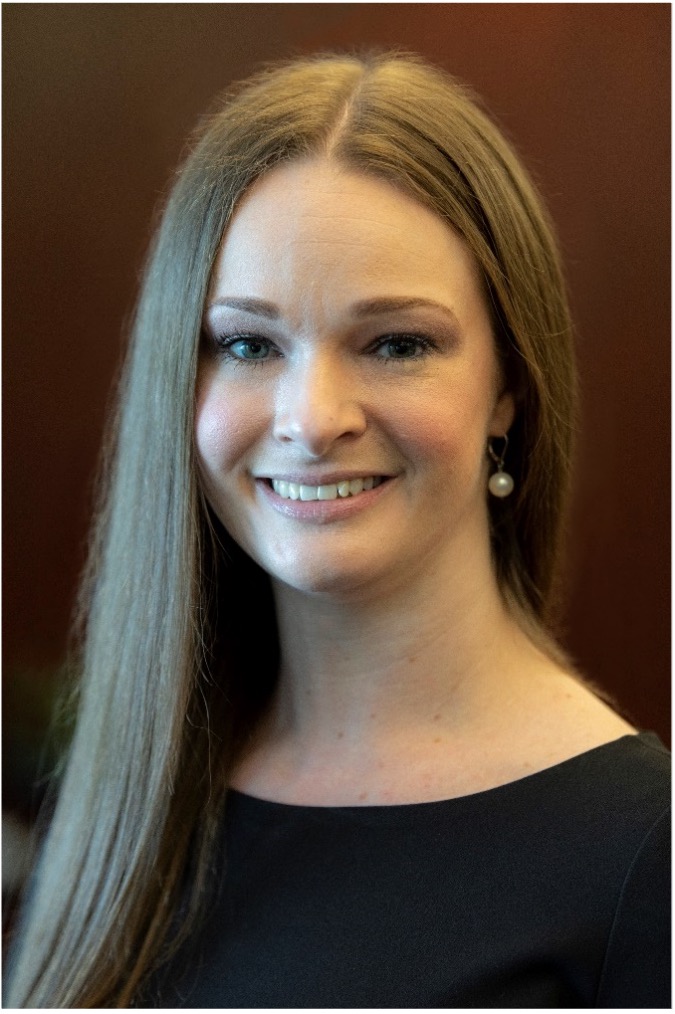 December 15, 2022
As senior assessment and evaluation portfolio manager with the Oak Ridge Institute for Science and Education (ORISE), Erin Burr, Ph.D., studies the effectiveness of STEM workforce development programs administered by ORISE.
Burr honed her skills in program evaluation as a postdoctoral fellow with ORAU, which manages ORISE for the U.S. Department of Energy.
Finding a new field of interest
Always fascinated by human behavior, Burr focused on psychology at Old Dominion University, earning bachelor's and master's degrees in the field.
While in graduate school at Old Dominion, she developed an interest in the program evaluation side of psychology.
"I did not realize there was this whole other side of things where I could do program evaluation," she recalled in an interview on the ORISE Featurecast. "It uses all the measurement and data collection methods that I was familiar with."
Her interest in program evaluation ultimately led her to the University of Tennessee, where she earned a doctoral degree in educational psychology and research.
Launching a career at ORAU
After graduating from UT in 2009, she learned of a postdoctoral fellowship at ORAU, based in nearby Oak Ridge.
"I ended up doing about almost two years as a postdoc at ORAU, and I had the opportunity during those two years to engage in program evaluation and research projects across a number of different sponsors, which I found really enjoyable," she said on the ORISE Featurecast. "I loved getting to change it up and try out different programs and projects. And so I found this to be a really great home for me."
During her fellowship, Burr completed an analysis and reporting on responses of an annual survey for the Oak Ridge Leadership Computing Facility; an analysis of a questionnaire at the National Science Bowl; and an evaluation of the Joint Genome Institute Integrated Microbial Genomes Annotation Collaboration Toolkit.
She also completed evaluations of the Lindau Meeting of the Nobel Laureates and Students Graduate Awards Program, ORAU/ORNL Summer Science Academy, and ORAU Extreme Classroom Makeover Awards Program for ORAU.
Assessing program impact
In her current role on the ORISE Assessment and Evaluation team, Burr acts as a principal investigator on evaluations of STEM workforce development programs managed by ORISE. Administrators and sponsors use the evaluations from Burr and her team to assess their programs and see how they can be improved.
While these evaluations often involve data analysis and statistics, they also deal with qualitative feedback, or comments from respondents in their own words.
"I get to go and look for themes and what people have to share and learn about in their words, what their experience was, which is always nice to hear," she said. "There's always some really moving quotes about how programs change people's lives. And I think that's part of what keeps me motivated and interested in doing this because you know all these programs are having such a huge impact and are contributing to our workforce in such a meaningful way."
Burr said she appreciates the diversity of projects she gets to lead and support, as well as being part of a supportive team.
Giving back to the community
Burr continues to give back to the scientific community, presenting research and evaluation work at conferences and to professional organizations including the American Psychological Association, the American Education Research Association and the American Evaluation Association. She serves on the board of directors for the Oak Ridge Public Schools Education Foundation and as a member of the Classroom Partnerships committee that reviews proposals received from teachers in the Oak Ridge schools for classroom grants.
She credits her postdoctoral fellowship as valuable to her eventual career success.
"There is no better way to get a feel for what it is like to work in the field you are preparing to enter as a professional than to engage in real-world experiences such as internships or fellowships," she said.
Media Contacts
The Oak Ridge Institute for Science and Education (ORISE) is a U.S. Department of Energy (DOE) asset that is dedicated to enabling critical scientific, research, and health initiatives of the department and its laboratory system by providing world class expertise in STEM workforce development, scientific and technical reviews, and the evaluation of radiation exposure and environmental contamination.
ORISE is managed by ORAU, a 501(c)(3) nonprofit corporation and federal contractor, for DOE's Office of Science. The single largest supporter of basic research in the physical sciences in the United States, the Office of Science is working to address some of the most pressing challenges of our time. For more information, please visit science.osti.gov.