Do you speak robot? ORISE Boe-Bots Academy can help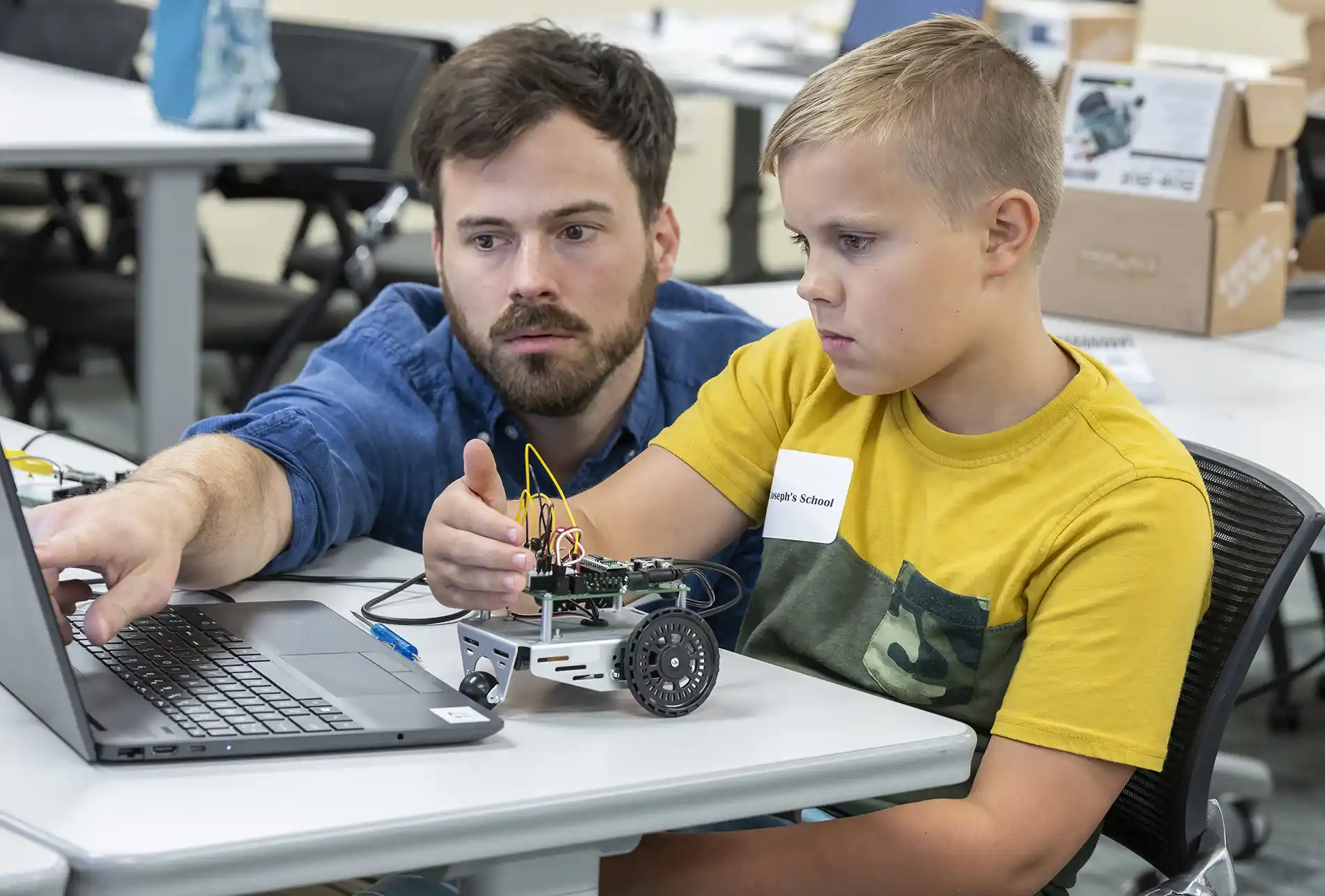 July 19, 2023
In today's workplace, computer programming and coding are highly valuable skills. With so much of our lives integrating technology, learning basic computer language is an asset many employers want to see on resumes that come across their desks. The Oak Ridge Institute for Science and Education (ORISE) is facilitating a handful of opportunities for students to grow in their knowledge of computer science this summer. The Boe-Bots Academy, held June 19-23, was a weeklong day camp for rising seventh, eighth, and ninth grade students that served as an introduction to the field of robotics.
Each participant was tasked with designing, building and programming a robot. Boe-Bot is a brand, and every student used the Boe-Bot robot kit to get started.
"It's complex and we're engaging that complexity," Boe-Bots Academy instructor Nathan Kenner said. Kenner is an engineering teacher at West High School in Knoxville, Tennessee, and was selected by ORISE to provide instruction at this academy. Each day, he taught skills that the students would build on throughout the week.
"Most of the coding we are doing is in a language that isn't common anymore, but you can translate it," Kenner explained of the BS2 PBASIC programs. "It's not terribly difficult when you understand the backbone. And that's our focus—it's not that they understand the grammar and syntax of this language, but do they understand the thinking and concepts behind it?"
Some students entered the week with previous experience with bots, but others were just getting their feet wet.
"I thought I was going to learn to be like a hacker in a movie," grinned rising eighth grader Ayden Phelps of St. Joseph's School in Knoxville. While it's true this robotics academy is less hardware and more programming, Phelps said he did not learn any hacking secrets. Still, he's pleased with what he did gain. "I didn't really know much about coding, and now I know a lot," Phelps beamed.
Rising freshman Catherine Manley agreed. "Monday, I could assemble the robot with the manual and make it go forward," Manley said. Manley will attend Phillips Exeter Academy in Exeter, New Hampshire, in the fall. By the end of the week, she could do a lot more than when she started: "I can make it go forward, backward, left, right, and I can control the infrared and photo transistor sensors."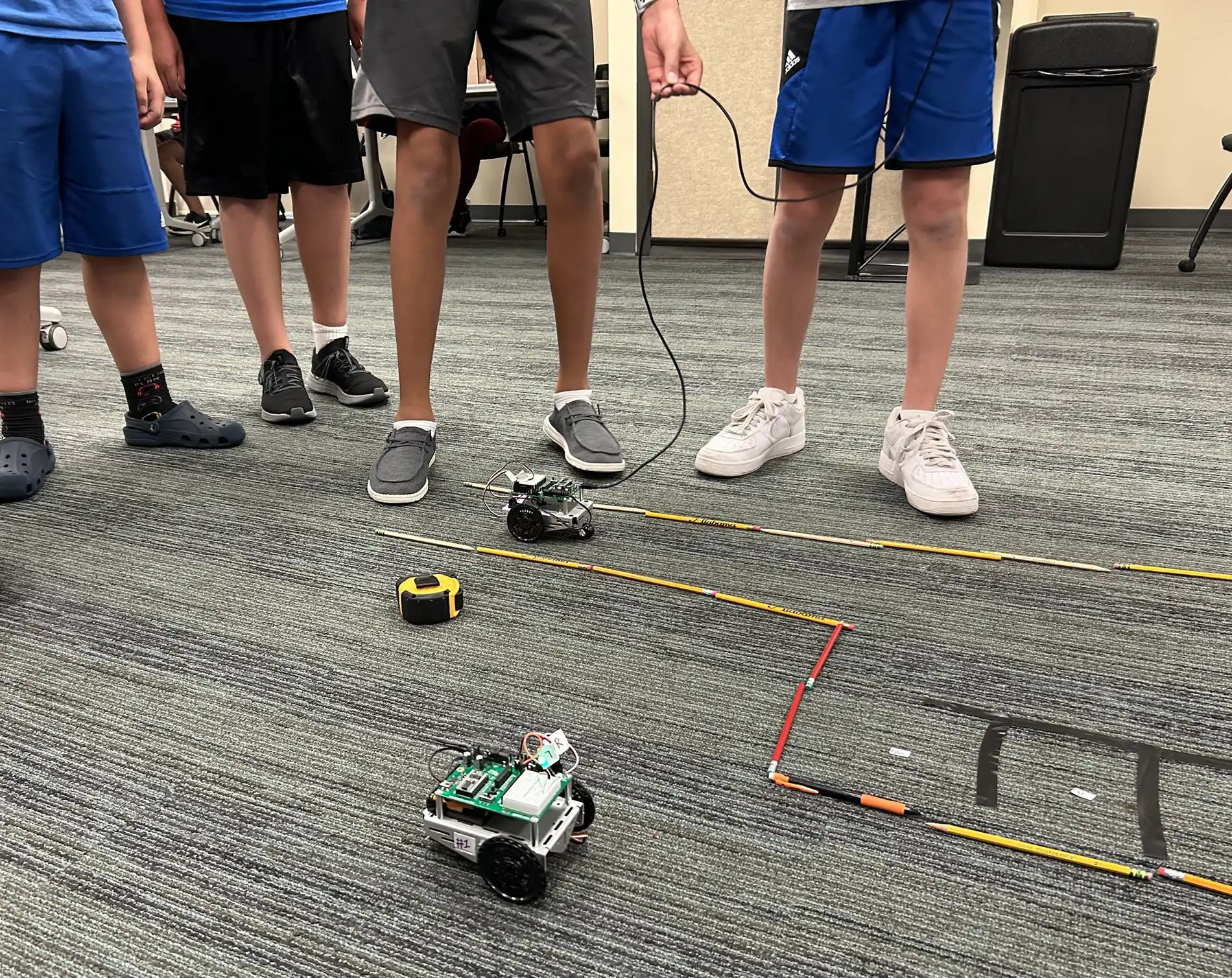 Kenner encouraged his students to use critical thinking as they learned the "vocabulary" of the bots. With overturned tables to create mazes and tape-lined parking lots on the floor, the classroom felt far from traditional.
"We're making a food delivery robot, and it has to do a 45-degree turn through the tables," Phelps said of his favorite challenge. "I guess it's like a warehouse, kind of. And then, you have to direct your robot to a house, and there may be some obstacles."
"There is a lot of debugging with the programming, but through trial and error, it was nice when we got it to work," smiled Manley. "I like how the projects build on each other, so you learn more and more, and the focus is less on the projects and more on the learning," she continued.
Even if these Boe-Bots Academy students do not pursue further formal education in computer science, Kenner says they'll be able to create smart-home-type products with what they learned in this course. "We're being very holistic in our approach here. They're walking away with tangible coding understanding and walking away with tangible designed thinking, logic and control loop understanding."
For many, like Phelps and Manley, this is not the end of the line. Now that they've had a taste of computer programming, they're eager to learn more.
Media Contacts
The Oak Ridge Institute for Science and Education (ORISE) is a U.S. Department of Energy (DOE) asset that is dedicated to enabling critical scientific, research, and health initiatives of the department and its laboratory system by providing world class expertise in STEM workforce development, scientific and technical reviews, and the evaluation of radiation exposure and environmental contamination.
ORISE is managed by ORAU, a 501(c)(3) nonprofit corporation and federal contractor, for DOE's Office of Science. The single largest supporter of basic research in the physical sciences in the United States, the Office of Science is working to address some of the most pressing challenges of our time. For more information, please visit science.osti.gov.