Radiation Emergency Assistance Center/Training Site
Emergency preparedness and subject matter expertise on the medical management of radiation incidents
The Radiation Emergency Assistance Center/Training Site (REAC/TS) is a world-renowned, U.S. Department of Energy asset and a leader in emergency medical response to radiological/nuclear incidents. REAC/TS provides emergency response and subject matter expertise on the medical management of radiation incidents for the National Nuclear Security Administration's (NNSA) Office of Counterterrorism and Counterproliferation. REAC/TS is located at the Oak Ridge Institute for Science and Education in Tennessee and is operated for DOE by ORAU.
24/7 response capability for advice and consultation on radiological emergencies
REAC/TS maintains a 24/7 national and international response capability and provides continuing medical education and outreach exercises. REAC/TS courses annually reach thousands of healthcare professionals, emergency responders and health physicists worldwide. Topics address the medical management of radiological/nuclear incidents, as well as decontamination techniques through instructional and hands-on education.
REAC/TS also operates a unique laboratory that helps DOE close a critical gap in our nation's ability to respond to a radiological or nuclear incident. The REAC/TS Cytogenetic Biodosimetry Laboratory utilizes the "gold standard" dicentric chromosome assay, a proven technique that can be used to help calculate the absorbed radiation dose in exposed individuals.
Learn more about REAC/TS's unique capabilities:
MicroREM virtual course registration now open
Course Dates:
August 3-5, 12 p.m. to 4:30 p.m. EDT Register

Course Description: This 12-hour virtual course is an abridged version of REAC/TS' renowned Radiation Emergency Medicine (REM) class. It focuses on the fundamentals of medical care and management of patients involved in radiological or nuclear incidents. Topics include basic radiation physics; radiation detection/measurement/identification; early evaluation and treatment of acute radiation syndrome (ARS), cutaneous injuries, and internal contamination; prehospital and hospital readiness; and patient decontamination. This course is applicable to all level of healthcare providers, as well as first responders, emergency management and public health professionals.
Cost: $40. ACCME AMA PRA Category 1 Credit(s)™ available.
Video Spotlight
What to do if you need to contact REAC/TS during an emergency?
If you might need to contact REAC/TS for assistance with a radiation exposure, please watch this video to know in advance what information will be helpful for us to address your questions and concerns.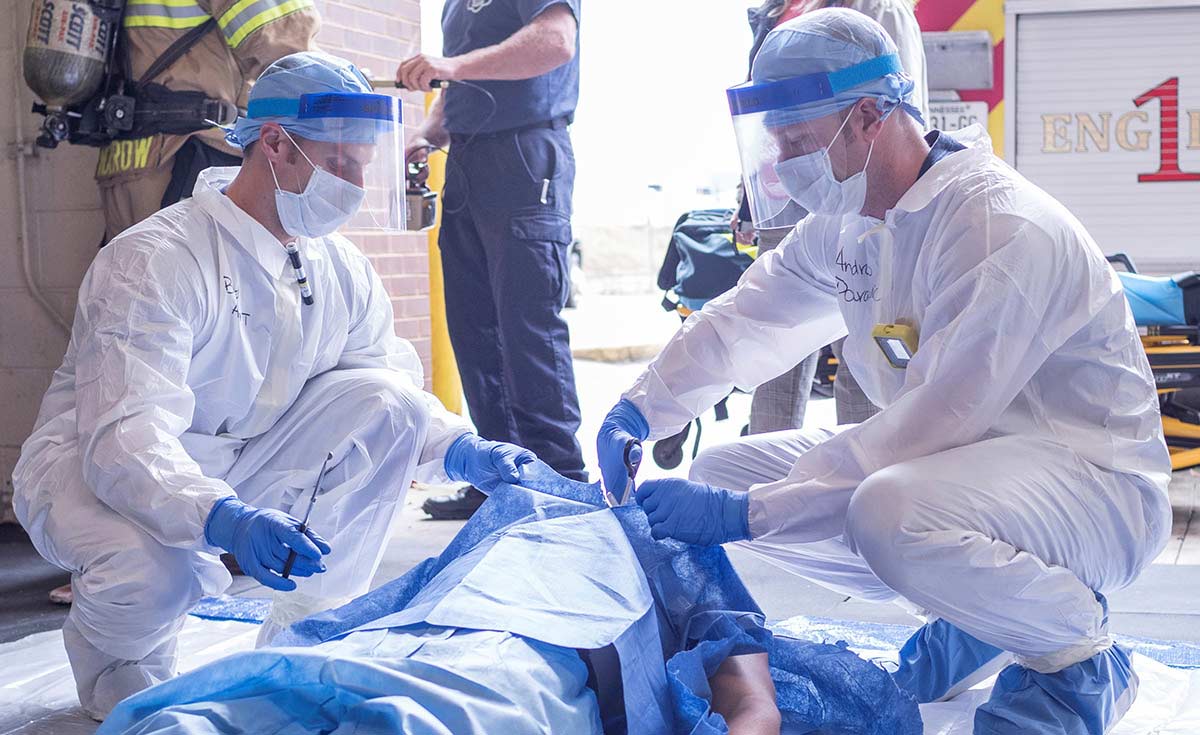 Play Video
Software Tools for Triage of the Acute Radiation Syndrome: a practical workshop (StTARS) at REAC/TS
November 16-19, 2021
Oak Ridge, Tennessee, USA
Within this workshop we will describe the purpose and function of software tools developed by scientific groups within NATO. These tools either allow an integrated estimation of dose (BAT, WinFRAT), or the prediction of ARS severity based on changes in blood cell counts (H-module) in the first days after an exposure to ionizing radiation. You will be introduced into these tools primarily by those who developed them, so that you will receive first-hand information about their strengths and limitations.
During the conference you will also gain a deeper insight into diagnostic and therapeutic strategies that are currently under development, such as the use of mesenchymal stem cells to countermeasure radiation-induced local injury. These will be presented by experts in their field.
Finally, you will practice your diagnostic skills by predicting clinically relevant degrees of the ARS using a database which includes real case histories, such as those arising from the Chernobyl incident and other accidental industrial exposures.
At the beginning of the course, you will receive a flash drive with copies of the software tools and the case history database to download onto a personal laptop. The tools and dataset can then be used for teaching within your own nations.
On-site participants must bring a laptop computer. Wi-Fi is available.
The workshop is for civilian or military personnel with a medical background or dealing with medical decision making in the field of radiological or nuclear threats.
Registration will be closed on September 15, 2021 or when full.
The number of participants is restricted to 50 on-site. On-site attendance is recommended. After registration you will receive a letter accepting your attendance  Registration does not guarantee om-site admission until cleared for security.
The workshop fee is $350 US dollars and will be charged to your credit card during registration. If you are denied admission your course tuition will be fully refunded.
Cancellations can be accepted until October 15, 2021 with a refund through the registration pages. Cancellations after September 30 will have a $20 service fee. Tuition is non-refundable after October 15.
We are looking forward to seeing you in Oak Ridge, Tennessee in November 2021.
Contact REAC/TS
If you need to contact REAC/TS for assistance with the medical management of those involved in a radiological/nuclear incident, please watch the video above "What to do if you need to contact REAC/TS during an emergency?" to know what information is helpful for us to address your questions and concerns.
General information 865-576-3131
After-hours number 865-576-1005 (Ask for REAC/TS)