Radiation Emergency Assistance Center/Training Site
Emergency preparedness and subject matter expertise on the medical management of radiation incidents
The Radiation Emergency Assistance Center/Training Site (REAC/TS) is a world-renowned, U.S. Department of Energy asset and a leader in emergency medical response to radiological/nuclear incidents. REAC/TS provides emergency response and subject matter expertise on the medical management of radiation incidents for the National Nuclear Security Administration's (NNSA) Office of Counterterrorism and Counterproliferation. REAC/TS is located at the Oak Ridge Institute for Science and Education in Tennessee and is operated for DOE by ORAU.
24/7 response capability for advice and consultation on radiological emergencies
REAC/TS maintains a 24/7 national and international response capability and provides continuing medical education and outreach exercises. REAC/TS courses annually reach thousands of healthcare professionals, emergency responders and health physicists worldwide. Topics address the medical management of radiological/nuclear incidents, as well as decontamination techniques through instructional and hands-on education.
REAC/TS also operates a unique laboratory that helps DOE close a critical gap in our nation's ability to respond to a radiological or nuclear incident. The REAC/TS Cytogenetic Biodosimetry Laboratory utilizes the "gold standard" dicentric chromosome assay, a proven technique that can be used to help calculate the absorbed radiation dose in exposed individuals.
Learn more about REAC/TS's unique capabilities:
MicroREM virtual course registration
Course Dates:
February 1-3, 2022, 10:30 a.m. to 2:30 p.m. ET Register
March 1-3, 2022, 7:00 a.m. to 11:00 a.m. ET Register
Course Description: This 12-hour virtual course is an abridged version of REAC/TS' renowned Radiation Emergency Medicine (REM) class. It focuses on the fundamentals of medical care and management of patients involved in radiological or nuclear incidents. Topics include basic radiation physics; radiation detection/measurement/identification; early evaluation and treatment of acute radiation syndrome (ARS), cutaneous injuries, and internal contamination; prehospital and hospital readiness; and patient decontamination. This course is applicable to all level of healthcare providers, as well as first responders, emergency management and public health professionals.
Cost: $40. ACCME AMA PRA Category 1 Credit(s)™ available.
Video Spotlight
What to do if you need to contact REAC/TS during an emergency?
If you might need to contact REAC/TS for assistance with a radiation exposure, please watch this video to know in advance what information will be helpful for us to address your questions and concerns.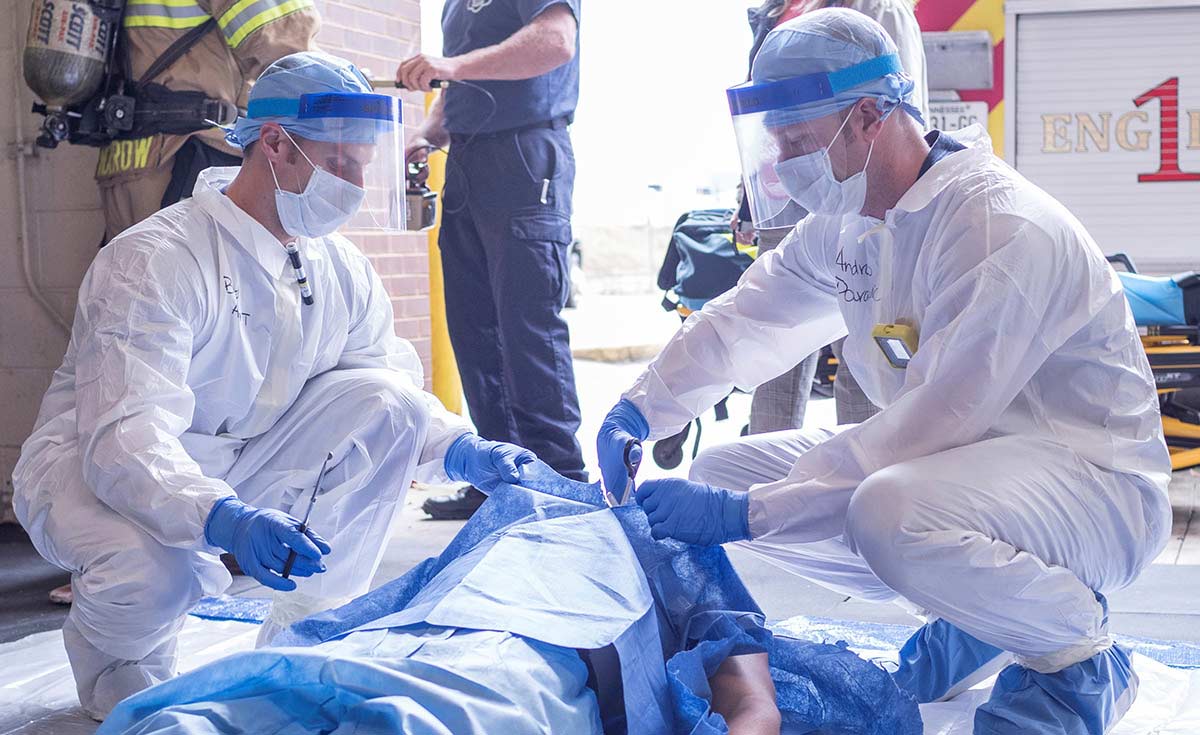 Play Video
Contact REAC/TS
If you need to contact REAC/TS for assistance with the medical management of those involved in a radiological/nuclear incident, please watch the video above "What to do if you need to contact REAC/TS during an emergency?" to know what information is helpful for us to address your questions and concerns.
General information 865-576-3131
After-hours number 865-576-1005 (Ask for REAC/TS)